Who left the lights on?! My husband and I are like broken records lately with our kids and the lights left on in their bedrooms, bathroom, hallway, and toy closet. We are trying to teach them that it is important to turn their lights off, especially since they both want to "be green" in so many ways they learned at school.
I participated in a campaign on behalf of Mom Central Consulting for Lutron. I received product samples to facilitate my review as well as a promotional item as a thank-you for participating.
Installing a Lutron Occupancy Sensor Switch in Kids Toy Closet
We built a walk-in toy closet for our kids' toys, crafts, school supplies, and our family games. My kids go in and out of the closet will their arms full of toys all day long, often leaving the light on. I give them an out usually because their hands usually are full but we can't keep lights on all the time.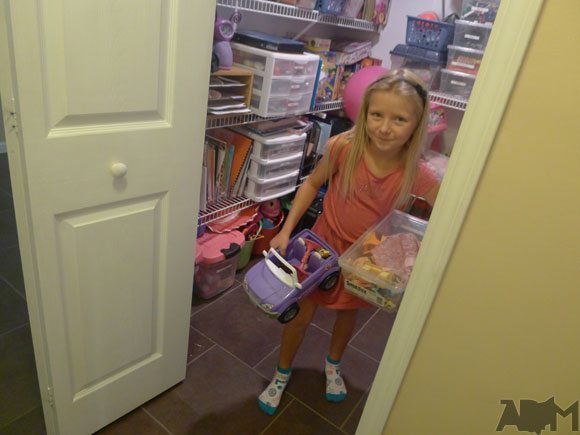 My husband and I tackle DIY projects all the time, which you know if you follow this blog and our total house remodel project. I don't know why we didn't think of this before but we were excited to test out the Lutron Occupancy Sensor Switch in our kids' toy closet. Lutron makes it easy for anyone do replace their traditional light switches with an upgraded occupancy sensor switch in about 15 minutes. Check out their do-it-yourself installation video on youtube.
Installing the switch was easy – even in the dark! Check out our installation video to see just how easy it is to change out your old light switch to an upgraded occupancy sensor switch.

I asked my kids to check out their toy closet after we installed it, check out their response below. They love their new sensor light!

I like that just one switch can save up to $25 a year in electricity! The Lutron Occupancy Sensor Switch can be programmed to turn by hand or when you enter the room, you can program it to turn the lights off after 1, 5, or 15 minutes after leaving the room, or it can act as an ordinary switch.  I like that it stays on when the room is occupied and turns itself off when nobody is left in the room.
Installing a Lutron Occupancy Sensor Dimmer
We have a beautiful dining room light fixture that suits our style just right. However, it can be quite bright with 10 halogen lights shining down on the table. When my husband installed the light, we ran out of white switches, so we installed the below beige one temporarily.  Pretty ugly, right?
Our light switch for the dining room is at the bottom of our stairs, so I wasn't really sure out the Lutron Occupancy Sensor Dimmer would work in this area. My #1 goal was to be able to put our bright dining room lights on a dimmer!
First, we turned off the power to all 4 light switches below. Next, we removed the old light switch.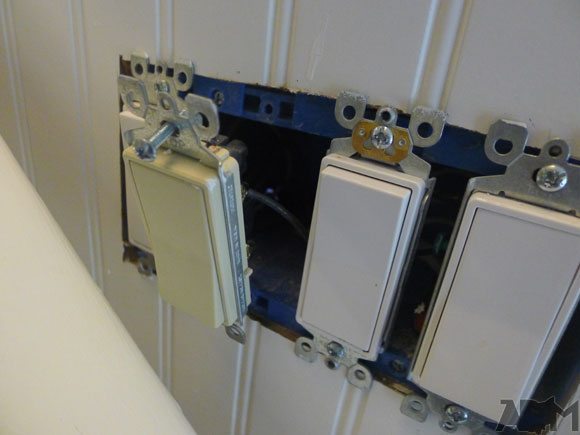 The Lutron Occupancy Sensor Dimmer  comes with Maestro Occupany Sensor that works with various light bulbs including incandescent, dimmable compact fluorescent, and dimmable LEDs.
We got our tools out and were ready to install with just a screwdriver, wire cutter, and wire stripper.
Below you see a picture of the switch grounded and wired, ready to be placed back in the electrical box. It literally took my husband 10 minutes to do this – and that was only because there were 4 switches and he had to get the ground wire out of the back of all the switches. It took even less time in the kids toy closet!
Once it is connected, place it in the box, screw it in and test it out. We turned the power on and adjusted the settings to our liking. I have the light programmed to go off in 5 minutes if it isn't occupied.
Check out how beautiful it looks compared to our old beige switch! And Success! We have a dimmable dining room light – we have enjoyed this very, very much. Now, we can have bright lights when we need them or lower dimmed lighting for a softer ambiance.
Not only that, we have an occupancy sensor. XCT sensing technology detects fine motions to turn the light on and keep it on while the room is occupied. You can adjust the sensitivity level to high or low to ensure it stays on while you are there. We have ours set to high sensitivity to pick up when the room is occupied since it is set at the bottom of the stairs and not exactly in the room. It works! I get excited every time I walk into the dining room and the light switches on for me.
You can also program it to turn the lights off 1, 3, 5, 15, or 30 minutes after the room is unoccupied.  Plus, if there is enough natural light present, it won't even turn on.  This sensor switch can save up to 60% in energy. The Lutron Occupancy Sensor Dimmer is great for bathrooms, kids' rooms, laundry rooms, and more.
Buy Lutron Occupancy Sensor Switches
Now that we installed the two Lutron switches, I want to install more. I really want on in my laundry room because when I enter and when I leave the room, I am always carrying laundry baskets of clothing. It is impossible to get to the switch.  I'd also like to have one installed in our guest and kids' bathroom because those lights are always left on!
Lutron Discount
For a limited time, get 25% off  Lutron Maestro occupancy/vacancy sensor dimmers and switches and get one free Claro single-gang wallplate ($4.90 suggested list price) with each qualifying item on LutronStore.com.  Use Lutron Promo Code: wholeftthelightson Code expiration date: Sunday, Oct. 31, 2013 (subject to change)
Find out more about how Americans leave their lights on.