School is around the corner which means back-t0-school shopping. Find all the latest shoe trends for boys and girls with the one stop shop on KidsShoes.com. They have the shoes your kids want including boots, sneakers, sandals, dress, and more for baby through youth sizes in one place with *FREE shipping.
I received product to facilitate this post.
One Stop Shop for Boys and Girls Shoes on KidsShoes.com
My fashionista niece loves her new fall shoes from KidsShoes.com.
Her Michael Kors Ollie Star shoes will set her as a star-studded trendsetter at school this fall. This flashy sneaker with stud stars and stripes adds bling to every outfit. The metallic finish on the toe cap and heel plate adds interest to this fabulous shoe.

Not only is this shoe high fashion but it is also kid-friendly and made durable for kids play! The shoes are so comfortable that she never wants to take them off, even though they are meant to be saved for back-to-school.
Fun and fashionable, the Michael Kors Leo high-top sneakers can take my niece anywhere this season.
These gorgeous high-top shoes have gold zippers on the outside and inside. The inside zipper offers quick and easy on and off function.  The laces are flat laces, making it both stylish and easy to secure.
This sneaker can easily double as a fall bootie with both the leopard print and high-top profile yet it can be worn with skirts and shorts yet this summer.
Although trendy, this shoe is made for kids having fun with a rubber sole that will take your girl from the playground to hikes in the woods to the trampoline!
These comfortable high-top Michael Kors shoes are made for fashionable girls like my niece, making every outfit more fun and fashionable with ease.
My adorable nephew is looking quite handsome in his KidsShoes.com exclusive branded Spotty Sport sneakers.
These super comfortable shoes help me run fast and jump high, accordingly to my 6 year old nephew! They are made with extra cushioning wiht Action Flex technology so his feet are supported whether he's playing on the playground, jumping on the trampoline, climbing hills, or on any other adventure.
This pair of sneaker also comes with a KidsShoes.com drawstring bag that is perfect for holding essentials for adventures. 
The Spotty Sport sneakers offer great traction with a white rubber sole (perfect for physical education classes that require non-marking shoes at school). He never wants to take the shoes off because they are so comfortable. They fit him very true to size, offering him secure footing. At only $15, this shoe is a steal!
KidsShoes.com also offers many brand named shoes including Kenneth Cole's Reaction Kick Insight sneakers.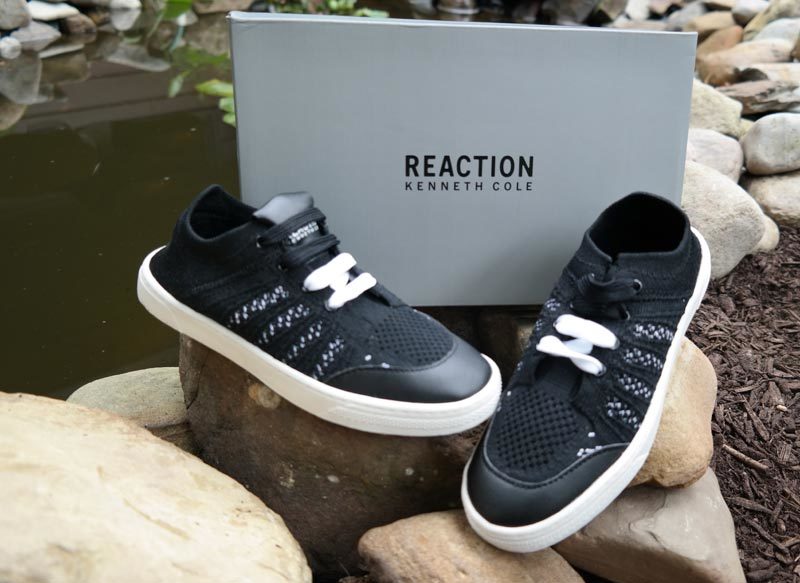 These stylish shoes offer a unique stretch textile that makes putting on and taking off a breeze.  It also lends to easy sizing and stretch as feet grow.  With both black and white laces, these fashionable shoes are perfect for boys that want to add a little fashion to their look while they match with everything from athletic clothing to semi-casual/dress.
I love black shoes for boys as they are always getting them dirty on backyard and playground adventures – black tends to stay looking nicer longer!
The white rubber sole offers traction boys need while also being non-marking for gym floors at school.
This stylish pair of sneakers look good both on the court and playground as well as relaxing on the hammock – you can't go wrong with these sneakers, especially at only $19 on KidsShoes.com.
Kids feet grow so quickly and it can be difficult to know what size to order. KidsShoes.com makes it so easy with their KidSizing tool. Either use their iPad app or print-out their measuring tool to find the perfect size for your child without dragging your kids to the store to try everything on. Once they have your size on file, they will recommend corresponding size for your child to get the best fit with all their brands and styles.
Make KidsShoes.com your one stop shop for boys and girls shoes. It'll save you so much time as all of the popular styles are all in one place. You can shop for every season without leaving your house. There is FREE shipping on orders over $30 with an easy 30 day return policy . Finally, shopping for kids shoes is easy!
*Free shipping on orders over $30.