Staying active is key to a healthy life no matter what your age. Finding the right products to help you keep your active lifestyle in comfort and pain-free is important, especially if we have an injury or chronic condition. Incrediwear is the world's leading wearable anti-inflammatory therapy products for 3 types of people:
High-performance athletes giving them the support they need to push past their limits to reach their goals.
People on the move that use their products to keep up with the kids, keep active, and live life to the fullest without pain.
People in recovery that want to increase blood flow to optimize their body's natural healing process.
This is a sponsored post.
Incrediwear products reduce inflammation and pain an can even accelerate your recovery by increasing circulation. Their products use fabric infused with circulation enhancing semiconductors of Germanium and Carbon, Incrediwear sleeves, braces, and wraps create cellular vibrations that increase blood flow by up to 21.6%. This blood flow delivers more oxygen to your problematic area for quicker recovery (accelerated up to 46%!), less pain, and less inflammation.
Incrediwear Ankle Sleeve is an Active product that decreases inflammation, reduces swelling, relieves pain and restores mobility to the ankle or foot.
My husband had foot surgery in August and again on his other foot in December, they placed a pins in his feet to eliminate pronation. His first foot had a lot of pain and swelling. I didn't know about Incrediwear products.
With the last surgery, he started wearing the Ankle Sleeve.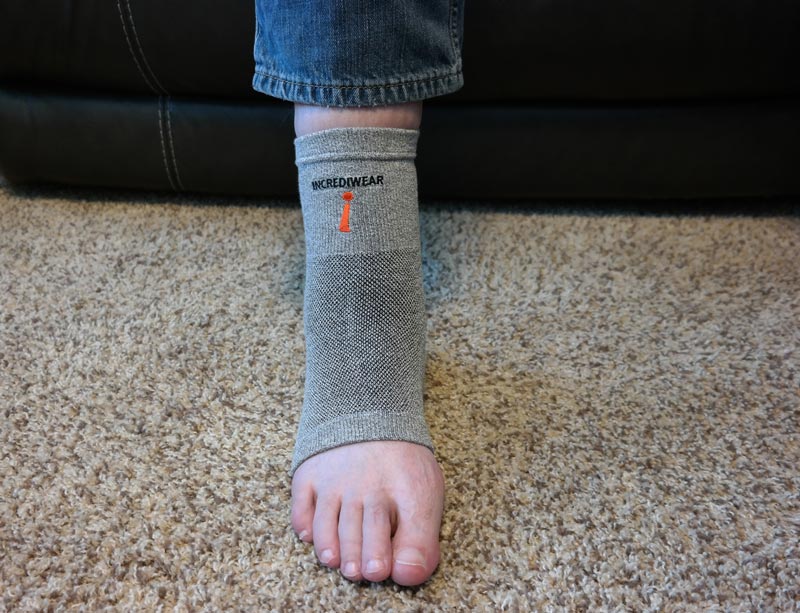 This foot has noticeably less swelling, pain, and inflammation compared to the first surgery – and he was back on his feet a lot sooner!  My husband said it wish he had it for his first surgery. He continues to wear the sleeve because the pressure against his skin fights against the swelling, and it makes his foot feel more secure. His recovery is expected to be 6 months, so he continues to wear and feel benefits from it.

This product is intended to support your active lifestyle, whether you have acute or chronic conditions. The point is that it helps you stay active with less pain.

If you are on your feet all day, you'll want to try out Trek Socks.  They help relieve aches and fatigue while providing a cushioned feel all day. Enjoy outdoors or indoors when you'll be on your feet for hours at a time.

If you have knee pain from an injury or chronic condition, check out the Knee Sleeve, a recovery product. Wear it during or after an activity that normally causes you pain. This sleeve will give you pain relief and post-activity recovery.
All Incrediwear products are antimicrobial and odor resistant, perfect for athletes, demanding activities, and for long-time wearing (they can be worn 24/7). They also work as soon as they are put on. Check out their entire selection online.