Skip the flowers! Give mom a unique Mother's Day gift this year! We have ideas for the garden lover, to pamper mom, for the fun mom, and new or even soon-to-be mom!
For the Garden Lover Mom
Whether your mom has a green thumb or just loves being in the garden, this Gardening Gift Set will make her smile. The set comes with everything she needs to get her gardens blooming!
 She'll love PittMoss®,  as seen on Shark Tank, it is a whole new take on gardening mixes, made from recycled cellulose fibers (like newspapers). It'll give mom dramatic results of bigger and stronger plants in her garden beds or potted plants! PittMoss maximizes the use of nutrients and water, made from organic and natural materials and reduces the need for chemicals. Plus, you use 2/3rds less water when you use PittMoss!
Plus, the set comes with a bucket caddy with 30 pockets to keep her equipment organized. I use mine all the time! I even have one inside for my cleaning products. The set also comes with very sturdy hand rake and transplanter shovel, gloves, plant markers and a Calypso planter – give mom a few blooming annuals to get her started right away!
As an avid gardener, I would LOVE this gift set for Mother's Day. It gets the garden lover outside with new tools and new tricks to try out. I can't wait to see how well PittMoss works! I'll report back!
Order your PittMoss Gardening Gift Set now.
Pamper the Natural Mom
Does your mom love essential oils or want to use more natural products as safe, effective alternative to prescriptions? Give her a sets of Oilogic Essential Oils.

Unlike other brands, Oilogic Essential Oils are already blended and ready to use.I've been using the blend of allergies on myself and kids the last couple weeks and it really seems to be helping – we are all struggling with seasonal allergies and sinus issues in Ohio, so this is a just-in-time gift for sure. 
They are super easy to use with their rub-on applicator. The container states where to roll on the Essential Oils like behind the ears, neck, and so on.
Give mom a whole set including Oilogic's Rest & Sleep Roll On, Headache & Tension Roll On and Itch Relief Roll On, so she is ready for anything that comes up! You and your mom will like that the Oilogic brand is made safe with no synthetics or impurities. The Essential Oils are extracted from plants, fruits, herbs, barks, flowers, and seeds – 26 in all from over 13 countries where plants are indigenous.
Order Oilogic Essential Oils now to pamper mom.
For the Really Fun Mom
We all want to be the fun mom, right? Any mom that receives a Razor E Prime Lux electric scooter  shoots up to top of the fun mom list!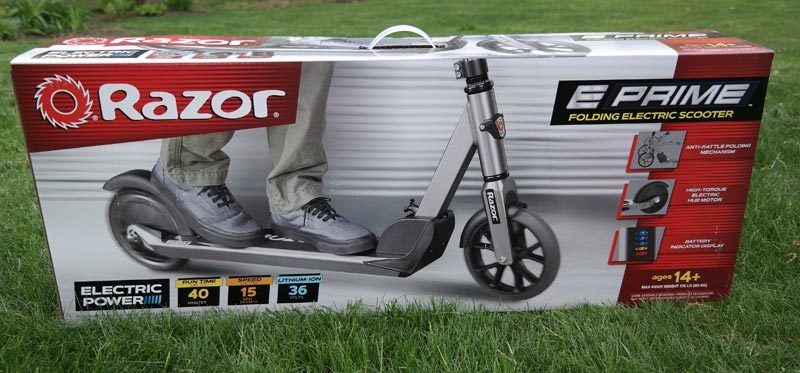 Whether mom spends time with her kids in her new Razor electric scooter or scoots around town on her own, she'll love this fun transportation choice as she zips around town with speeds up to 15 mph!
E Prime features high-torque, electric hub motor, our patent-pending, anti-rattle, folding technology and taller, easy-adjust handlebars to ride in style whether cruising with the kids or commuting about town! Razor has been known to have the best scooters for almost 20 years, mom will love this FUN Mother's Day gift – making all the other moms enviousness and other kids wish their mom was so fun!
Order mom a Razor E Prime Lux electric scooter  now!
For the Soon-to-Be and New Mom
Breastfeeding moms will love the convenience and comfort of the new, hands-free breast pump, Freemie.
This discrete, self-pumping system is an affordable, top-of-the line breast pump that lets mom pump anytime, anywhere,and even around people (if need be). This frees up a TON of time for the breast-milk pumping mom as she can go about her daily tasks without setting aside time to pump.

Each Freemie Collection Cup has a funnel and valve already integrated in the the cup assembly that holds the milk. Milk collects in these cups that surround the funnels instead of hanging bottles like the old style. Your bra supports and hold the collection cups. It's that easy. Even if she does have an older style pump, you can use Freemie cups with it as they are compatible with many pumps.