An area rug can add warmth, comfort, and style to any room in your home. Area rugs can compliment your existing decor or totally transform your home's decor in seconds. For an open floor plan, a quality area rug creates boundaries without walls, increasing the livability and flow. It is an investment for your home that will be enjoyed for many years to come.
I received product to facilitate this post.
We created the popular open floor plan in our home during our remodeling stage. I like the flow from one room to another, especially while entertaining. However, with an open floor plan, furniture can feel adrift. 
A quality area rug, like those from Medallion Rug Gallery create boundaries within an open floor plan, adding functionality and comfort while anchoring furniture.
Medallion Rug offers more than 10,000 genuine handmade Oriental rugs for every style, price, and size. We enjoyed browsing their beautiful collection of area rugs. Their collection includes round, square, and rectangular rugs, as well as runners.
When selecting our rug, we considered our home's overall style, furniture, dining room flooring, and the carpeting in the adjoining family room and stairs. We chose a Contemporary Indian Area Rug.  The overall color scheme is a natural camel color with designs of warm colors of green, red, and blue. The perimeter is tufted, offering a break in the pattern.

An Oriental area rug is a work of art and should be framed within the room by at least 1-2 feet from the any wall.
For a dining room, the area rug should expand out 4 feet from the size of your table. This allows room for chairs. We went a little larger to define the dining room space even more. This allows for easier pulling out of chairs as well. When we expand our dining room table with extensions, the rug still fits too.
The colors of the area rug compliment the surrounding elements of our dining room while at the same time adding life and visual interest. It compliments the Tarkett Seagrass laminate flooring nicely.
Our dining room is the first room you walk into from our foyer.  Before, it was just a table and chairs.
The Medallion Rug Gallery's handmade Oriental rug dramatically altered the look and feel of our dining room. It added comfort, warmth, and style. This area rug was the finishing touch that we didn't even realize our dining room needed. Not only that, but since our dining room is the first room you see upon entering our home, it has adding a more welcoming feel to our entire home.
This area rug is handmade of wool. Wool is a very popular material for area rugs as it is very resilient, allowing it recover naturally from both footsteps and your furniture. It is amazingly thick and soft underfoot. I go out of my way to walk on it whenever I pass through the dining room. I can't believe the comfort it has provided for my family as we eat dinner together at the table too. We have found ourselves lingering at the table more so than before.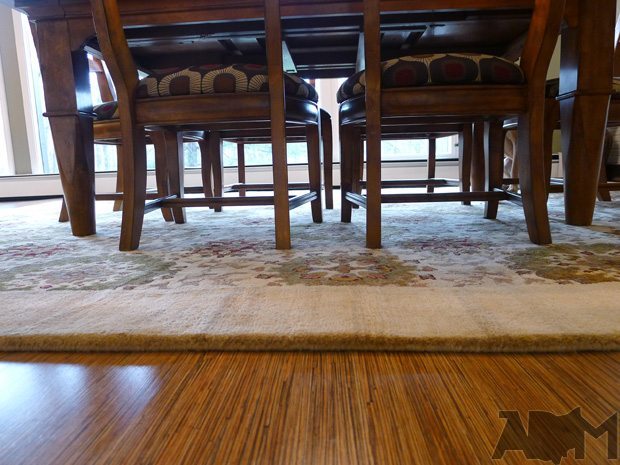 Our puppy, Roxy is also very often found lounging on our new area rug! She just loves the softness of the rug too.
Why Choose Medallion Rug Gallery?
Medallion Rug Gallery offers more than 10,000 high quality, handmade area rugs for every style and home.  Handmade rugs offer quality craftsmanship second to none. It also holds and even increases in value over time. Receive high quality rugs for 50-80% off retail with  Medallion Rug Gallery.
Medallion Rug Gallery offers a 100% money back guarantee. Their 30-Day no-obligation in-home trails offers you a risk-free trail of their area rugs. If you don't love it, you can return it for free for a refund, with no restocking fees. Plus, your area rug ships FREE!
This was not a paid post. My own opinions were used based on my perceptions and experience. Thank you to Medallion Rug Gallery who provided product for review