With over 125 specialty stores and anchored by Macy's and Dillard's, Summit Mall has the perfect Christmas gift for everyone on your Christmas list. Hurry in this weekend to finish your Christmas shopping all under one roof. My husband and I spent the afternoon visiting our favorite stores to complete our Christmas shopping.  Check out what we found and hundreds of gifts ideas that can be found at Summit Mall, a Simon Malls property.
This is a sponsored post for Summit Mall.
Summit Mall is packed with stores for every age and interest. We discovered several stores were new to us since our last visit, one of those is Teavana.
Enjoy complimentary tea tasting of their premium loose-leaf tea in extraordinary flavors like White Chocolate Mint! Teavana tea and teaware makes a thoughtful gift for every foodie and tea lover on your list.
The gorgeous window display of Altar'd State is gorgeous and so welcoming. I couldn't wait to go inside!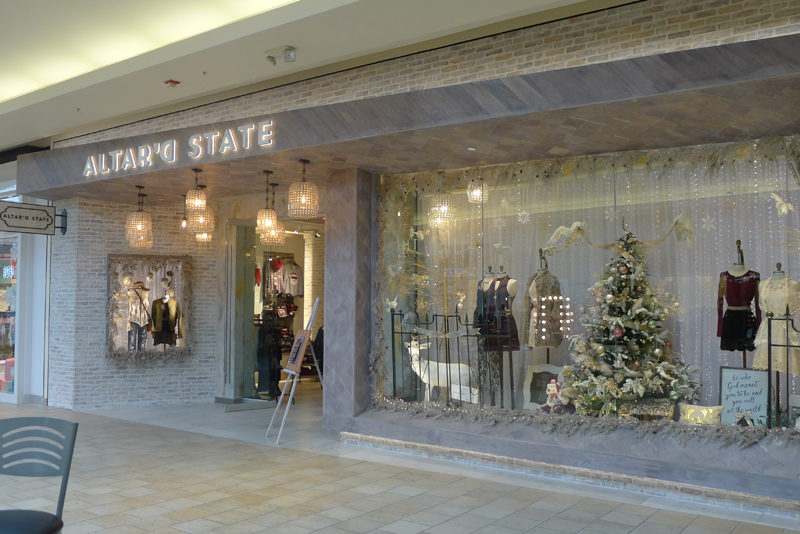 Altar'd State is a fashion boutique with exciting styles, accessories, and inspirational decor around every corner. I was mesmerized at this gorgeous store. I found gifts for my mom, sister, friends, and even myself. I could have spent hours in this store and can't wait for an excuse to go back.
Brookstone is always a favorite for my family. It is such an interactive store that allows customers to try many products out before they buy. They have so many fun gadgets, toys, luxury gifts, and more for anyone on your list. We were so excited to find a large assortment of drones, which happens to one of the most popular gifts this year.
Summit Mall is also home to a large Sephora store that is packed with the most amazing selection of makeup, skin care, and fragrance to pamper your loved ones this season. I know many people who only shop Sephora for their high quality products, it is so convenient to have one in the Akron area.
Show your Ohio pride with a t-shirt from Where I'm From! I love this boutique and have been a fan since they moved into Summit Mall a couple years ago.  This is a fun gift for even the hard-to-buy-for people on your list. It is unique, fun, and always in style.
CLE 23 is another local store out of Cleveland that sells Cleveland pride t-shirts and hoodies for men and women. This is a great option for sports fans on your Christmas list.
Eddie Bauer has a pretty exact promise on their store-front – they guarantee perfect gifts. This is a really good place to find high quality outerwear, clothing,  and accessories for the outdoor enthusiast on your list. It is perfect for those of us that want to be outside enjoying nature no matter what the weather from hiking to fishing to hunting to just looking good in their signature American sportswear style.

The Apple store at Summit Mall is always a popular place. It is no wonder because they offer all the latest iPhones and Apple products. They even offer free iPhone workshops and will help you set up your Apple products. You can even set up a reservation with a service provider there. Who wouldn't want the new iPhone 7 this Christmas?
We stopped by Foot Locker to check out what is hot this season. My son is a big fan of Foot Locker because they have exclusive styles and all the top brands that kids want. The newest, more popular shoe at the Summit Mall location is the Lebron James Soldier X. I've been told that Lebron James even purchased a pair which makes since as he does live practically next door!
Don't forget your dog this Christmas. Moochie & Co. has the most adorable collection of Christmas themed dog toys, frames, and treats. There are even Christmas ornaments that you can include a photo or dog paw print in. I love it!
We are so fortunate to have both Dillard's and Macy's at Summit Mall. These department store giants offer designer gifts for the home, men, women, and children. Don't you just love this cozy bed? I love the inspiration I get too, just a few accessories can add a new theme to any room, including your bedroom.
Give the gift of comfort with a gift from the bedding and bath department. They even have unique items like products for those that suffer from allergies, cool touch and heated bedding, and more. Home decor throughout the home is always a fail-safe gift.
Don't forget apparel, Dillard's and Macy's offers the latest styles and trends, even the ugly Christmas sweater trend. ha!
One of my favorite gifts as a newly married woman was a KitchenAid mixer. I've used mine nearly every day sense. I highly recommend one for the foodie or foodie-wanna-be on your list.
There are also plenty of lower price tag items in the housewares departments that are both practical and thoughtful.
For larger gifts, perhaps for your spouse, adult child, or as a family gift, you can even purchase furniture at these department stores. Whether you outfit an entire room or pick up an accent piece, these gifts will be enjoyed for years to come. 
Summit Mall offers a variety of stores that showcases pop culture in the form of gifts. Places like Hot Topic is where you'll find the latest fashion, accessories and gifts that relate to music, pop culture, and alternative culture for the younger crowd.
FYE is always a good place to find gifts for the music, video game, and movie enthusiast.  You can't go wrong with the gift of entertainment.
Be sure to take your children to see Santa at Summit Mall! He's the 'real deal' with a real beard and gorgeous Santa suit. The Santa set is brand new this year and looks stunning. You can even rsvp your visit with Santa to save time because we all know that long lines waiting for Santa can turn children into unhappy campers.
Thankfully, go! games & toys is also at Summit Mall for the season, offering the best-selling licensed toys of the season including games, LEGO, pop culture toys, puzzles, and gifts.
One of my daughter's favorite stores is at Summit Mall too, Justice. We were able to find cute, on-trend fashion for the new year that she is going to love. If you have a tween girl on your gift list, she is guaranteed to love anything you find for her at Justice – I promise!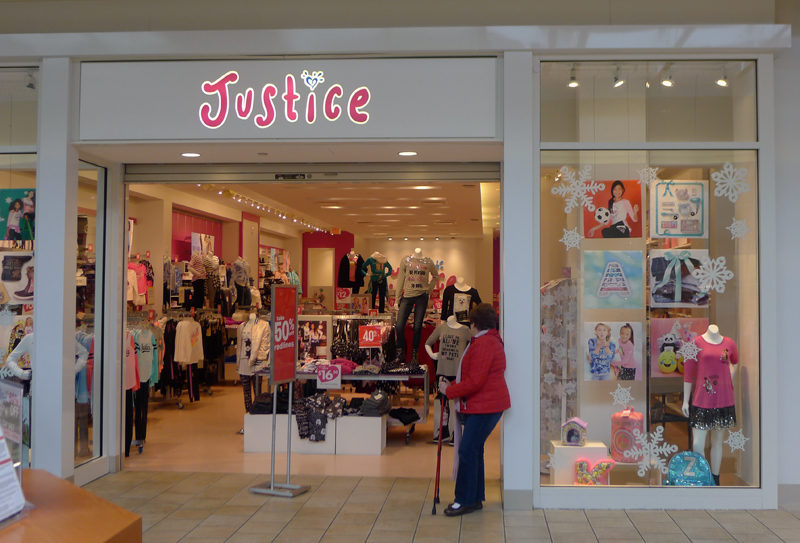 Another great store for girls is Claire's. They have affordable, fashion-forward hair products, jewelry, and accessories for girls, tweens, and teens. Their trendy items make excellent gifts and add-on gifts.
I love Motherhood Maternity. I found the cutest and most comfortable maternity clothes here when I was expecting with both of my children. If you have a mom-to-be on your list, a cute top is the perfect gift.
Kopper Popper is my go-to place for gifts for teachers, bus drivers, friends, extended family, and the hard-to-buy-for people on my list. Who can resist a bag or tin of gourmet  popcorn? Be sure to take home a bag or two for you and to serve at parties this Christmas season too.
Another favorite store of mine is Crazy 8. I go crazy over their super adorable styles for girls and boys for babies through size 14!  It is the best place for stylish clothes at extremely affordable prices – the prices are less expensive than many big box stores even.  You can go crazy shopping in this store for your kids, grandchildren, nieces, and nephews without breaking the bank.
Bath and Body Works has always been a favorite store for me for gift-giving. Giving the gift of lovely fragrance in the form of lotion, shower gel, soap, and with home fragrance is a personal gift. You can create a beautiful assortment for a large gift or just add an item or two to a gift, the possibilities are endless. Bath and Body Works product make great gifts for teachers, bus drivers, postal carrier, nurses, and other people in your life that deserves an extra Thank You this Christmas too.
You can even find Christmas decor and personalized ornaments at Summit Mall. There are actually a couple places for personalized ornaments but The Christmas Store has the most selection to choose from. My kids look forward to a new ornament each year, it is a gift that will be treasured for their entire life. I know that I still have personalized ornaments from my childhood, do you? Christmas decor is a great gift at any age, especially for younger crowd and recently married who are setting up their homes.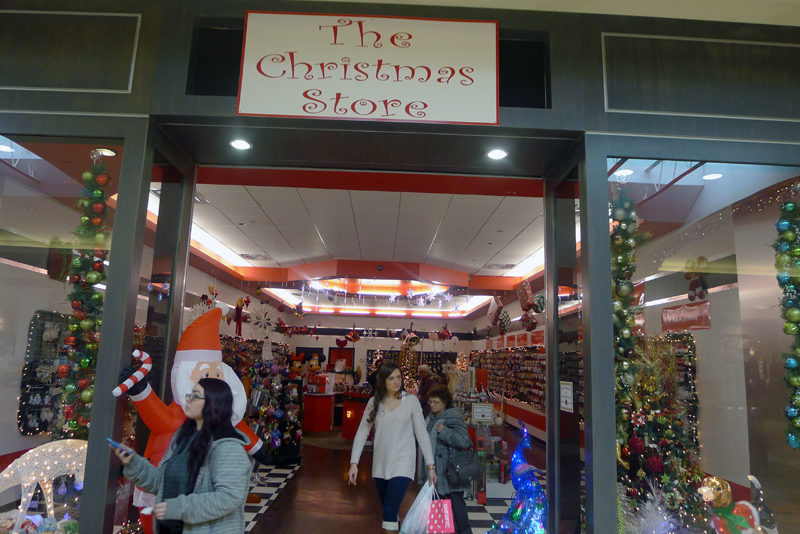 Summit Mall is very family-friendly. There are spots to take a break along the entire shopping route with coin-operated kiddie rides at the ends of the mall and a giant play place in the center. You can even rent strollers if you forget yours or if your child suddenly becomes tired once he starts shopping with you. 🙂
Be sure to take a break for lunch, dinner, or a snack at one of Summit Mall's dozen eateries and restaurants. The food court is a quick and easy place to grab a delicious meal, drink, or snack. There are also dine-in restaurants located on the exterior of the mall including Bravo! Cucina Italiana, BJ's Restaurant, and P.F. Chang's China Bistro.
We stopped for a quick meal at Charley's, one of our favorite places for cheese-steak.
If for some reason you were unable to find the perfect gift out of the 125 stores at Summit Mall, you can give the gift that is always the perfect fit , the gift of a Simon Gift Card.
My husband and I had a great time shopping together and especially finishing our Christmas list today. I hope you enjoyed touring Summit Mall with us and that you go plenty of good gift ideas to finish your Christmas shopping this weekend!
Summit Mall
3265 W Market St
Fairlawn, OH 44333
Get social with Summit Mall on Facebook and Twitter.