As a young mom with kids of varying ages, it is often hard to find thing that one or more of them will enjoy TOGETHER? Oh, you have this problem too? I have been looking for games they can play together and I found a great fit. Animal Upon Animal is easy enough for Kiernan and hard enough for Kelton! As you race to stack all of your animals, you better be careful not to knock more down.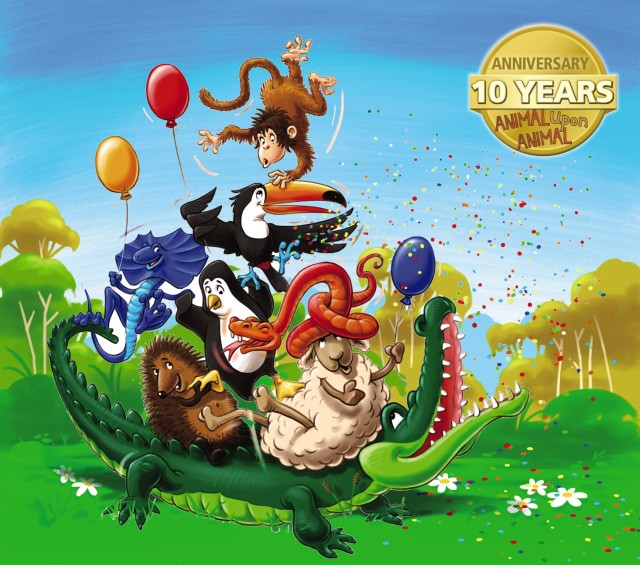 I received product to facilitate this post.
Animal Upon Animal
Animal Upon Animal is celebrating it's 10th year (2015)! How did we miss this game for 10 whole years!  I'm not sure I have the answer but I can tell you this commemorative edition is extra fun with it's shiny silver painted crocodile! Kiernan loves this little crocodile and I would be lying if I told you it was easy to start our first game. Someone wanted to play jungle. Which is great too!
Let's Play
Animal Upon Animal is a fairly basic stacking game. Think of it as a more creative and fun version! Starting with the silver crocodile as a base, each player rolls the die and based on that can either add to the base or stack a certain number of animals. The end goal is to be the 1st person to put all their animals on the pile, but be careful when you knock animals down they are added to your pile!
About Animal Upon Animal
Animal Upon Animal is recommended for children ages 4 and up. I love that it comes in its own tin so clean up is a cinch. Animal Upon Animal can be played with up to four people. This is a great game to practice working on hand-eye coordination and fine motor skills.  The kids won't even know they are learning. 🙂 The quality  of the wood pieces have held up to my boys stacking, knocking over and dropping on several different surfaces, with out a chip or crack! Purchase your own Animal Upon Animal from HABA here or at the amazon link below.
About HABA
HABA is know for their high quality wooden children's toys. Don't let that fool you they also offer wonderful plush toys and more. The wood comes from sustainable forests in Germany, the paints used are water based and solvent free! And to make sure our children are safe HABA puts their product through rigorous testing  but mechanical and chemical just to make sure there is nothing unsafe for our children. HABA wants to make sure all of their items exceed both European and US safety toy Standards.