Our son is a LEGO enthusiast.  By default, he gets LEGO blocks as his presents every Christmas and birthday from our family. Even though LEGO blocks are good to boost child's creativity and imagination,  keeping the LEGO blocks has been a nightmare.
Then We Found BOX4BLOX Organize LEGO Blocks
Most parents of LEGO enthusiast children understand how hard it is to keep and organize LEGO blocks neat and tidy. I can not tell you how many LEGO blocks I have vacuumed up or get thrown away by accident or to make it worse, I won't be surprised if they end up in our dog's digestion system. We have been keeping the Lego blocks in multiple plastics tubs until we found BOX4BLOX.  BOX4BLOX is a LEGO blocks sorter box which help sort and organize LEGO blocks by size.  It helps to keep the LEGO Blocks neat and tidy.
What is BOX4BLOX Toy Storage Organizer?
BOX4BLOX is a genius invention by Simplastix Innovations Ltd. This product was invented by parents with LEGO enthusiast children.  BOX4BLOX is a dream come true for LEGO enthusiasts like my son. I don't know how many times he gets frustrated finding the smaller piece in the mixture of multiple LEGO sizes. It is like finding a needle in a stack of hay looking for that one critical piece.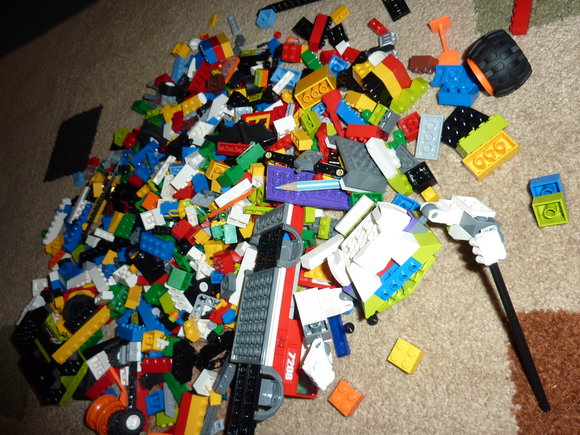 BOX4BLOX is a Made in USA product. Alhambra, California, to be precise. BOX4BLOX is a sorter and storage box for LEGO blocks. It consists of 4 different trays. Each tray has sorting holes of different size which helps to sort the LEGO blocks by their sizes.  I love it that the BOX4BLOX trays are colored like LEGO blocks.  The tray/layer is manufactured with the same high quality ABS (acrylonitrile butadiene styrene) material as LEGO.
You stack the tray layers according to the sorter size. Each tray interlocks and stacks up just like LEGO blocks.  You start out with the green tray at the bottom layer, followed by the red tray with small hole/grid, then the blue tray with medium hole/grid, and the last layer is the yellow tray with the largest grid on top. Once you have the trays stacked up in the right sequence,  drop a handful of LEGO blocks into the yellow tray and start shaking or stirring the LEGO pieces starting from the top layer. The big LEGO pieces will stay at the yellow tray, while the smaller pieces will make their way through the trays according to their sizes.
Amazingly, the assembled trays make up a 10 1/4 inch cube and can hold up to 1,500-1,700 LEGO blocks.  For storage, the yellow tray comes with a lid that acts as a cover and converts the LEGO blocks sorter into a LEGO blocks storage box.
Buy BOX4BLOX Toy Storage Organizer
I have had the opportunity to communicate via emails with the inventor of BOX4BLOX, Mr. Peter Botherway from New Zealand. He told me about his new partnership with Amazon.com. The new partnership will enable BOX4BLOX to be available for ordering and this item may qualify for FREE Super Saver shipping. Amazon.com is a safe and secure online shopping site. If you have a United States address, you may quality for free standard shipping through Amazon.com. BOX4BLOX – LEGO Toy Storage Organizer from Amazon.com
is now available for order to be shipped to anywhere over the planet. The price is reasonable for a product as amazing as the BOX4BLOX.
BUY the BOX4BLOX – LEGO Toy Storage Organizer for yourself or your kids and never have to worry about messy and unorganized LEGO blocks ever again!  BUY BOX4BLOX – LEGO Toy Storage Organizer as presents for your friends and family!  Your friends and family can never thank you enough for solving their problem of keeping their LEGO blocks neat.  Never have to look for the one critical LEGO piece in the mixture of LEGO blocks again.
Win BOX4BLOX LEGO Toy Storage Organizer (Closed)
Updated : 6-27-10 Winner Announced: Congratulations,  Melissa B., Entry #220
Simplastix Innovations Ltd. has generously offered one lucky winner their own BOX4BLOX, $39.99  value.
ENTRY #1: You must visit the BOX4BLOX website and leave one comment below on something interesting you learned about BOX4BLOX.
---
Extra Entries (do as many as you wish and leave a corresponding comment below) Please be sure to do Entry #1 above or all extra entries do not qualify.
For 5 entries, blog about this giveaway on your website and link back to this article and to BOX4BLOX.
"Like" AkronOhioMoms.com on Facebook (posting a comment is appreciated but not required)
For 3 entries, comment on any Total House Remodel post
Yahoo Buzz this post with button on top of screen
Google Buzz this post with button on top of screen
Stumble Upon this post with button on top of screen
Follow AkronOhioMoms on twitter and tweet about this giveaway. You can Tweet once a day for an extra entry every day! You can copy and paste: Win BOX4BLOX! https://www.akronohiomoms.com/reviews-and-shopping/toys/box4blox/
Vote for AkronOhioMoms.com on Top Baby Blogs by clicking here ( just click here, then click on the phrase "Cast A Vote", nothing else required)
Rate my site on Top 100 Mommy Blogs.
Become an AkronOhioMoms member by joining us with Google Friend Connect (on the right sidebar).

Enter any other active contest and leave a comment on which one(s)
Leave a new comment on any other non-giveaway post, one per post, leave comment on which one(s).
For complete contest rules, please see our Contest Statement and Blog Disclosure. If you ever have any questions on entering to win, just ask cindy@ akronohiomoms .com.
Contest ends at 11:59pm EST on June 23rd when a winner will be drawn at random and announced the next day. When commenting, please include your email address (not visible to public). I will notify the winners and they will have 36 hours to respond!
This was not a paid post. My own opinions were used based on my perceptions and experience. Thank you to BOX4BLOX who provided products for review & giveaway.