If you want to teach your kids about perseverance, then Brave Irene is for you. This delightful children's book and accompany CD read by Meryl Streep reads like a classic book with eloquence.
My 6 year old, Elijah is really doing well at reading this year – thanks to amazing teachers! We read a lot at home too, always have. Elijah was excited to see we had a new book. Although this is a book that is at his reading level, he enjoys looking at it on his own and of course reading with us.
The eloquence in writing style in Brave Irene is uncommon in many modern books for children. William Stegi, the author is able to reach out to kids ages 4-8 with a fantastic storyline with a well composed usage of words.  Many kids books today lack proper English and descriptive words. I think it is good to expose kids (even young kids) to a variety of literature and writing styles for many reasons, including vocabulary development.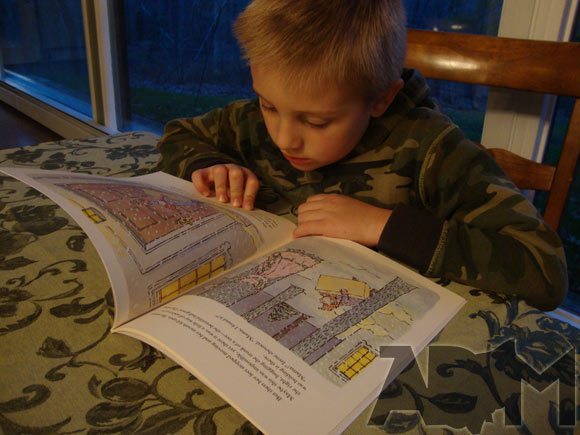 Brave Irene is not only a good book to read but with the included CD read by Meryl Streep, the story comes alive! We have listened to the CD both with the book in front of us to follow along with the illustrations and alone. We especially like to listen to CDs like this during car rides.  The voice of Meryl Streep is so animated throughout the book that kids will be glued to the story. As an adult, I enjoyed listening to the story because of the talented voice behind the story.
On to the story! Brave Irene is about the perseverance of a little girl. Irene is the daughter of a dress making who has made a gown for the duchess. The dress must be delivered to the duchess for that evening's ball, however he mom becomes ill. Irene volunteers to help her mom and deliver the dress through a terrible snow storm. She could have given up at any time and not be at fault, but through many difficulties, she perseveres.  Trudging through snow above her head, she carries the precious gown through the storm.
With a burst of wind, the box falls out of her hands and the dress blows away. She should have given up but she continues on to tell the duchess what had happened. What a brave and loving girl – she loves her mama! When Irene arrives reaches the duchess' palace, the dress was blown against the tree! Her perseverance was rewarded! The duchess loved the dress, invited Irene to the ball and returned her home in a horse drawn sleigh with a doctor for her mom and goodies to enjoy.
Like MacMillion (MacKids) on Facebook
Buy Brave Irene
For kids ages 4-8. You can buy Brave Irene on the publisher Mackids.com website or on Amazon.com. $6.99 paperback, $16.99 hardcover, and $1.99 audio, $9.99 book and CD
Win Brave Irene Book & CD read by Meryl Streep (Cl0sed)
MacMillion publisher is giving you the chance to win Brave Irene Book & CD read by Meryl Streep!

This promotion is in no way sponsored, endorsed or administered by, or associated with, Facebook. In order to comply with the latest Facebook Promotion Guidelines (revised 5/11/11), the following statements are true:
* Giveaway participants release Facebook from any responsibility whatsoever.
* Giveaways on this blog are in no way sponsored, endorsed or administered by, or associated with, Facebook.
* Giveaway participants are providing information to this blog and giveaway sponsors only; not to Facebook.
30 Day Winning Rule applies – this prize is under $25, so if you win this, you are still eligible for more winnings this month. For complete contest rules, please see our Contest Statement and Blog Disclosure.
Contest ends at 11:59pm EST on December 20, 2011 when a winner will be drawn at random. I will notify the winners and they will have 36 hours to respond or another winner will be selected!
This was not a paid post. My own opinions were used based on my perceptions and experience. Thank you to MacKids who provided the products for review and giveaway.