It is the first week of school for many Ohio kids. The first days can be stressful! Kids need a way to de-stress and a way to unwind once they get home.  I've found a few inexpensive fun activities that are sure to get your kids back to having fun and maybe even open up to tell you all about their day.
Getting kids to open up about their day at school can be hard. If you ask how their day was, you'll probably get a 'fine' and not much else. If you play with your child, the conversations will flow naturally…
First up, SLIME!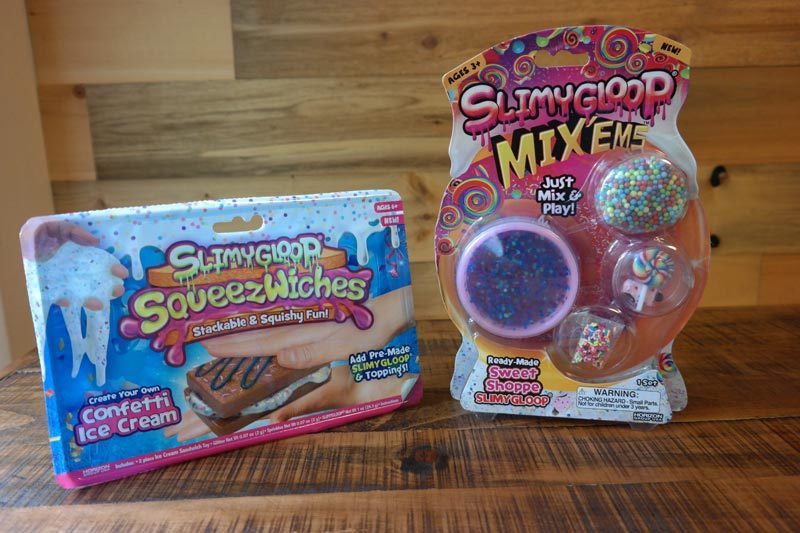 This is a sponsored post.
SLIMYGLOOP
Kids love slime and it can be a real destresser because at the root, it is sensory play. SLIMYGLOOP comes in a variety of kits and themes for entertaining hands-on play for ages 3+. It even teaches a little bit about chemistry and math while developing fine motor skills at the same time.
SLIMYGLOOP SqueezeWiches
Kids will love making their own Confetti Ice Cream Sandwich with the stretchy, gooey slime! My 12 year old daughter is a bit of a slime expert and she loves the texture of this slime!  Even more so, she loves embellishing the slime with tasty-looking shimmery toppings.  Just look at that ooey gooey slime sandwiched between two plastic cookies.
Place the slime on the snack base then top with the sandwich top for a gooey, squeezy make-believe SqueezeWiches like no other! It's cool and gross at the same time.
Purchase SLIMYGLOOP SqueezeWiches in a variety of fun themes on Amazon for only $4.99. That is a small price to pay for a guaranteed happy face and de-stressed kid after the first days of school!
SLIMYGLOOP Mix'Ems
SLIMYGLOOP Mix'Ems come in a variety of themes too, ours was the Sweet Shoppe with a lollipop, ice cream bar, and sprinkles! These kits are all about the things you mix into the slime!  It is fun and easy to create one-of-a-kind sensory slime as you mix in vibrant confetti, figurines, and more. This is a full sensory and texture experience as you squeeze, pull, stretch, and squish the slime filled with objects. Keep it in the reusable storage container for fun that never ends! My daughter and her friend love the texture and feel of the slime!

SLIMYGLOOP is for ages 3+. My 12 year old daughter loves playing with SLIMYGLOOP with her friends, so you better pick up an extra pack or two if your kids are planning a playdate with friends! You can purchase Mix'Ems on Amazon for about $6.99.
De-stress with Gems!
Sparkle Magic
How can you be stressed when sparkly gems are involved? You can't! Kids ages 6 and older can really unwind and decompress with Sparkle Magic. It is the perfect after-school activity that doesn't involve addictive screen time!  This is a fun 3D craft that you can do with your child or they can do it alone.
With Sparkle Magic, you can spend time together with your child and let the conversations naturally flow. Trust me, kids open up more when they have quality one-on-one time with parents. Whether it is with crafts like Sparkle Magic or nightime prayers together, make time to be with your children one-on-one every day so they can feel secure to talk about whatever is on their mind every day. I've seen it make a huge impact in our lives.
Sparkle Magic comes in a variety of themes with 5 mosaics each (2 per board, 1 on each side). It says 4 mosaics but you can only make 2 at a time, so make a note of that if you are planning on this being an activity for more than 2 children.
Again, this is for big kids so if you have little tots at home, be extra cautious not to let any of the gems get on the floor because we all know they will be in their mouths in 2 seconds flat! Sparkle Magic is just a really fun and hassle-free craft to do with your kids ages 6+.
The mosaics have adhesive backgrounds so all you do is stick the glimmering gemstones on the board in any pattern you like to bring the craft to life. This is the least messy craft available, as long as you keep the gems under control. 🙂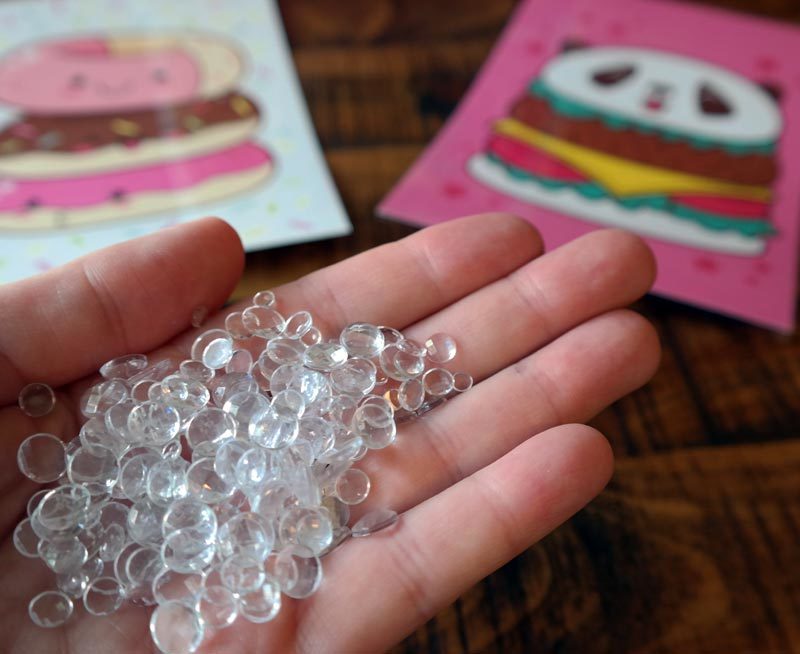 Sparkle Magic is for ages 6+ and are about $9.97. You can buy it now on Amazon.com.