Rated E for Everyone, DreamWorks Super Star Kartz made a splash into our house the other night on the Wii.  Elijah gathered the steering wheel  and we set off on a journey with Shrek, Donkey, BOB (The Blob from Monsters Vs. Aliens), Alex the Lion from Madagascar and that kid that trained the Dragons.  The game is published by Activision.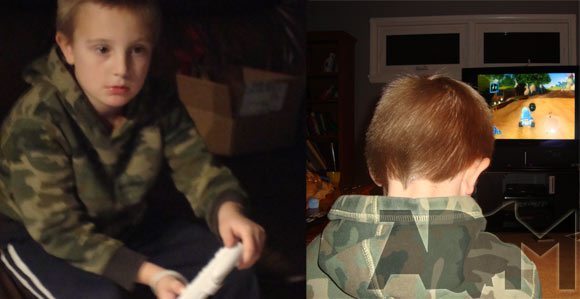 We've played Mario Kart, and have Sonic All Star Racing in the house.  The gameplay is very similar to these cart games- with a hint of more attention spent on actually driving, instead of the constant barrage of powerups in Sonic.  There were several obvious choices of 'up the ramp' or 'turn off the track' that allows kids to make decisions- I like that in a game.
[youtube]http://www.youtube.com/watch?v=NVm5W8YXTlA[/youtube]
The game played fluidly, there wasn't a lot of excitement actually getting to the races, but once you start- you can listen to and hear the antics of all of the characters.  Because each character has so many one liners anyway from their films- it's an easy laugh for all.
To add some extended play into the game- each character (some of which are locked in the beginning) has its own special moves and unique abilities- these fit right in with their characters.
The scenery colors in this game are more earthy than other cart games- because, well, all of the movies featured in this Dreamworks picture take place in the woods, jungle, or swamp!  Plenty of features and secondary characters can be seen in all of the levels – making it fun for young ones to be on the look out for recognizable favorites.  Because of its earthiness, I found the scenery a little more sparse than other games- but, that made it easier to understand for our young players.
Super Star Kartz Availability
Super Star Kartz is not only available for the Wiil but XBox 360, PS3, and Nintendo's 3DS and regular DS.
This was not a paid post. My own opinions were used based on my perceptions and experience. Thank you to Activision who provided the product for review.