My kids find the funniest apps on my phone. I can tell when they are playing with my phone when all I hear is laughing and giggling – the most beautiful sound to this mom's ears. As beautiful as laughing is to my ears, passing gas, tooting, otherwise known as farting is music to my kids' ears. Seriously, you'd think it was the best thing ever!
Now, they can laugh til their heart's content with the new kids app Little Luna, Big Talent from Bastei Entertainment – it's all about farting bugs!

I received compensation to facilitate this post. All opinions are my own.
Little Luna, Big Talent Farting Bug App
The Little Luna, Big Talent app is an interactive app that explores the life of bombardier beetles and their unique talent. In the wild, they toot when in danger but in this app, they toot to express themselves. In fact, every bug has their own special way of tooting that is sure to leave your kids (and probably husbands) roaring in laughter!
Not only is this app hilarious and bound to leave even the classiest moms cracking a smile or giggle, the app is educational too. Little Luna promotes concentration, musical expression, and coordination too. This app is intended for kids ages 4-8 years old. Your child can play several mini games that are fun and interactive, all with the beetle theme.
Throughout the games, your child will learn about all the unique and hilarious ways Luna and her beetle family use their special talents – while encouraging your child to embrace their special talents too – which hopefully does not include farting! ha!
This app is available in English, Mandarin Chinese, and German too.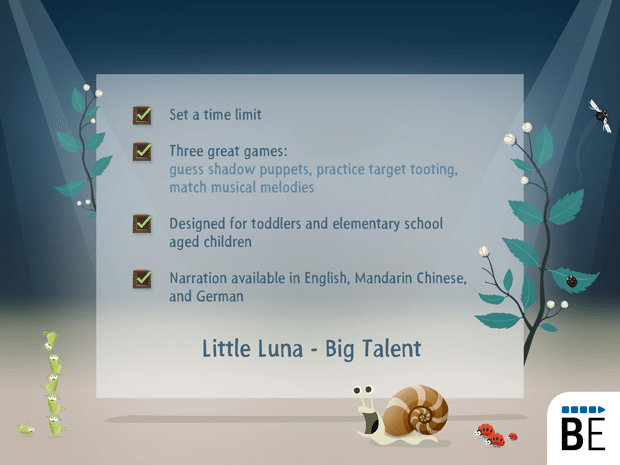 You can download the Little Luna, Big Talent app at the iTunes App Store for $2.99. Android platform will be available soon.