The world of My Little Pony just got sweeter with the My Little Pony Pop Pinkie Pie Sweet Shoppe Playset. This is a new approach to play with My Little Pony as your child gets to create the shoppe the way they like it by swapping the windows and doors, adding decorations the way they want on the shoppe and even on the lawn.

I received product to facilitate this post.
My Little Pony Pop Pinkie Pie Sweet Shoppe
The My Little Pony Pop Pinkie Pie Sweet Shoppe comes with many parts and pieces that will keep your child busy creating the best sweet shoppe ever.  My daughter loves to customize everything, so I know she is going to be thrilled to receive this playset for Christmas. She can switch the accessories around to create a new shoppe anytime she wants. The pieces easily connect, so parental help is minimal.
You can even pop the pieces together to create Pinkie Pie!
Popping Pinkie Pie together was easy, you may have to help young girls. This playset is for ages 4 and up. The next step of adding the sparkly felt hair and tail should be easy enough for even a 4 year old.
Next, glam Pinkie Pie up with colorful stickers!  There are a ton to choose from to put on her and the house! You can even purchase additional My Little Pony Pop Kits to join Pinkie Pie at the Sweet Shoppe!
Your girl can customize the sweet shoppe with pink or blue windows and doors – or mix and match! There are also plenty of accents to add the exterior.
Your daughter can express her own style with this fun playset. It is a fun toy to get out for play dates too as each girl is different and can create a brand new experience with a few changes – as long as your daughter is open to her friends changing it! No worries, it can always go back to the way it was before.
Half of the fun is creating and designing and the other half is the make-believe play your daughter will have with this playset. My daughter can play for hours with little sets like this, creating entire stories of what is happening. This is the kind of toy that encourages the creative, imaginative play we all want our kids to experience.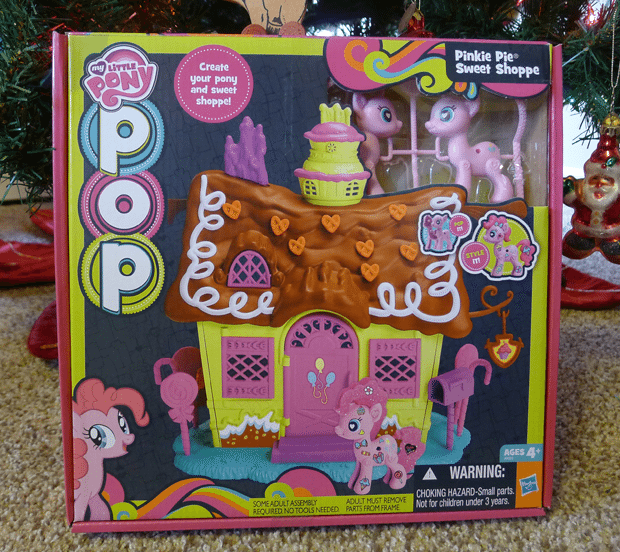 The My Little Pony Pop Pinkie Pie Sweet Shoppe makes a wonderful gift to put under the Christmas Tree this year for My Little Pony fans ages 4 and up this year.  You can purchase the The My Little Pony Pop Pinkie Pie Sweet Shoppe at retailers nationwide, on Hasbro.com, and on Amazon.com for about $19.99.