The must-have video game this season is going to be Skylanders SWAP Force! It has already been placed on 2013 Toys"R"Us® "Fabulous 15" Holiday Toy List. Last year, Skylanders action figures were #1 in the USA and Europe sales in 2013. This year, Activision has gone above and beyond with a new interchangeable action figure that comes to life with new special skills with their new SWAP Force characters. Now, kids can mix and match Skylanders' powers and move to create a truly unique character of their own!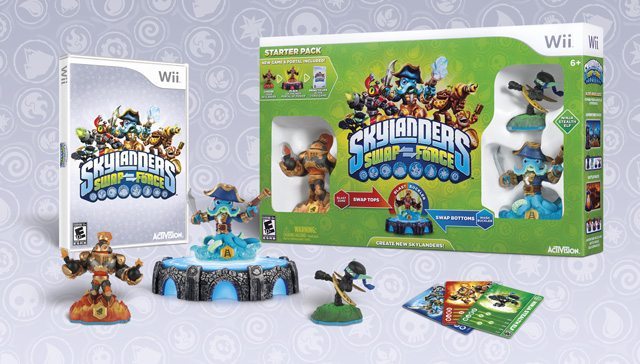 I received product to faciliate this review.
Skylanders Swap Force Video Review
Skylanders SWAP Force  Review
I love how Skylanders SWAP Force unleashes creativity in kids as they create more than 250 unique combinations with the new characters.  They can figure out the skills they want from two different characters and combine them for the ultimate characters. Mixing and matching all the powers and moves creates a unique gaming experience every time they play!
Plus, the combination of a real-life action figure that kids can hold and play with combined with a video game that brings it to life is genius!  What other action figure can come to life?!
Above is a Skylanders SWAP Force starter kit with two additional Lightcore SWAP Force Sklyanders. This is a great start to the new system as a must-have Christmas gift this year.
Skylanders fans are going to love the characters' new abilities of flying, climbing, digging, bouncing, and teleporting to explore and discover new areas of Skylands!
This new SWAP Force system includes:
16 new SWAP Force character that can mix and match with one another with up to 250 unique combinations
16 new Core Skylanders characters
8 LightCore® Skylanders characters that light up
16 upgraded Skylanders from the previous games that were fan-favorites, each one features new "Wow Pow" upgraded powers
Be ready for your kids' collections to grow!
How to Swap Skylanders SWAP Force
My son figured out how to swap Skylanders SWAP Force really easily from the huge display at Toys R Us! It is easy to swap Skylanders to create up to 250 different action figures!
Our starter kit came with Wash Buckler (the squid looking one) and Blast Zone (the rocket looking one). We combined it below to become Wash Zone, flip him around for Blast Buckler!

I really like how easy it is to swap the pieces out, anyone can do it with total ease. They are connected by what appears to be small magnets. There are no special connections, twists, or configuring. It is easy to swap out characters while gaming!

As a mom, I am so thankful and excited that the new Skylanders SWAP Force works with all the old Sklyanders Spyro's Adventure and Skylanders Giants. They all work and even have the new ability of jumping which brings new life to old toys. Below, TreeRex is playing on the new system.

The new Skylanders SWAP Force is available in the following platforms:
Nintendo Wii™, Wii U™, 3DS™
Xbox 360™ and Xbox One™ video game and entertainment system from Microsoft
PlayStation®3 and PlayStation®4 computer entertainment system
Like Skylanders on Facebook
Follow Skylanders on Twitter
Buy Skylanders SWAP Force
Put Skylanders SWAP Force at the top of your Christmas list for kids ages  6 and up!
This was not a paid post. My own opinions were used based on my perceptions and experience. Thank you to Activision who provided the products for review.