My 5 year old, Lila, is learning to read.  We spend lots of time practicing how to sound out words.  It's a long process.  But there are many words that kids are expected to know and pronounce properly as soon as they see them – these are called sight words.  We've found a great new way to practice learning those sight words – Zingo!  Sight Words game from ThinkFun.  Zingo! Sight Words combines the familiarity and fun of Bingo with skill building in sight word recognition.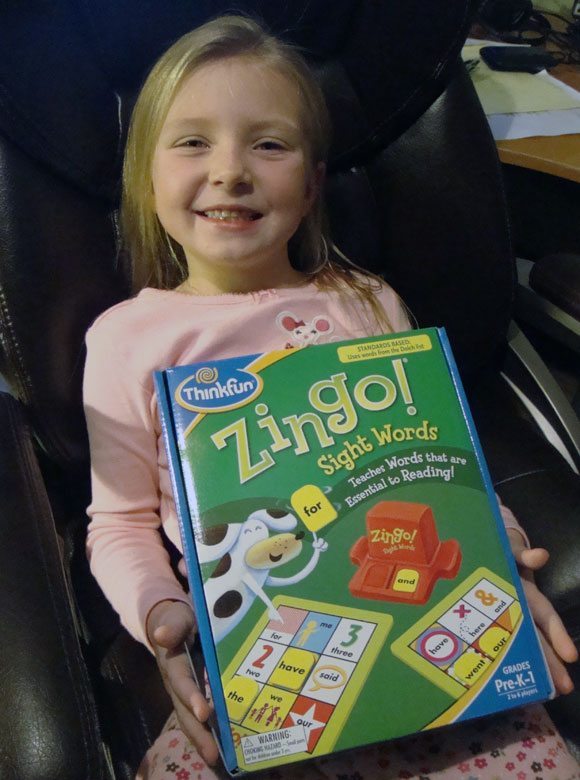 Why Is Learning Sight Words So Important?
The ability for kids to quickly recognize and read sight words is critical to becoming a fluent reader.  Experts say that sight words are the most frequently used words in the English language and are a part of 50-75% of all written materials.  I knew sight words were used often, but I didn't realize how much of our written information contains these words.  Mastering sight words is such an important skill for our kiddos!
How Do You Play Zingo! Sight Words?
Set up and rules of the Zingo! Sight Words game are a cinch.  The game comes with 6 double sided bingo-style cards.  The green side is for beginning readers, and is less competitive.  The red side has more words that are repeated on each of the cards, making the game play more competitive as kids have to race for the word tile to fill their Zingo! card.
Also part of the game is the Zingo! Zinger.  This contraption holds all the word tiles.  When players slide the handle forward, it reveals two of the sight word tiles.
Players then race to recognize the revealed sight word tiles, see if it matches a sight word on their Zingo! board, and grab the matching word out of the Zinger machine and add it to their Zingo! card.  The first person to fill their card wins, and shouts "Zingo!"
The instruction booklet comes with other game variations as well:
If pressed for time, play mini-Zingo! by matching three words in a row – up, down, acroos or diagonal.
Zany Zingo! Select a pattern on the cards to match, and the first person who does so wins.
Multi-card Zingo!  You can go all out like crazy bingo players I've seen, and play multiple cards at one time.
Zingo! Sight Words is for ages pre-K – 1st grade.  Two-six players can play at a time.
My Take on Zingo!  Sight Words
I think this is a fantastic game and teaching tool!  Who doesn't love Bingo anyhow?  The folks at ThinkFun have  taken the best of a classic kids' game, and ramped it up.  I'm sure this is going to become a new favorite game in our home (Lila is getting it for Christmas!).  The thing with developing reading skills is that, like most learning, it takes repetition.  Learning sight words takes repetition.  Zingo! Sight Words makes the work of learning sight words loads of fun!  You can't beat that!  I don't know about your kids, but mine LOVE playing games for homework.  🙂
It's not just sight words that children are learning when they play Zingo! Sight Words either.  They are also learning matching, concentration, memory, coordination, taking turns, following instructions, and sportsmanship.  All important skills for success.
Buy Zingo! Sight Words From ThinkFun
Zingo! Sight Words can be purchased on the ThinkFun website and at retailers nationwide.  ThinkFun games can also be purchased on Amazon.com.
Find a store near you by clicking here and entering your zip code.
This was not a paid post. My own opinions were used based on my perceptions and experience. Thank you to ThinkFun who provided the product for review.