The open floor plan is popular with today's homes. People entertain and live differently than before when homes were built with individual rooms for everything. Since our home is 50 years old, it was built with individual rooms that didn't flow well together at all. Having a standard size doorway into the living room was not welcoming at all. In order to create an open floor plan, we had to remove a large wall from the middle of the house.
The wall we are removing was a large closet where we hung our coats and had the majority of our kids' toys.  There were heavy doors on the closet but when they kept falling off the tracks, we got rid of them for the safety of our kids. We piled way too many toys in this area and it wasn't a nice view at all in the living room!
So, it's messy but not for long. All the toys were transported to our kids' bedrooms. Organizing them and finding a spot is another project that is only about 1/2 done. I won't have a space for all the games, which is the majority of what is on the shelves in the above picture until our storage room is completed that we already started.  We plan to add plenty of shelving to keep it all organized and accessible.
First things first. We put a plastic tarp from floor to ceiling where we would be removing the wall.
If you have removed a drywall wall before, you know it is not that difficult. It can be done with relatively little strength and rather quickly. I had no idea that #1 we have plaster walls downstairs and #2 they are very difficult to remove. You can't just swing a hammer at them, or sledge hammer for that matter. It takes a lot of strength with a crowbar to get at the walls! Being such difficult work, I didn't feel quite right photographing my husband and father-in-law. 🙂
Once the first side of the wall was removed, they sawed off the studs to make the second side easier to tear down.
This is what the wall looks like with the studs and one side of plaster gone. It was such a dusty MESS, I should have taken a picture but we were so dirty from head to toe and the floor was such a mess, we just wanted to clean it up.
At least the living room side of the wall was easier to break through since the other side and studs were removed. Still, it wasn't easy!
My husband is pretty exchuasted here after successfully breaking through! We now have an Open Floor Plan!!! It was way more work than I expected. It took all 3 of us several hours of hard work.
The end result was a big open space between the dining room and the living room. Our original plan was to drywall over the dining room side of the double sided fireplace. We hardly use it and it seemed crowded with the dining room table there. Now that the wall is gone, the space feels so much more open. It doesn't feel crowded at all. There is plenty of room in the dining room, so now we are going to keep the double sided fireplace.
Below is the fireplace view from the living room.
We don't like the natural brick look of the fireplace. It doesn't fit with our more modern look of our home. Eventually, I'd like to add a rock or faux rock surface over the fireplace. For now, we are painting the fireplace an off-white, the same color as the trim in the downstairs. It will make it a clean, more modern looking fireplace.
I primed it with 1 gallon of Kilz primer. The sticky stuff did the trick, the bricks soaked it all up!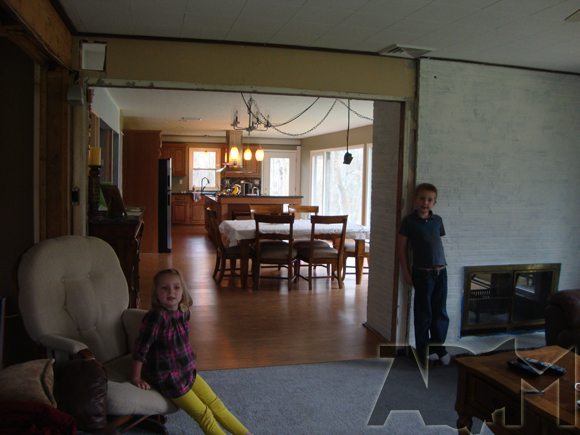 I finished with a coat of semi-gloss paint, the same color we are using for trim work to coordinate with the rest of the house. We still have to work on the header that is right above the open space, but this is the current "after" picture. 🙂