Reclaimed wood is a popular decorating trend for many reasons. Adding a reclaimed wood adds warmth and life to any room, in any style. Reclaimed wood is also an environmentally friendly choice as it preserves and reuses our natural resources. Whether you want to cover entire walls with reclaimed wood or use as an accent piece on a focal wall, ceiling, or nook,  you can do it quickly with Timberchic®.
Click the photo below to watch a video on how quick and easy it is to add reclaimed wood to a wall!
This is a sponsored post.
DIY Reclaimed Wood Project Anyone Can Pull Off
Adding reclaimed wood to your home couldn't be easier with peel and stick Timberchic. Installation of Timberchic reclaimed wood is quick and easy.
You don't need expensive saws or even a hammer or nails. Simply peel back the pressure-sensitive adhesive and apply to your wall, ceiling, or other surface. Timberchic allows you to add the highly popular decorating trend of reclaimed wood to basically any surface of your home quickly and easily.
We decided to update our living room with a focal wall of reclaimed wood. I love DIY home remodeling projects that deliver a big impact with little time! This entire wall took my husband and I only a few hours. If we weren't dealing with uneven walls and an uneven window, it would have been even quicker! The Timberchic website includes easy to understand DIY instructions, including how to deal with a crooked wall.
To cut the product to the right size around windows and on edges, you can just score and cut it with a utility knife since the wood is only 1/8″ thick. We used our miter saw to speed up the process.
We began the project at a level line at the center of the wall on the far right side as you can see in the video above.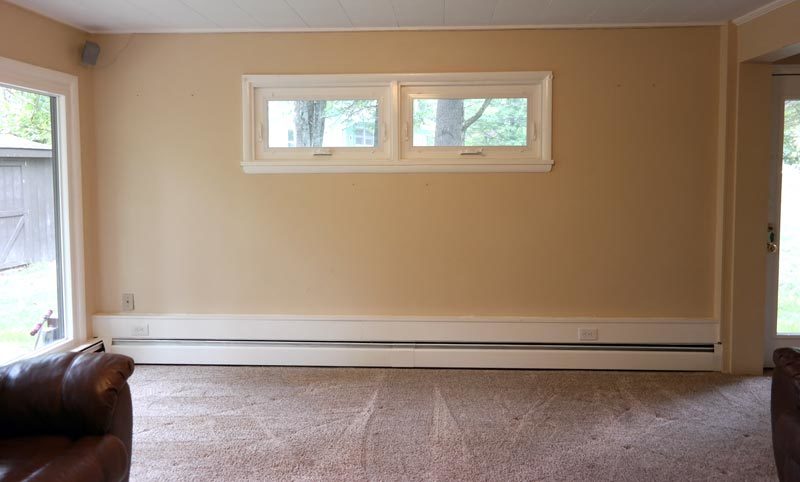 Take a peek at our living room before Timberchic reclaimed wood. It's ordinary and boring. It is also oddly shaped with a large supporting beam to the right.
What is even better is that this project was quick, easy, and not messy at all. Most DIY projects create a mess, take days if not weeks to complete, and is tiring. Adding Timberchic reclaimed wood to our living room felt more like arts and craft time than DIY home remodeling. It's so easy. Simply peel the backing off of the adhesive and stick to your wall. As you can see, this reclaimed wood is cut down to only 1/8″ thick. It is finished on both sides to minimize warping. There is no need to paint or stain this product.
Not only will you have a breathtaking room or accent piece in no time but you'll have a fantastic story associated with the room. This is real wood that was lost during the log drives over a century ago that were perfectly preserved in the cold waters of northern Maine. Apparently a lot of wood sank to the bottom of the lake and rivers during Maine's lumber and paper mills over the past 150 years. Timberchic has salvaged it, sawed it, and prepped it for you to enjoy in your home!
Each piece of wood is unique, creating an interesting canvas on your wall. Choose from several color schemes and sizes.  We chose the natural plank in 5″ size.
There are even knots in the wood in which we place a black sticker behind.   
Stick the sticker on and put the wood piece over it.
I love the look of knots in the wood pieces!!
Check out this post to see the reveal of our transformed living room!! Also, check out these great ways to decorate and transform your spaces with reclaimed wood.
I love how reclaimed wood adds a natural element to this living room with two small accent spaces. It looks awesome against white trim, cabinets, and adjoining walls.
What a cozy bedroom with reclaimed wood at the head of the bed. We are remodeling our master suite and plan to add reclaimed wood to our bathroom. After seeing this picture, I want to do the same thing in the bedroom!!
How gorgeous is this Coastal White reclaimed wood below the counter and in the shelving unit!
What a welcoming site for friends and family as they enter your home with this accent piece.
Check out the final reveal of our reclaimed wood living room project here! Get more ideas on how to incorporate the popular reclaimed wood style in your home quick and easy with Timberchic on their Facebook, Twitter, and Pinterest pages.
Order your Timberchic reclaimed wood today on the Timberchic website. Timberchic® is warranted against manufacturing defects for 30 days from the date of shipping.
Have fun!