As fun as building my new kitchen has been, I must admit that I took a LOT of pleasure in getting the sledge hammer out for the old kitchen! I've been eagerly awaiting the day that I could destroy the barely functional kitchen. The day came this weekend!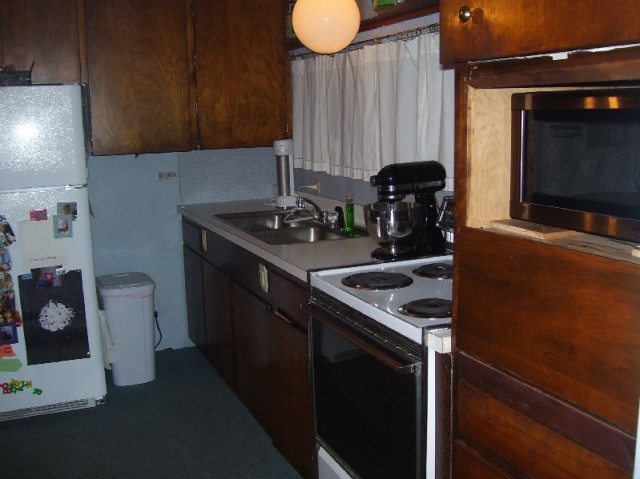 When I got home from dropping off our kids at grandma's house, my husband was already starting. Lucky for him, he didn't get too far because seriously, I WANTED to demolish the kitchen cabinets! 🙂
This is not the first time we've demolished an old, nasty kitchen. Our first home was a fixer upper too and while my husband was on a business trip one night, I took down all the kitchen cabinets in that kitchen, by myself! I was so sick of them that I tore them off the walls, even before we had new cabinets!  12 years later, I'm more mature and waited until I had a fully functioning kitchen before destroying the old one. LOL
The cabinets were custom build which meant they were nailed together with a zillion nails and nailed to the wall with another zillion nails. Argh! Good thing we were using sledge hammers, it was a lot of work but so worth it!
We had so much to throw away that we eventually brought a wheelbarrow in and loaded it up right in the kitchen. I bet you've never had a wheelbarrow in your kitchen!
Do you ever wake up in the morning and keep your pajamas on while you clean the house? How about when you use a sledgehammer to destroy an old kitchen cabinet? Yes, I was so eager to finish destroying the last remaining cabinet that I keep my nightgown on, put on my sneakers, and continued the kitchen demolition! Don't judge me, you have no idea how much I despised this kitchen from day 1!
Finally, it was trash day! We had a huge display of garbage that day.  It was so bad that we loaded the amount in the picture below and then we used the large garbage cans AGAIN once the garbage truck turned around and they picked it up across the street at our neighbor's house!
If you ever do a demo, be nice and nail down all the nails, wrap it up with twine, and help the garbage collector. We gave them a hand for loading the garbage truck up and a couple power bars as a thank you. Gift cards for coffee are always appreciated too!
This is what we did this weekend! This new space will contain a front door, our foyer, and several closets.
 What do you think of the results?