Just when I thought we were going to take a break from our total house remodel project, I get the opportunity to be a Delta Faucet Mom Ambassador!  Not that I am complaining, I am thrilled to be part of the team and excited about starting out master bathroom remodel.  I received a product sample and promotional item as a thank you for participating. I participated in an Ambassador Program on behalf of Mom Central Consulting for Delta Faucets.
Our Master Bathroom Remodel
Our master bathroom is the original bathroom from 50 years ago. Everything is in working order – but that's about all I can say. There isn't even a bathroom door – just a hallway-type entrance. We are starting the layout for our entire master suite remodel. We plan to expand the bathroom into the bedroom space and add a walk-in closet. I'll share our plan ideas in the next post as we are in the beginning stages.
What I do know about our master bathroom is that there will be a beautiful Delta faucet setting the stage for everything else. I'll be installing and reviewing one of the beautiful Delta In2ition Shower Heads.  What first caught my eye was the large rain shower head, it is huge!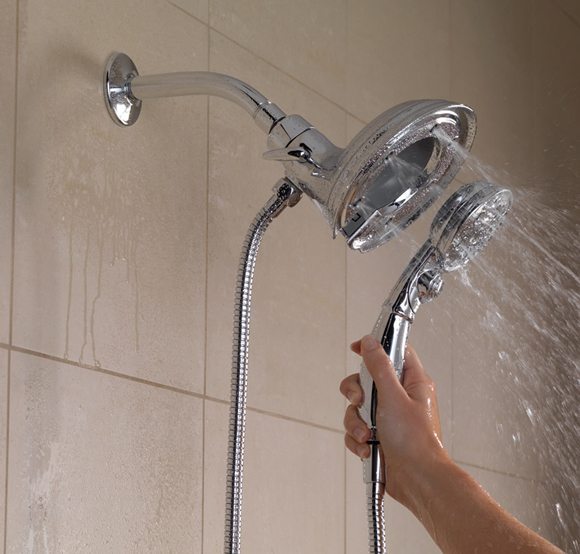 What I think I'm going to like the most is that the Delta In2ition gives you an amazing 2 streams of water at one time – giving you the feeling of more water.
[exceptional-citing quoted="cindy-beach-2011-headshot" template="bubble-red-round" date="" ]I can't wait to escape and enjoy the rain shower head, it looks amazing.  I think I'll be spending more time in the shower![/exceptional-citing]
Our current shower head it basic with clogged holes so that water sprays only through a few, with little pressure. With the In2ition, you can use it as a dual shower head or keep the one at the base and use the second as a handshower. You can use it 3 ways, handshower only, showerhead only, or both at once. You control it.
Plus, there are 4 spray settings.  I can't wait to replace our old shower head!

You can do all your bathroom remodel with Delta. They have everything you need including lavatory faucets, toilets, soap dispensers, and more. I need to start browsing for the rest of our master bathroom remodel project. I like that I can coordinate with the same finish I chose with the In2ition easily with Delta too.
For now, I installed the Delta In2ition in my kids bathroom. It was so easy to install, I did it myself in less than 10 minutes.  It is the first time I ever installed a showerhead, so I feel pretty proud.

My kids are really enjoying the In2ition, especially the handshower, however, I hope they understand that it is a temporary treat for them! Or maybe, I'll have to buy a second one!
Like Delta on Facebook
Follow Delta on Twitter
Pin Delta on Pinterest