With home remodeling, things always get worse before they get better. Below is a picture of our dining room and the new location for our kitchen – by the door.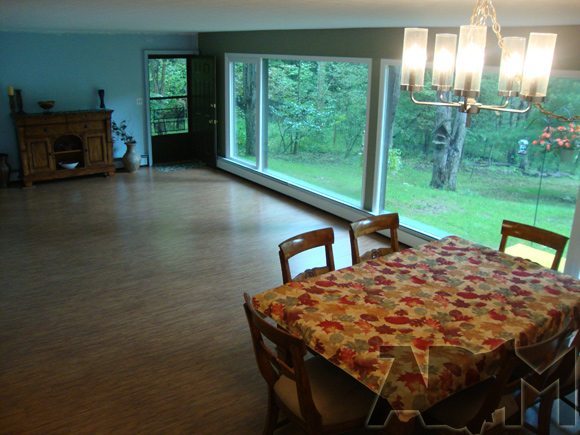 Below is a picture of what the room looks like tonight! Big improvement, huh? 🙂
Honestly, yes! I can't believe how excited I am about the current status of this room. My amazing father-in-law has been spending hours and hours getting it to this point. Last month, he installed a new door that brings in a LOT of natural light and matches perfectly with our windows.
Installing a Window in the Kitchen
Installing a window in the kitchen was the best idea we had for the kitchen. Not that we don't already have tons of windows in the room, but I really wanted one above the kitchen sink. Plus, we have no view of the woods on that side of the house, so adding a kitchen window was in order.
First, they measured and cut the plaster and drywall.
There is very little that I can do when it comes to real home remodeling. I just don't have the talent, strength, or know-how. Thankfully, my father-in-law does. He owns Good Life Remodeling, if you are in Summit County or Medina County and have home remodeling needs, give him a call.
So, with our older home, we have some walls that are plaster. I was able to help keep the dust down by using the shop-vac to clean up dust as he sawed his way through the exterior wall. It's not much, but at least it was something I could do to "help". It is soooo frustrating to really want to move home remodeling projects along and not have a single thing you can do on your own.
We let my daughter push out the exterior wall once it was cut. She thought it was really cool to be able to help with the final step!
Kitchen Remodel Steps
The kitchen remodel starts way before the kitchen cabinets arrive. Cliq Studios, our cabinet company does a really good job at preparing the homeowner with Kitchen Remodel Steps. If you are at least aware of the steps, you can have what you need done before your cabinets arrive!
The room that we are making our new kitchen was the living room.
For the past year, it was just the empty room at the top of the page with the Tarkett laminate flooring. So, we have to add all new water lines, plumbing, and electrical to this room. We started with the exterior wall where we will put all of the above. We ripped out sections of the plaster, again, I was able to help with the shop vac and a spray bottle of water to keep the dust done.
Thankfully there were no surprises behind the wall or insulation! No mold, extra wiring etc. Below is our new window! I just love the view of the Cuyahoga Valley National Park!
We now have massive amounts of wiring and plumbing started in the new kitchen. We were not pleasantly surprised to find that we actually have 2 ceilings right on top of one another in the kitchen and dining room. This squashes our plans of putting can lighting in the kitchen because it is so thick.
With home remodeling, you always gotta expect the unexpected and readjust your plans accordingly. Now, we have to get creative with picking out a new lighting solution. The cabinets will arrive in less than 2 weeks, there is still plenty to do!
Many, many thanks to my father-in-law who we owe so much!