When we told our kids that we were going to move, we promised them that they could paint their rooms any color they wanted. When we moved into our current home, we found there to be much more involved than just painting!
We started with Elijah"s Room or should I say Wing. His bedroom was 15′ x 20′, too large for a kid's bedroom! It was very dark with dark brown paneling, dark floor boards, no ceiling light, and 'wonderful' orange shag carpet. Plus, there were 2 closets the entire width of the room and 1 scary closet that led to a storage room. Pretty much everything in Elijah's room had to go!
Kids Bedroom Remodel Begins
First, my wonderful father-in-law, owner of Good Life Remodeling came out to design a better space for Elijah's Room, Elizabeth's room which was right behind his, and create a larger storage room with access off the hallway, not in Elijah's room. He began by tearing out the double closet doors and walls. Then he built a new wall about 5 feet into Elijah's room. Next, he took created 2 walk-in closets for the kids bedrooms back to back. The best part of the kids closets is that they have a secret passage so they can go back and forth. Here is a picture of Elijah's closet in progress with the secret passage cut out.
Preparing the Walls for Remodel
Matt and I ripped out the paneling in just a couple hours. It took Matt longer to cut it down and tie it up with twine for garbage removal. The walls underneath the paneling were the original walls from 50 years ago. The drywall was taped and joint compound was used, but barely. At least we didn't have a layer or two of wallpaper underneath to worry about.
I began scrapping the paneling glue off of the walls. It was a LOT easier to rip down the paneling than to remove the glue.The glue is the gray stringy looking stuff spread from floor to ceiling the on the entire bedroom.
I started out with this $4 on Clearance tool from Home Depot. There is a reason it was on clearance. After 3 hours, my hands were so sore I couldn't stand it. I went to Lowes' the next day for another $12 tool. It had titanium blades that worked about 50% better. The drywall just peeled off with every scrape of the scrapping tools. I had large gashes from where the globs of glue would not come off of the wall.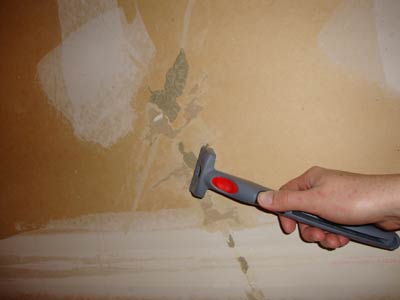 This process took us more than 8 hours to complete. Matt and I were joking late one night about whether the kids appreciated our hard work. Of course they don't  understand, they are 3 and 5. Right? The next day, I was working in Elijah's room, he came in and said "Thanks Mom for all your hard work, it looks amazing!" Wow! My 5 year old actually notices AND appreciates our hard work on his room?!
Next, we sanded the entire room to get some of the peeling drywall off before we used the joint compound.
Skim Coating the walls
Next, we used joint compound to fill in the holes and smooth out the surfaces. We basically skim coated the entire bedroom walls since there was so much damage. The worst part of using so much joint compound is that you know you have to sand it all down. Worse than that is not knowing the best techniques and having such damaged walls that I had to do this 4 times on most sections of the walls. Each time, I came out of the room looking like a ghost with sand covering me head to toe!
Once this process was complete, about a week after the start of the project, we were able to paint. My mother-in-law came over to help with the painting. We prime painted everything, including the ceiling, woodwork (new & old), bedroom door, closet, and all of the floor radiators. Thankfully, this only took 1 afternoon.
New Storage Room
Below is a picture of the original storage room. To the left was the door to Elijah's bedroom as the entrance. Now, this room will eventually turn into my 2nd floor laundry room that I know I will love! The entrance to this room is from the hallway, not Elijah's room. The doorway to the left is still there but now it leads into a 8'x10′ storage room, see below.
This is a much better use of space. Elijah still has a large 15′ x 15′ bedroom, plus we have a place to store all of our long-term storage items like holiday decorations, clothes, etc. since we have no basement in this house.
Almost Finished Remodeled Bedroom
Elijah moved back into his bedroom with it just prime painted. He was excited and said it looked great. By removing the paneling and fixing his walls, his room looks like a brand new room. It is much lighter, even without a ceiling light installed. We are waiting for the Tiger Shark War Plane Ceiling fan and light to arrive next week from the Palm Fan Store. We will match the colors on the fan to the walls. We will also be hosting a giveaway of a ceiling fan light from the Palm Fan Store shortly after, be on the outlook for that. We also plan to replace Elijah's carpet but that will wait until we are ready to install carpeting in the whole upstairs of the house.
Elizabeth's Bedroom Remodel
Elizabeth's bedroom remodel is well underway as well. A few more days of using the joint compound and sanding, then we will be able to paint! I'll post once we are at that point with plenty of pictures.
Thanks for joining us on our home remodeling adventure! If you have any suggestions or ideas, comment below!