It has been 19 days of cold, wet weather here in Ohio since we received our Backyard Discovery Patriot Playset. My husband went outside to build the playset every evening that it was not raining. The kids were so patient. When Elijah told Elizabeth that the playset was almost done, she looked out the window and was disappointed when she saw the frame below. She said "But there is no slide".  I was surprised that my 5 year old understood the process as well as he did but I guess 2 years really makes a difference. Once we got the frame up, the project took on more speed…when it wasn't raining…
Our grass…or lack thereof…
You may have noticed our ground isn't too grassy. Before we moved to this house, they filled in an inground swimming pool in the backyard and took the entire yard out. We are seeding it once the danger of frost is over in Ohio, we just had frost the last 2 nights here and it's almost May! This actually works out great because we won't have to tear up the grass around the playset to lay down the mulch. We are ordering mulch specially designed for playground use. It will make the are safer. Plus, there is no way we could seed grass around a new playground, it would have no chance of growing!
The building continues
Once the frame was built, the rest of the playground went up quicker. My father-in-law came over a couple times to lend a hand. With my husband and father-in-law, they were able to knock out a lot of pieces of work from the 3 boxes of wood. My mother-in-law and I would read the directions about a step or two ahead of the guys and fetch all the wood pieces and screws so they could just assemble, assemble, assemble! We were quite the team!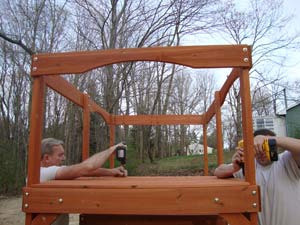 I mostly just fetched pieces of wood during this project and let my  husband know when I didn't think something was level, etc. I am not great at building and get overwhelmed by even simple instructions and kits. However, with the Backyard Discovery directions, I could look at each step and focus on just that step. I did not get overwhelmed. My husband, however did 99% of the work to which I am thankful! I was able to help screw in the small walls of the playground on the different levels.
The kids were patient during the playset building process but Elijah wanted to help so bad! In the below picture, he is pretending to hammer in a nail. There aren't actually any nails used with this playset and we don't allow him to play with hammers. It was just a shot too cute not to take.  I think it was a good experience for them to see how much time and work is involved in building the set. Too many things are instant gratification these days. Kids need to know that sometimes you have to work hard for something you want. In this case, Daddy had to work hard for something they wanted while they just waited.
The Backyard Discovery Playset is complete!
Spring has finally sprung with our Backyard Discovery Playset and it is finally built! It was only 50 degrees outside but the kids were not going to let that stop them from having a super time on their new playset! They didn't let the mud stop them either. I think I'll be ordering that mulch tomorrow because I cannot have another house to clean daily! We also have to seal the playset with a sealer soon.
My kids love the playset! When we moved this winter, we left the kids' playground at our previous home with the promise to our kids that we would buy them a new one. My kids really liked their old playground and I feared that they would not like their new one as well. I know, I worry too much. When we found the Patriot, I knew we'd have nothing to fear. This playset has it all and the kids absolutely love it! It is actually a  more attractive playset too, from the front and the back.
Spiral slides are the best!
My kids were excited to find that this playset had a spiral slide. They love circling around as they speed down the slide! It is more of an adventure for them. If you notice, there is part of the metal rod exposed on the slide. This will be covered once the mulch is installed and the slide has it's final resting place.
Finishing touches make all the difference
What sets this playset apart from the rest for me are the finishing touches. There is no function to the archways, window panes, window shutters, and decorative railings but they really give the playset a finished look.  I love it!  This playset would be attractive in any backyard. The kids think it is fun to look through the windows throughout the playset.
Backyard Discovery playsets are well organized and they utilize space to add fun wherever possible. On the landing next to the sandbox, there is a 1/2 picnic table. 2-3 kids can sit to have a snack right on their playset. My kids can't wait to have a picnic lunch here but I say it has to be at least 70 degrees outside to even think about a picnic!
Both my 3 year old and my 5 year old can climb this rockwall.  While at various stores this Spring, I've noticed that other playset companies don't put as many 'rocks' on the rock walls. This playset has plenty of rocks, double compared to some I saw. With more rocks, kids can navigate up the wall in different ways each time, plus it makes the kids feel safer knowing that there are more options for their feet and hands.
My kids love to swing so having 3 to choose from is perfect. The playset construction is solid. You can tell this the most when it comes to the swings. Nothing rocks or sways when both kids are swinging at the same time. I'm happy that my kids are finally learning to pump their legs when they swing this year. However, there is something peaceful and mothering to push a little one on a swing, I still enjoy it. They like to get on the glider swing and go "high as the sky"!
Having a playset in the backyard is what ever kids needs. It encourages physical exercise, creative play, and fun family time together. My kids love their Backyard Discovery Patriot playset. We will get hours and hours of fun out of it this season alone. We'll be posting more pictures soon, especially when the mulch comes and it warms up.  Soon, I'll be inviting all of my local blog followers to come over for a playset playdate. It should be lots of fun!
This was not a paid post. My own opinions were used based on my perceptions and experience. Thank you to Backyard Discovery who supplied the product for review and the ongoing relationship with AkronOhioMoms.com. Check out the great selection of playsets from Backyard Discovery at www.swingsetsonline.com.