We will be installing the Amana Tall Tub Dishwasher in our new kitchen. What I am most excited about is the capacity for larger quantity and size of dishes. It is designed to handle some of your larger dishes, like that soup stockpot, skillets, pizza pan, and serving trays! No more hand washing for me! Plus, it can hold up to 14 place settings.
Currently, the size of our dishwasher is a huge problem. I need to run the dishwasher 1-1/2 times a day to handle the dishes my family of 4 dirty in a day – and that is not counting large pots and pans that it cannot even accommodate.  So, I never have my dishes fully done without running a 1/2 full dishwasher at the end of the day. The Tall Tub design will be a dream come true!
What is the best dishwasher?
There are many dishwashers to choose from. My advice to to choose one that will make your life easier in the kitchen! The Amana Tall Tub Dishwasher promises some great time-saving features that I can't wait to try!
I can't wait to try out is their CleanPlate™ technology that promises to do all the pre-rinsing for me. 🙂 Currently, if I don't prewash my dishes, food is still stuck and hardened on my dishes. Yuck!
The High Temperature Wash Option will certainly be useful for those hard-to-clean dishes like lasagna with a heater boost of hot water.
I hate drying dishes, it takes so much time. The Heated Dry Option on the Amana Tall Tub Dishwasher does all the drying for you. Simply open the dishwasher and put your dishes where they go – skipping the drying altogether!
Whether you want to wait to run the dishwasher at night or any other reason, the Delay Start Option allows you to set the dishwasher to wash when you want instead of trying to remember to run it later. I can't tell you how many times I waited to run the dishwasher until my guests left only to find the next morning caked on, dirty dishes in my dishwasher. What a nightmare!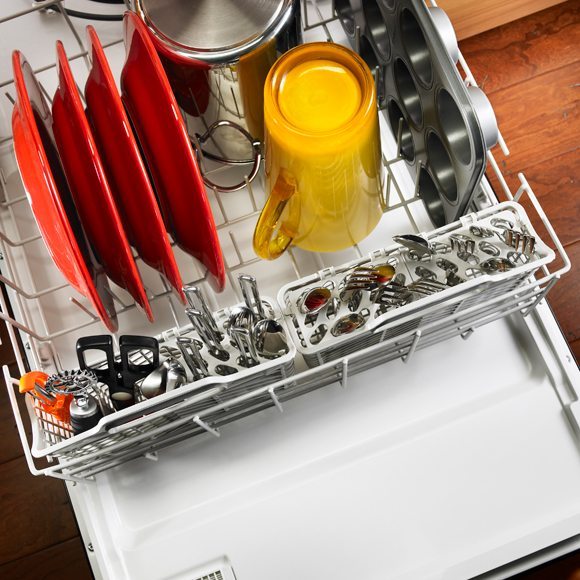 My current dishwasher loves to play the guessing game with me in regards to whether I have any rinse aid left. I normally only find out when my dishes come out all spotted. With the Amana Tall Tub Dishwasher, it automatically adds a measured amount during each cycle and has an indicator to tell you when you are low.
The Twice as Nice™ In-Rack Silverware Baskets allow you to place them either on the top or bottom. I like the flexibility that allows. Plus, the baskets have antimicrobial that prohibits growth of stain or odor-causing bacteria.
Have you ever heard of Cup Shelves in a dishwasher? The Amana Tall Tub Dishwasher allows you to stack 2 tiers of cups, bowls, or other small dishes. There have been so many times that I have thought it was wasted space to have just a small glass in the top of the dishwasher when I have loads of other dishes to load. Now, I can load them up, stack them up, and get them all cleaned at once. I can't wait!
There are so many additional features that the Amana Tall Tub Dishwasher boasts including being Energy Star Rated, Control Lockouts, SofSound quite, and more.
What is the best dishwasher?  Is the Amana Tall Tub Dishwasher the Best Dishwasher? Time will tell!  The features sound fantastic, I can't wait to try them all out. Check back for full, detailed reviews, photos, and video in the coming weeks as we install this dishwasher in my new kitchen.
Buy Amana Tall Tub Dishwasher
Meanwhile, if you are looking for a cost-effective, powerful, feature-rich dishwasher, you can buy the Amana Tall Tub Dishwasher starting at $379. With Christmas around the corner, it would make a fantastic gift for mom or grandma! My siblings and I bought my mom her first dishwasher for Christmas a couple years ago. It was so exciting. She was SO surprised!
Find your nearlest location here. For Akron, Ohio area, it is available at Home Depot, Sears, Famous Supply Company, B and B Appliances, Warehouse Cabinets, Fireplace Shoppe of Northfield, and about 20 other locations. It is also available on Amazon.com.
Win a Complete Amana Appliances Makeover and Vacation
Visit the Amana Facebook page to enter to win a Complete Amana Appliances Makeover and Vacation!
Grand prize includes an Amana Stainless Steel Suite Range, Oven Range Microwave, Side by Side Refrigerator, Dishwasher, Countertop Microwave, Front Load Washer, Front Load Electric Dryer, and $15,000 travel voucher – Total Value $19,563
There will be 2 Second Place Prizes valued at $4,563 each and 6 gift basket prize winners worth $200 each.
Contest ends December 31, 2011 at 11:59pm.
Find Amana on Facebook
Follow Amana on Twitter
This was not a paid post. My own opinions were used based on my perceptions and experience. Thank you to Amana who supplied the product for review and the ongoing relationship with AkronOhioMoms.com. Check out the great selection of products at www.amana.com.