Family vacations are always about making memories, and our recent trip to Hilton Head Island was no exception. Among our many adventures, our family of four decided to dive into a new experience: a guided kayak nature tour with Outside Hilton Head. If you are headed to Hilton Head Island and want an authentic on-the-water experience, I highly recommend Outside Hilton Head.
This is a sponsored post.
Why We Chose Outside Hilton Head:
Choosing the Guided Kayak Nature Tour was one of the best decisions we made. Lasting 2 hours and available year-round, the tour seemed ideal for our family. For more experienced kayakers, they have a variety of other tours. The varied departure times from Shelter Cove Marina meant we could pick a slot that best fit our vacation itinerary and it was a short drive from our hotel.
Our Outside Hilton Head Kayak Tour Experience:
What stood out was not just the breathtaking beauty of Hilton Head's tidal salt marshes but the warmth and professionalism of the Outside Hilton Head team. We have only been kayaking a few times, their team was incredibly patient and helpful with my questions. They guided us in getting our life vests on, how to paddle, setting up the kayak, and more, ensuring our safety was prioritized.
We chose double kayaks because it's what we are used to, but they have single as well. They adjusted the foot pegs so that we were all comfortable for our height and pushed us off the floating dock into the water.
Our guide, Hope, kept us informed of the nature all around us during the kayaking and pulled us aside a few times to make sure we all heard important information like the route we are taking or just about the nature at each particular area that she didn't want us to miss.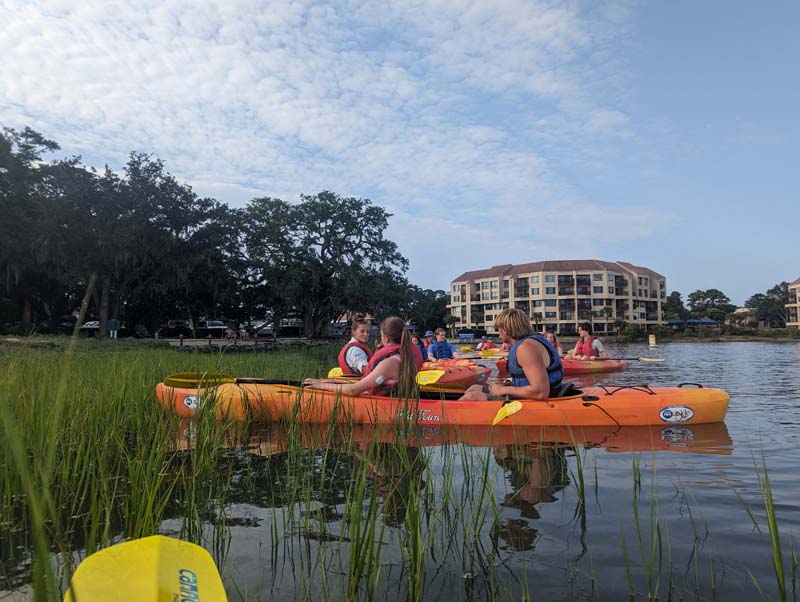 The highlight of the tour? Besides the serene waters and the play of sunlight on the Broad Creek, it was the spontaneous glimpses of 3 dolphins, herons, roseate spoonbill, and egrets that had us all in awe. And with each paddle stroke, our guide shared intriguing tales and facts about the Lowcountry, making the experience educational and magical.
It was a peaceful kayaking tour of the Lowcountry. I never felt rushed or tired from paddling, in fact, she asked how we were all doing throughout to ensure everyone was doing well.
I loved hearing my kids laughing and having fun together – even though my son steered their kayak purposely into the spartina grass to get my daughter to scream every time. They had a blast!
Our family adventure with Outside Hilton Head is a memory we will cherish. It was more than just kayaking; it was about bonding, learning, and witnessing nature in its purest form. For anyone planning a trip to Hilton Head Island, especially families, this is an experience not to be missed! Book it now!
Family Adventure at Hilton Head Island
With Outside Hilton Head, every family outing becomes an extraordinary adventure. Beyond kayaking, Outside Hilton Head offers an array of family adventures – from exhilarating dolphin tours, enlightening guided kayak excursions like ours, the unique private shark tooth island cruise, to engaging paddleboarding sessions and more. Fishing enthusiasts? Their charters await, promising the thrill of the catch. Armed with extensive knowledge, the expert guides ensure safety and an immersive, enriching experience. Plus, with all the necessary equipment provided, all you need to do is arrive with enthusiasm!
Our own journey in Hilton Head was brief, yet the kayaking tour left a lasting impression. If you've set aside a day for pure family fun in Hilton Head, diving into their family adventure activities is a must. Explore the untouched sandbars, relish the dazzling fireworks cruises, revel in the family ski day, or feel the thrill with shark fishing. And for a holistic experience, a visit to Page Island looks unforgettable!
Page Island stands as a beacon of untouched beauty and immersive experiences. This private island, accessible only by boat, offers families a unique escape from the bustling world. With Outside Hilton Head curating bespoke adventures on this sanctuary, families can dive deep into myriad activities — from salt marsh explorations, paddleboarding amidst serene waterways, to team-building challenges tailored for both kids and adults.
Each activity is woven into the island's natural environment, encouraging both adventure and ecological understanding. It's not just about doing, but about connecting — with nature, with family, and with oneself. A trip to Page Island is more than a day out; it's a journey into the heart of the Lowcountry, where memories are crafted against a backdrop of pristine beauty.
Don't just visit Hilton Head Island for your next vacation; truly experience it with Outside Hilton Head.