Las Vegas is a great place for family fun. There is so much to see and do that is family friendly both on and off the Strip. The essential key to a fun Las Vegas family vacation is to choose a family-friendly hotel. Mandalay Bay is a classy, family-friendly hotel that offers remarkable fun for families including their world famous aquatic playing with a large wave pool, three swimming pools, lazy river, and Shark Reef Aquarium. You never have to leave Mandalay Bay as there is so much family fun opportunities!
This is a sponsored post.
Family Fun at Mandalay Bay in Las Vegas
Let's start by talking bout the amazing aquatic playground at Mandalay Bay because it offers the most family fun on The Strip if you ask me! Mandalay Bay's aquatic playground is more than a hotel pool!
It is an enormous sun-kissed playground with a 1.6 million gallon wave pool and a sandy beach made up of 2,700 tons of real sand!  We spent the majority of our time at the wave pool. 
There are also three pools to choose from of various sizes. All are surrounded by palm trees for a tropical oasis feel. I love it!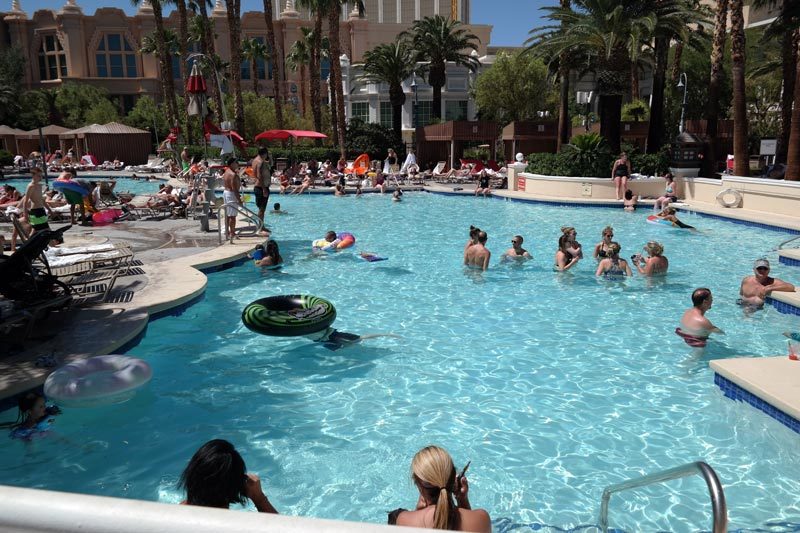 If you plan to spend the entire day pool-side, I suggest renting a cabana, there are many to choose from across the entire aquatic playground area. Otherwise you can find a shady spot to claim for the day.
There are several ways to dine while at Mandalay Bay's aquatic playground inside including the Beach Bar & Grill, Bikini Bar, and personal cabana servers if you rent a cabana or the padded lounge chairs pool-side.
We also loved the lazy river that winds through the aquatic playground. Towel service is provided by the hotel but if you want to use a tube in the lazy river, there is a rental charge or bring your own.

Don't worry if you forgot sunscreen, flip flops, sunglasses, or a cover-up, there are shops at the aquatic playground to get what you need. They even offer a Beach Concert SEries at night to listen to live music while you wade in the surf or relax beach-side.
Since our visit was short at Mandalay Bay, we didn't get a chance to visit the Shark Reef Aquarium but it looks amazing with over 2,000 animals like golden crocodile, jellyfish, piranha, endangered green sea turtle, sharks, giant rays, saw fish, and more!
The accommodations at Mandalay Bay are luxurious, spacious, and family friendly. We had a long drive from Oceanside, CA to Las Vegas, so we arrived after dark. It was a welcomed surprise at how lovely the room was. The view of the Strip was stunning, however I was unable to capture it on the video below -you'll see how excited and giddy my kids were to be staying at Mandalay Bay!
We enjoyed a double-queen room with a view of the strip. This room also has views of the Mandalay Bay beach and mountains – you can't go wrong with any of these views! The beds and linens were so comfortable with pillow-top mattresses.
We ordered a roll-away bed for my son. He parked himself right up to the floor-to-ceiling windows to have an amazing view of the Strip as he fell off to sleep. 
We were also pampered with a 42″ hi-def plasma TV, lighted closets, twin vanities in the large bathroom with a soaking tub, glass-enclosed shower, and separate toilet area. There is also a mini-bar with drinks and snacks, don't attempt to place your own drinks in it or you'll be charged for what was moved.
Mandalay Bay is at the far end of the Las Vegas Strip, making it ultra-good for families – you can shelter your kids' eyes more here if you'd like. There are many restaurants within Mandalay Bay. It is also connected to Luxor (another family-friendly hotel in Las Vegas) with an area with shopping, the aquarium, and great restaurants including RiRa Irish Pub that we visited.
Mandalay Bay
3950 S. Las Vegas Blvd.
Las Vegas, NV 89119
I was surprised at how affordable the rooms are at Mandalay Bay too! I guess they expect you to play the slots to make up for the lower room rates.  Book your next family vacation at Mandalay Bay here.