The Newport Aquarium is full of beautiful, engaging, and even creepy creatures. But no worries, they're mostly all behind solid glass, so you can get an up-close look with no fear.
My family went to the Newport Aquarium because I wanted to share with them a place that I went as a kid. We had a great time! From the very beginning, we were intrigued by the wide variety of fish. We were even shocked to see and learn about fish that my mom has had through the years.
This is a sponsored post.
The
Newport Aquarium
has such a variety in their 70 exhibits and 14 galleries. There are stingrays and shrimp that you can touch!
There's all the fish you could imagine and then some. Yes, we found Nemo and Dory too. There are a few areas where you can see sharks, shark rays, and many turtles.
One of our favorite creepy discoveries caught our attention right away as we watched them swim around with their mouths wide open. They do that just to allow food to enter their mouths on the go. Something about that was super creepy and funny to us. We were shocked to discover that they are actually native to the area and live in the Ohio River, which was right where the aquarium is located. It definitely made our walk by the river later a bit more interesting as well.
There were great interactive exhibits all around. Shark Ray Bay was a fun place to learn more about the sharks and experience a great up close look.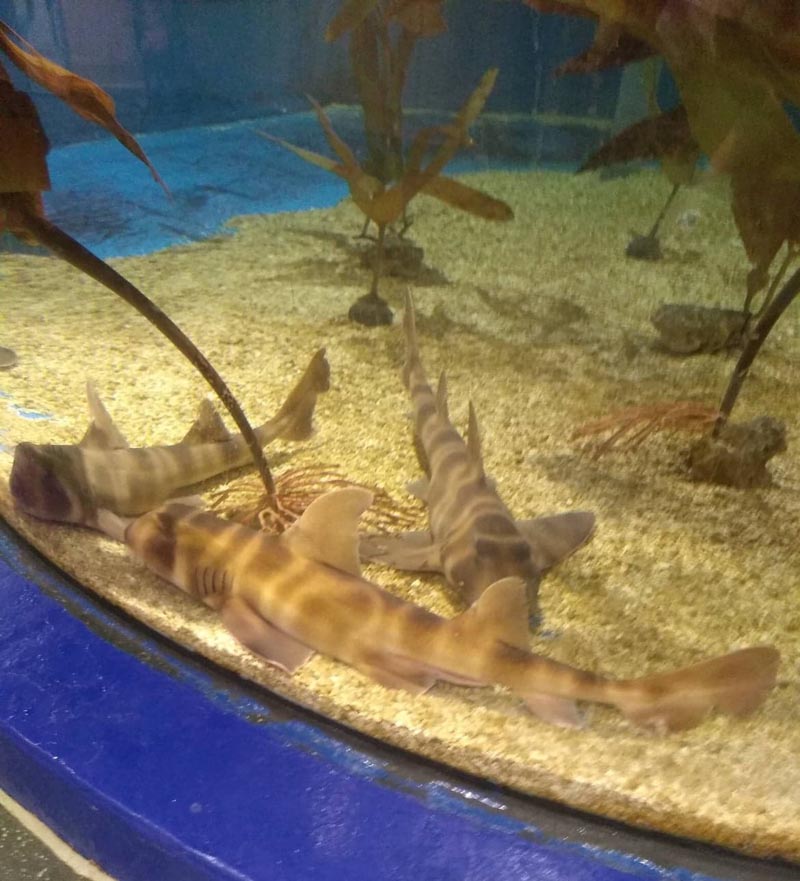 There are plenty of things to learn about all the aquarium residents with fun, informational displays throughout the aquarium.  Many of the exhibits have hands-on, interactive ways to learn which makes it so fun for kids!
We were surprised to see shark eggs AND babies!
Take note and check the schedule and DO NOT miss out on the penguins! The penguins are kept on an arctic schedule, so their habitat's lights go out before closing time. We, unfortunately, were not aware until we heard of a 3-minute countdown. You can still go up close to their display to see them, but they won't be very active.
Two of our family favorites were the eels and seahorses. You have to take enough time here to experience these areas fully.
Kids and adults alike will be amazed by the eels and seahorses at Newport Aquarium. Their displays are beautiful and the creatures are both fascinating and active. These are two of the most out-of-this-world creatures at Newport Aquarium.
Sharky's Cafe has a great variety from meals to snacks to satisfy as you take a break from the discoveries.
I loved that there was a kid zone with coloring activities, computer games, a playland, and more. My younger kids really enjoyed having that space to run and explore.
If you're feeling brave, you will have some excitement to end your visit to the Newport Aquarium. Being brave is a big theme for my family and we all showed that skill when it came time to choose the easy way out or take a detour to walk across the sharks first. Yes, you read that right. There is a narrow rope bridge that goes right over top of the sharks. My three kids and I went across that bridge two times!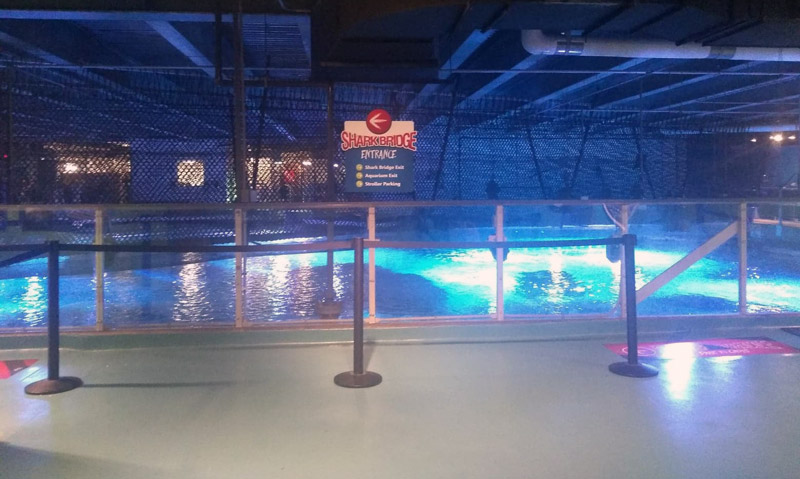 We went to the Newport Aquarium to have fun, but we learned so much and had a blast. You should absolutely plan to visit with your family, friends, or just on your own. Looking at the map, it doesn't seem quite so big but plan to spend hours there. We were there right up until closing because we allowed the time for each of us to enjoy each area that caught our fascination fully.
Whenever you find yourself in the Newport, KY or Cincinnati, OH area, you absolutely need to make time for a visit to the Newport Aquarium. Even better, make it a whole day event and check out the restaurants there on the levee and enjoy the view of the Ohio River.
Newport Aquarium
1 Levee Wy
Newport, KY 41071