Have you ever wanted to truly dive into the heart of a historic city, but felt overwhelmed by where to start? During our recent vacation to Hilton Head Island, we were drawn to the allure of nearby Savannah, GA. Wanting to uncover its rich tapestry of history without the usual hassles of navigating unknown streets, we discovered a gem: The Old Town Trolley Tour! Let me take you on our delightful day of exploration.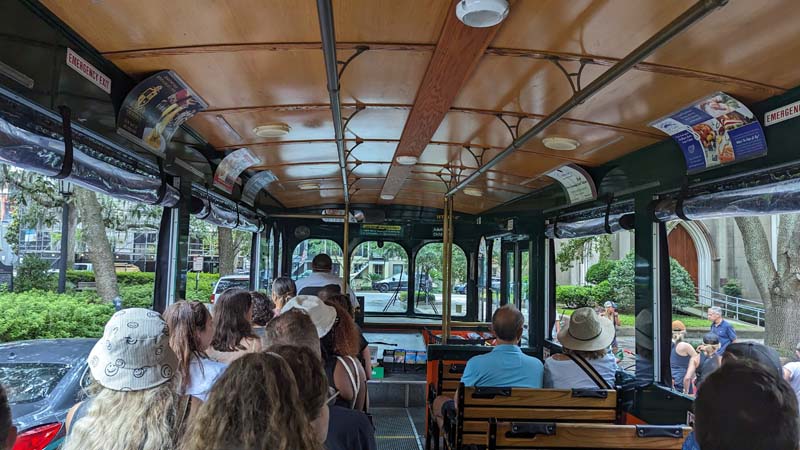 This is a sponsored post.
Why the Old Town Trolley Tours?
You might wonder, why not just drive or walk through the city? The trolley offers a unique perspective! It's not just about getting from Point A to Point B. It's about the journey and the stories along the way. Our tour guides were not only knowledgeable but also had that knack for storytelling, mixing education with a touch of humor. It felt like we were part of a mobile history class, with the added bonus of being able to hop on and off at our leisure!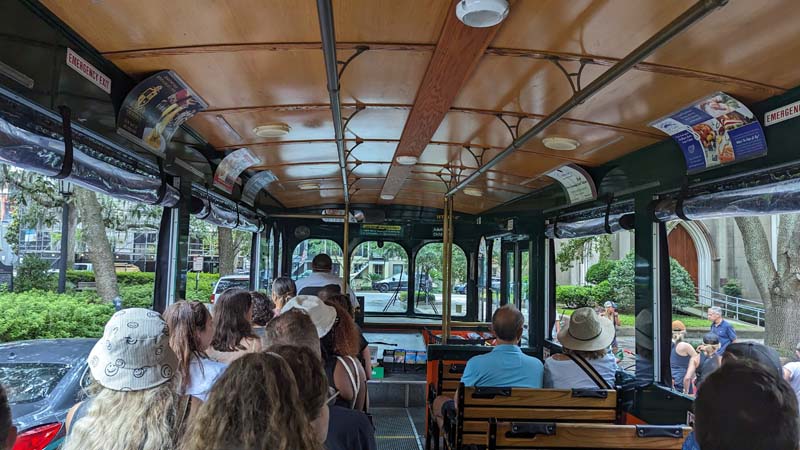 Savannah in a Day
Given our limited time, the Old Town Trolley was a perfect fit. We got an excellent overview of Savannah, diving deep into the history and significance of its beautiful buildings, gardens, and significant figures. It's a way to visit Savannah and absorb more than you ever could on a regular sightseeing trip. Plus, with the trolley running daily from 9 am to 5 pm and departing roughly every 20 minutes, it offered the flexibility we needed. If we were intrigued by a particular spot like the church and garden Forest Gump was filmed at, we simply hopped off, explored, and caught the next trolley. Believe it or not, with the frequency of their service, we never waited more than a couple minutes for the next trolley, and it's never more than 10 minutes!
We loved the famous Forsyth Park where wedding proposals are often witnessed! It's hard to believe you are in a city while wandering this 30 acre park with the gorgeous large fountain in the middle, constructed in 1858.
Stress-free Exploration
One of the significant advantages? No parking hassles! Savannah is a bustling city, and finding parking spots can be a real challenge. With the trolley, that was one less thing to worry about. We parked in the free Old Town Trolley parking lot then we hopped on and off without ever stressing about where to leave our car. And given how much ground we covered, from the stunning Cathedral of St. John The Baptist to the historic Colonial Park Cemetery and the vibrant River Street, it was a relief knowing that the next trolley was just a short wait away.
My in-laws love visiting Savannah, especially the shops and restaurants of River Street and now we know why. It's so charming and just a really fun walk. We got off the trolley at the top of the hill, walked down some ancient steps, walked down River Street and then hopped back on the trolley after getting ice cream and a few sweets from the Candy Kitchen!
Our trolley guide let us know that the Savannah Belles Ferry is a free ferry ride to Hutchinson Island. We'll have to try that on our next visit.
For Those with More Time
While we took the 1-day tour, Old Town Trolley also offers a 2-day ticket, which is ideal for those looking to dive deeper into Savannah's charms.
Wrapping Up
All in all, our day trip to Savannah was made special by the Old Town Trolley Tour. It's not just a mode of transport but a comprehensive guide to the city's history, complete with fun anecdotes and a 100% satisfaction guarantee. If you're planning a trip to Savannah, whether as a quick day-trip or a longer stay, consider the Old Town Trolley Tours. It's a delightful way to experience "Georgia's First City."
For more information or to plan your tour, check out Old Town Trolley Tours.
For the more adventurous souls and families seeking a thrilling twist to their Savannah exploration, the Ghosts & Gravestones Tour offered by Old Town Trolley Tours is an absolute must-experience. Savannah, with its centuries-old history, is often dubbed one of America's most haunted cities.
This tour immerses you in the chilling tales and eerie legends that the city hides in its shadows. As dusk settles, the trolley navigates through the dimly lit cobblestone streets, making stops at some of the city's most notoriously haunted locales. Guided by knowledgeable and theatrical tour conductors, you'll uncover the mysteries of the past, hearing stories of restless spirits and age-old superstitions. It's not just a tour, but a journey that straddles the line between Savannah's rich history and the ghostly legends that still haunt its present. Whether you're a believer in the supernatural or just seeking a unique storytelling experience, this tour promises chills and thrills in equal measure.