Holiday World & Splashin' Safari is World's First Theme Park located in Santa Claus, Indiana.
My family loves amusement parks and frequent our Ohio parks often. We couldn't wait to see what Holiday World had to offer! What I love about Holiday World & Splashin' Safari is that it is two parks in one – the World's First Theme Amusement Park and a Water Park!
This is a sponsored post.
Holiday World Themed Amusement Park
Once you enter Holiday World, it looks like Christmas with decorated trees, Santa statues, and Christmas music. The added Christmas theme enhanced the excitement of exploring a new amusement park for us!
Our fist stop was Mrs. Klaus' Kitchen were Santa can be found every day as well as sweets!
Santa was so friendly and a friendly elf was happy to snap our family picture at no charge with our camera.
I was surprised and pleased to see that there was a nativity within the Christmas portion of the park as well. So many take Christ out of Christmas so I was so impressed to see that Holiday World had a nice nativity on display.
Although there were no Jesus rides – thankfully – there were plenty of Santa theme rides including Rudolph's Round-Up where kids can finally have their dream come true of riding in Santa's sleigh!
There are many other rides in the Christmas themed area that are geared more towards younger kids.
Once we walked through Christmas, we started to get hot and thirsty – it was about 90 degrees during our visit! What's that? An oasis up ahead? Yes! Drinks are FREE at Holiday World & Splashin' Safari at Pepsi Oasis locations throughout the park. Have you ever heard of such a thing?!
Our next stop was Thanksgiving where there are many Thanksgiving themed rides and roller coasters. Our first stop was the Mayflower ship – perfectly named and probably not too far off from what it was like to voyage on the Mayflower!
Speaking of voyages, you won't want to miss The Voyage roller coaster, the #1 Wooden Coaster in the country! The Voyage takes you on one of the steepest drops of any wooden roller coasters in the world, giving you 24.3 seconds of zero-G!
Our next stop was the Crow's Nest swings where we flew high above the ground with an excellent view of Thunderbird roller coaster next door! My kids love swing rides and Holiday World has several different kinds to choose from.
Coaster enthusiasts and thrill seekers like my family can also experience the nation's first launched wing coaster – the Thunderbird! 
As you can see, this coaster has you suspended to the sides or 'wings' of the coaster on both sides of the track. This gives you and amazing feeling of free flight! What makes this ride the biggest thrill we've had is that it launches you from 0 to 60 MPH in 3.5 seconds! You are hanging upside down at the first loop before you realize it!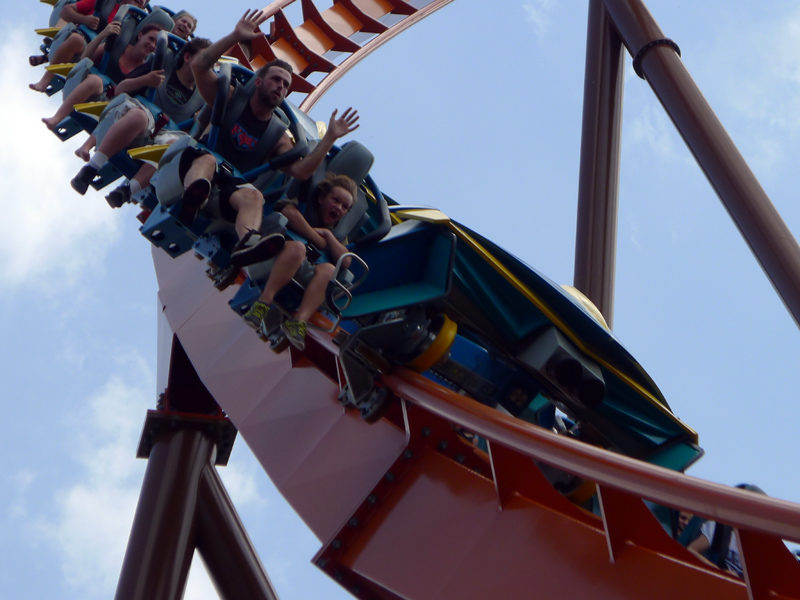 Both of my kids loved Thunderbird and couldn't wait to ride it again – and again! The lines at Holiday World while we were there were great, so riding a ride multiple times was completely doable.
While in Thanksgiving, you MUST stop at Plymouth Rock Cafe. Plan this for dinner or while taking a break from the intense rides since you'll have your tummy full of a full course Thanksgiving meal!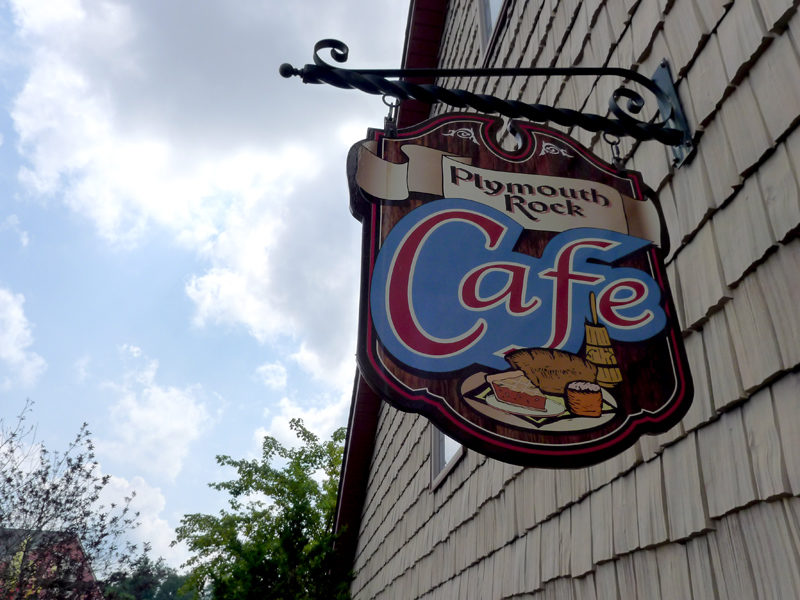 Choose from beef or turkey. Both are amazing, mouth-watering choices.
There are several sides to choose from as well as breads and desserts. Drinks are always free at Holiday World, making dining less expensive than other amusement parks.
4th of July holds many more fun rides for the whole family including Eagle's Flight, Lewis & Clark Trail antique cars, Howler kiddie roller coaster, and many more.
Our favorite 4th of July ride is the Raging Rapids white-water rapids raft ride. You will get wet on this ride but where you sit determines if you get soaked!
Another ride in 4th of July is the Revolution zero gravity round-up ride. My kids love this ride! It's a great way to dry off after riding Raging Rapids.
We were all too "chicken" to ride the Liberty Launch that shoots you up 7 stories and then bounces you down and up until you rest back on the ground.
Another welcomed treat at Holiday World were live performers. They have a main stage with scheduled shows every day but they also have live performances throughout the park like this patriot trio.
Holidog's FunTown is located within 4th of July. This is a fun area for younger kids to ride rides, play, and explore.
Magic Waters sprayground is a hit on hot days!
Kitty's Tea Party tea cup ride is a lot of spinning fun!
No amusement park is complete without a carousel.
Holloween is home to rides and thrills for older kids and adults!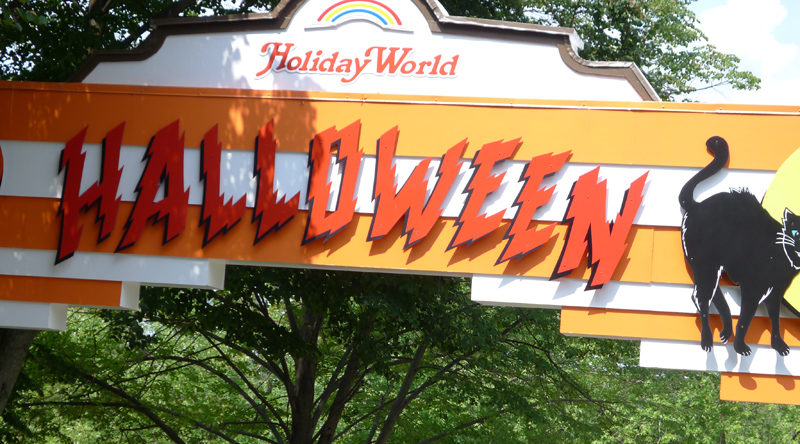 The Raven is rated #1 Wooden Roller Coaster in the world for several straight years. It was my daughter's favorite ride at Holiday World! This coaster features 120-foot tunnels, sharp turns, and drops of 85 feet! If you stay at Lake Rudolph Campgrounds and RV Resort, you'll see it as it swoops down over Lake Rudolph too.
The Halloween themed HallowSwings is a fun themed swing ride with bats, skulls, and pumpkin decor.
There are plenty of opportunities to take photos with costumed characters throughout the park too.
My daughter even got to join the 'circus' as they were street performing! She actually won the hula hoop contest with them.
There are so many shows to enjoy while at Holiday World – you could spend the entire day going from show to show. I highly suggest spending at least 2 days at Holiday World so you can see everything and catch a show or two like the Dive comedy and skill diving show!
Splashin' Safari Water Park
We've been to many water parks but nothing compares to Splashin' Safari Water Park at Holiday World.  There are so many slides, wave pools, lazy river, and activity water playgrounds that you could spend two days here and still want more! Splashin' Safari is home of the two longest water coasters in the nation – Mammoth Water Coaster and Wildebeest pictured below!
Mammoth is my family's favorite water coaster of all time! It is the World's Longest Water Coaster as it takes you 7 stories high across 1/3 miles of fun drops, hills, and curves. You never know where you'll go next, especially if it is your turn to go backward through the tunnels and drops! Thankfully the round boat turns throughout the ride, giving everyone a turn going backwards and forwards! This was the most fun we've had a family in a long time. You can't put a price tag on those smiles, screams, and laughs!
The Wildebeest is known as the World's #1 Water Park Ride for many reasons including that it's 1/3 miles long and an impressive 2-1/2 minutes of thrilling hills, drops, twists, and turns. You never know where you'll go next including a 4-story drop at at 45-degree angle!
More family fun was to be had at Otorongo's dark tunnel slides. They are fast, dark, and super fun.
I loved that they were double inner tubes so it's twice as fun with another person. This is called family bonding time!
Zinga is a circular raft tube slide that takes you down through an enclosed water slide and spills you out into a huge funnel – my kids call it a "toilet bowl" slide as it flushes you down the tunnel. I love that the four of us got to ride this together!
There are two wave pool areas to choose from for fun swimming time and (maybe) relaxation time for parents. Below is the Bahari Wave Pools that features intense waves every 10 minutes to swim and splash in. There are also geysers, sprays, and jets throughout this 3/4 acre pool. The Wave Pool offers less intense, more gentle waves that are perfect for younger kids. The water at the Wave Pool only goes up to 2 feet deep as well as a zero-depth-entry to 18 inch baby pool area.
The lazy river is one of the widest and longest rivers we've enjoyed. The river even splits into two sections to go around an island at one point.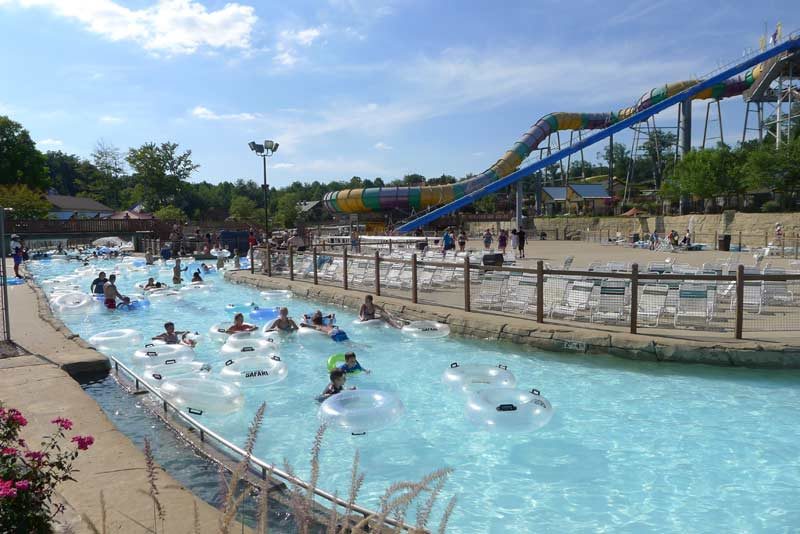 There are two water playground areas in the water park for kids to explore. These water playgrounds offer smaller slides for kids, and over 100 water-play elements for kids to enjoy. There is even a large tipping bucket that creates a 4-story waterfall every few minutes!
Have you ever been on one of the sack races at the fair? The Jungle Racer is similar but with water! Climb up 5 stories to race down one of 10 slides on a racer mat for ultimate fun! I admit that I was afraid up until I made myself push off to go down the slides – then I loved it as much as my kids! I highly, highly recommend riding all of the rides and water slides WITH your kids when you go to places like Holiday World. The family memories that you make with your kids are priceless.
Splashin' Safari even has water slides intended just for little kids (under 54″). Safari Sam's SplashLand offers 8 water slides that young kids will love! It's a great way to get them ready for the big slides when they get older!

Another awesome freebie at Holiday World & Splashin' Safari is FREE sunscreen! They don't want you to get sunburned and supply sunscreen stations across the entire park. We reapplied sunscreen more often with this bonus feature and didn't get sunburned once during our two-day visit.
Plan Your Trip to Holiday World
This was my family's first road trip to Santa Claus, Indiana and we can't wait to go back! Santa Claus, Indiana is about a 6 hour drive from the Akron, Ohio area which makes it the perfect road trip any time of year.
We had an amazing time together as a family at Holiday World & Splashin' Safari. We loved the theme element of the amusement park and had so much fun talking about the theme and how it relates to the rides – something I didn't expect. The rides, shows, and attractions were top-notch. The Southern Indiana hospitality was a welcome treat. We highly recommend this for the whole family.
Holiday World & Splashin' Safari is open for the rest of this season on weekends and Labor Day. They switch over to Happy Halloween Weekends for Holiday World only starting September 24th through October 30th. Buy tickets online now.
Holiday World & Splashin' Safari
452 E Christmas Blvd
Santa Claus, IN 47579
(812) 937-4401
Santa Claus, Indiana is a town devoted to Christmas and family fun -year-round. Read more about our trip to Santa Claus, IN to plan your next trip.