If you are planning a visit to Santa Claus, Indiana or Holiday World, you'll want to stay at Lake Rudolph Campground & RV Resort! Awarded "Best Family Campground" by TravelChannel.com and named "Top Destination RV Park" by Good Sam RV Travel, you know you'll be in good hands!
If you aren't the tent camping type or have your own RV, no worries, they offer hundreds of rental options including cabins and RVs!
This is a sponsored post, I received accommodations to facilitate this review.
Lake Rudolph Campground & RV Resort
Lake Rudolph Campground & RV Resort is more than a place to spend the night while visiting Santa Claus, IN, it is a family-friendly resort that you and your family won't want to leave! The amenities will keep your family entertained all week long!
We loved Blitzen Bay pool! It is a spacious pool with water fountain sprays at the center and shallow on one end and up to 5 1/2 feet deep on the other end. The Baby Blitzen kiddie pool is located right next to it.
This RV resort also has a waterpark! Santa's SplashDown Waterpark offers two tube slides that use to be at Holiday World! It is also home of the World's Largest inflatable water slide towers 3 stories tall! Dasher Splasher splash pad is perfect for younger kids too. The waterpark is an additional fee but it is very reasonable with discounts after 5pm.
Throughout Lake Rudolph Campground and RV Park, there are playgrounds for kids. The playgrounds are in excellent condition, at least two of them are brand new!
Enjoy free mini-golf near the lake too!
I'll share more about the amenities below but first, let's talk about the accommodations! This campground and RV resort has something for everyone.  I'm not a camping in a tent kind of gal, at least not for a week so I wasn't sure if a campground was for me.  Trust me, if you are like me, there are many options for you – including cabins and RVs to rent.
We stayed in one of their Christmas Cabins. Let's take a tour.

As you can see, it comes with a full size kitchen. We can all agree that whether you plan to cook all of your meals or just a few, having a fully stocked kitchen while on vacation is amazing!
A full size bathroom is also really nice.
My husband and I had a private bedroom on the main floor with a comfortable queen size bed, flat-screen TV, and plenty of closets and storage. Unlike some campgrounds with cabins, Lake Rudolph does provide some linens including a bottom sleep and pillows with pillow cases on all beds.
My kids couldn't wait to check out the loft that overlooks the living room!
The loft has 4 single beds on the floor, perfect for kids! This cabin could easily sleep 8-10, making it a fun cabin for multi-family vacations. I know my kids would have loved sharing this cabin and the loft with their cousins!
On the other side of the loft, there is a full size 'bed' mattress with a flat screen TV and extra air conditioning unit. The cabin was perfectly cool while we were there, so I don't think there was a need for the extra unit but it is so nice to have A/C when it's 90 outside!
My favorite part about the cabin was the large deck with lights. We spent a lot of time on the deck for meals and just hanging out. There is also a gas grill, which we used daily. The only thing I would do next time is bring a table cloth since it is just a picnic table.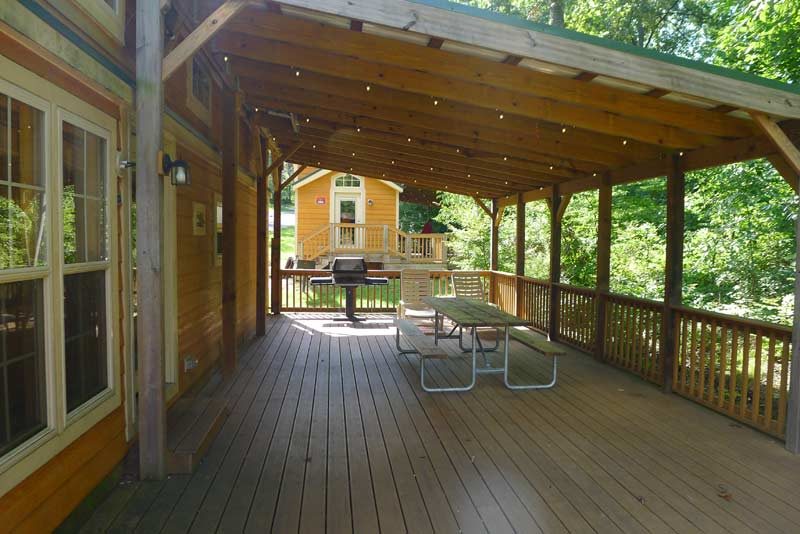 I was happy to be able to feed my family healthy meals all week long with a full kitchen!
There are 275 Cabins, Cottages & Rental RVs for you to choose from. I think it would be fun to rent a RV next time since my kids have never stayed in one before.
Below is the kind of cabins we stayed in. There are a few different kids but as you can see they are all beautiful, nestled within the trees. Most have grassy lawns too.
If you have your own RV or tent, Lake Rudolph Campground is for you too! There are 187 full-hookup RV sites (majority have paved pad & patio). We enjoyed driving through the campgrounds to see all the RVs decorated!
There are also 40 tent sites with water & electric. 
Lake Rudolph Campground & RV Resort is located next to Holiday World. Most of the people we spoke with had plans to visit Holiday World for at least a couple days during their stay. There are very convenient shuttles that run all day long between the campground and Holiday World. Even though parking is free at Holiday World, it is worth it to be dropped off at the front of the park with the shuttle. Plus, having a cold, A/C shuttle to pick you up after a hot day at the park is priceless!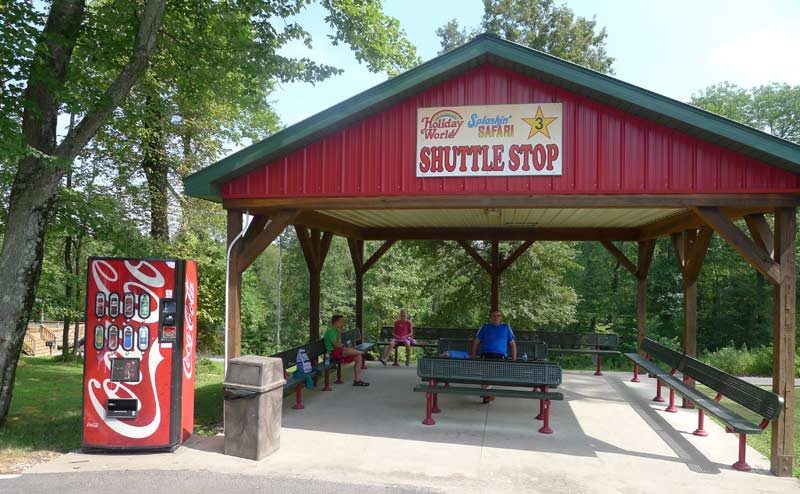 There are two camp stores at Lake Rudolph Campground & RV Resort for all your needs. Buy food, snacks, toys, items to decorate your site or golf cart, firewood, camping supplies, t-shirts, and more. You can also order pizza to be delivered free to your site or eat at the picnic tables outside the store. Don't forget the ice cream where they serve up over 5o kinds of soft-serve ice cream!
There is a game room to kill some time and earn prizes too!
There are several air conditioned, well-kept bathhouses throughout the property too. One thing that I couldn't help but notice is how clean and well-kept the entire resort is.
There are plenty of clean showers in the bathhouse if you decide to camp in a tent or want a quick shower after the pool or waterpark.
The amenities go on and on. They really want you to have a fabulous family vacation at Lake Rudolph! There is also a fishing lake where you can fish or rent paddleboats and kayaks. There is a gem mining sluice, horseshoe pits, basketball courts, laundromats, free WiFi, and planned activities for the whole family throughout the day.
Halloween Weekends  at Lake Rudolph Campgrounds and RV Resort looks spectacular.  Apparently everyone takes it to the extreme, decorating their entire campsites in Halloween them for the site decorating contests. There are also hayrides, a kid's carnival, dancing, trick-or-treating from site to site, frightful film classics and more.
Plan your next family trip to Lake Rudolph Campground & RV Resort
We can't wait to go back to Lake Rudolph. We had such a fantastic time together at the cabin and enjoying all the campground had to offer.
Plan your next family trip to Lake Rudolph Campground & RV Resort. From Ohio, it is about a 6 hour drive – very easy for a weekend away!  Call to make your reservation Mon-Sun 8am-4pm CDT at 1-888-929-7010 or make reservations online.
Lake Rudolph Campground & RV Resort
78 North Holiday Blvd.
Santa Claus, IN 47579