Ripley's Believe It or Not! in St. Augustine is the first Ripley's Museum and a must-see attraction.  All of the oddities and weird exhibits you'd expect and more can be found in this historic castle. They even have a haunted ghost train tour, scenic train tour, and mini golf in St. Augustine that can't be missed.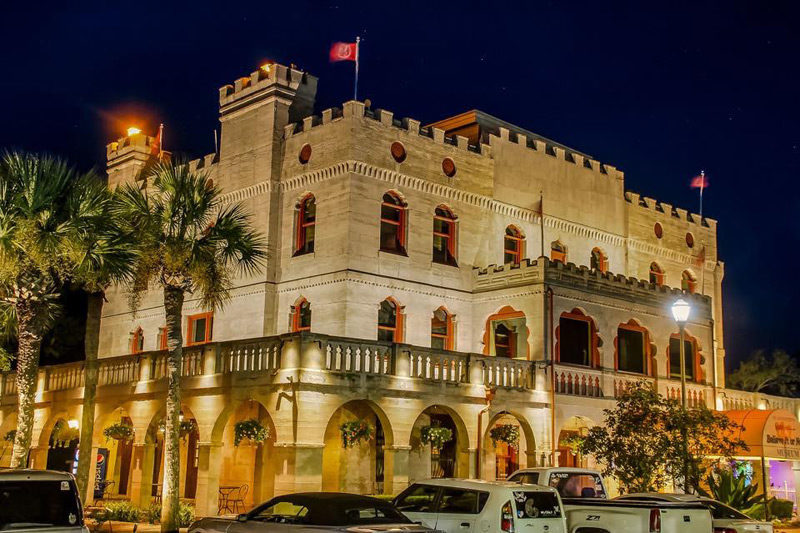 This is a sponsored post.
Ripley's Believe It or Not! Museum St. Augustine Review
The Ripley's Believe It or Not! in St. Augustine is the original museum, opening in 1950, a year after Ripley's death.  Ripley's Believe It or Not! St. Augustine is in a historic castle that began as a home for William G. Warden in 1887 and that was purchased by Robert Ripley to become a hotel in 1941. It is a gorgeous building packed full of discoveries from around the world to amaze people of all ages. This is a must-see family attraction in Florida.
There are plenty of fun photo ops with the weirdest of the weird like Crocodile Man, Bobby Blackburn who wear dentures made out of actual crocodile teeth! They are sharp! (This room is also where ghosts like to hang out during the Ripley's Ghost Train Adventure at night – it's so creepy seeing this guy in the dark!)
I love how exciting every room is with lively exhibits, actual photos of real-life people on the walls, video, and short descriptions of the odd things you are witnessing like the Snake Eater, Johnny Tong who trained his pet snake to crawl in his nose and out his mouth.
Ripley's is just a really fun place to explore with your family. It is a museum that you don't have to take too seriously and just have fun with. Don't think you won't learn along the way, you will but it is odd, fascinating things that is seriously hard to believe. 
Their exhibits are so life-like that you expect them to move – and hope they don't!
There are so many oddities on display like the headless chicken and two-headed lambs and bunnies. Life does create some odd lifeforms at time to marvel over.
There are some seriously odd and scary things at Ripley's in St. Augustine as well.  For instance, you'll see real shrunken heads and learn how and why they did this…
There are things that we can't understand here in America because our customs are nothing like those in other parts of the world.
This is just too odd, a Asmat Skull necklace is word when a husband died in Asmat culture, the widow would cutt off her husband's head adn create a necklace to wear during mourning.
Some cultures are just odd and Ripley's like to showcase the oddest! This buffalo teeth necklace showcases a person's wealth in some parts of Asia, the more tiers the better!

Other things are just unfortunate and odd at the same time. This poor sulcata spurred tortoise had a 2 foot long hippo tusk through its shell and lived for over 15 years like this – but at least the hippo didn't eat him!
There are so many interactive exhibits at Ripley's! There is a fun digital exhibit that puts a New Guinea Yam Mask on you on the screen when you enter the room.
Christmas card family picture? 
In New Guinea, masks are used for many celebrations and men are judged by the size of their yam mask.
Ripley's likes to put the strange into perspective too. Reading in a book that the World's Tallest Man, Robert Pershing Wadlow was 8 ft 11.1″ tall is much less exciting than standing next to the world's tallest person!
Same with the World's heaviest man, Walter Hudson at 1400 lbs. He ate 2 boxes of sausages, 1 lb bacon, 12 eggs, 1 loaf of bread, 4 Big Macs, 4 Cheeseburgers, 8 large fries, 3 ham steak or 2 chickens, 4 baked potatoes, 4 sweet potatoes, 4 heads of broccoli, and 6 quarts of soda at each meal.
And at the other extreme, Skeleton Due Edward Hagner, the world's thinnest man weighed only 47 lbs at a height of 5'7″.
In celebration of the 50th anniversary of the moon landing, there is an International Space Station exhibit. This is a 1:28 scale model of the space station made out of only matchsticks!

There are actual space artifacts of all kinds too including this Sokol-K Russian Space Glove with a unique story behind it.
Ripley's wouldn't be Ripley's without odd pieces of information surrounding even something like the international space station. My kids thought it was super weird that astronauts fire their dirty underwear out into space! I guess it is true but I'm not sure if I believe that or not…
This girl was captured through a 2-way mirror, a favorite exhibit for my kids and I to watch!
Ripley's Believe It or Not! Museum in St. Augustine is a must-see attraction for families and visitors of all ages. It is a touristy destination but one that is full of wonder! Get tickets now!
Ripley's Believe It or Not! Museum
170 San Marco Ave
St. Augustine, FL 32084
Toll-Free: 800-226-6545
More Ripley's in St. Augustine!
I highly recommend Ripley's Red Train Tours for all your sightseeing in St. Augustine! This train rides around the entire city all day long stopping at 20 of the most popular historical sites, shopping, restaurants, and attractions. Hop on an off the trains all day long.
Ripley's Bayfront Mini Golf is Florida's oldest golf course, bringing history and fun together. It is located at the bay near the Bridge of Lions. This is a fun course to enjoy any time of day.
Ripley's Ghost Train Adventure for a tour of the spookiest spots in the city and the scariest rooms in the museum.
We are sharing our vacation LIVE across social media using #AOMExploresHistoricFL
Check out all of our Travel Florida features here.