Escape to another time at the Victorian Village Guest House located in Columbus, Ohio. This 950 sq ft large suite offers the ambiance of the Victorian Era, privacy of a carriage house, and luxury amenities of a 5 star hotel. Located in the Victorian Village, the Victorian Village Guest House is just minutes from the popular Short North art & shopping district, Ohio State University, and downtown Columbus. Ideal for a romantic getaway in Central Ohio, the guest house is also accommodating to families, girls weekend, business, and leisure travel.
The Victorian Village Guest House is spacious at 950 sq feet with soaring ceilings of 17 feet. The suite offers separate living areas including a kitchen, great room, bedroom, bathroom, and even in-suite laundry facilities. Guests have access to the well manicured lawn, patio with sitting areas among the landscaped gardens and bird feeders.
Great Room & Kitchen at Victorian Village Guest House
The spacious great room at the Victorian Village Guest House comes with everything you need to relax and unwind. There is plenty of seating with a full size couch, 2 chairs, and sofa daybed. Also within this room is a small dining table with chairs. Bring your DVDs, check out what is on the big flat-screen TV, use free Wi-Fi or unwind with your favorite tunes with the iPod docking station.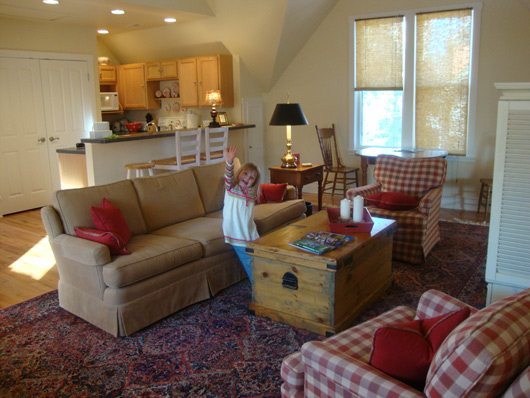 The kitchen is located off the great room with bar seating. The kitchen has everything you need to prepare a light snack or full meal. It includes a full stove and oven as well as a small refrigerator. Everything you need to cook, prepare, and server is at your fingertips. Your stay comes with a welcomed complimentary beverage service, coffee and premium teas.
My family's favorite part of the kitchen were the gourmet cookies from Pistacia Vera. I asked my husband what he was eating and he said, "the best chocolate cookie ever". I read the box and guess what it said! Best Chocolate Cookie Ever! No, he didn't read it before hand, they just really are AMAZING! We had the Bittersweet Fudgie that is made with Valrhona Manjari (64%) chocolate.
Victorian Village Guest House Bedroom
The Victorian Village Guest House Bedroom is separated by a wall from the great room. This is a truly luxurious place to lay your head at the end of the day. The linens are of the traditional colors and style of Victorian bedrooms with dark maroon and gold elements. You will feel rested and rejuvenated after sleeping in the marvelously comfortable bed. The is one element of traveling that I typically don't like. I love my bed at home and usually I am so disappointed in the beds at hotels. Not at the guest house, this is a superior bed for comfort. The bed is piled high with lovely pillows that are soft and add to the charm of the room.
In the great room, the sofa bed has a trundle bed to easily sleep 2. My kids fought over who got to sleep on the trundle and then who got to sleep on the sofa bed. In the end, they were both happy wrapped in the super soft, plush blankets and pillows. Yes, even kids notice these amenities! There were plenty of extra sheets, pillows, and blankets in the 2 full size closets located in the bedroom. Also in the bedroom were 2 spa robes.
Victorian Village Guest House Bathroom
Victorian Village Guest House Bathroom is stunning with red walls and ceiling, crisp white furniture, tile floor and accessories. There were plenty of thick, soft towels and even a heated ceiling light. What caught my eye right away were the exclusive bath amenities from Paris. I love being spoiled! A great hair dryer is also provided.
When my husband had a headache, he asked if I had any medicine. Nope. Thankfully there was even a nice variety of items in the bathroom including a first aid kit, pain medication, toothbrushes, and other items you may have forgotten. They thought of everything, even if you didn't! 🙂
Victorian Village Guest House Decor
The guest house is located behind Jeff & Lisa Morton's restored 1895 Queen Anne style home. The decor is in line with the Victorian age with a modern flair of shabby chic. You'll enjoy the nostalgic Victorian look with floral prints, displays of china and botanical prints throughout alongside restored antique furniture pieces.  The mix of old and new is done with such style that allows you to enjoy the beauty of the Victorian style with the modern convenience and luxury of modern time.  The decor instantly transports you to a restful place while you remain close to all the action of downtown Columbus, Short North, and Ohio State University.
What to do while staying at the Victorian Village Guest House
Victorian Village Guest House is an urban retreat close to all the action of Columbus, Ohio. Browse through the many brochures on what to do in Columbus or concierge service available upon request. Victorian Village Guest House is just steps away from the Short North Arts District where you will find many art galleries, fashion boutiques, home decor shops, restaurants, bars, pubs, clubs, and entertainment.  Also, it is located just moments away from the Ohio State University campus. Visit ExperienceColumbus.com for Attractions, Art Galleries, Recreation, Golf, Multicultural, Night Life, Performing Arts, Sports, Gardens, Restaurants, and more.
Book your overnight accommodations at Victorian Village Guest House
Our family had a fabulous time and highly recommend your next stay in Columbus, Ohio to be at the Victorian Village Guest House. Also perfect for families, it would be a romantic place for couples. It is a breathe of fresh air for people traveling for business or leisure. This is a step beyond a bed and breakfast experience with a 5 star hotel feel. The house and location is idea as a place to stay while visiting Ohio State University, for art collectors, or just vacationing in central Ohio.
Rate is $185/night plus tax for double occupancy. Additional charges apply to high demand weekends, additional guests. Discounts available for multi-night stays.
Victorian Village Guest House
1149 Neil Avenue
Columbus, OH 43201
614-294-2849
info@victorianvillageguesthouse.com
www.victorianvillageguesthouse.com
This was not a paid post. My own opinions were used based on my perceptions and experience. Thank you to Victorian Village Guest House who provided lodging for the review.