Spend quality time with your family this Christmastime with a road trip to Roscoe Village in Coshocton, Ohio. This restore 1820's Erie Canal town will take your family back in time with an old fashion Christmas experience just about 1-1/2 hours away from the Akron, Ohio area.
This is a sponsored post.
My Christmas Trip to Roscoe Village
We visited during the Christmas Candlelighting that happens just twice during the Christmas season. The next is this Saturday, December 9, 2017 starting at 6pm. Arrive early to shop, dine, walk through the village an even take a horse-drawn carriage ride through town.
The candlelighting service is a special time of reflection on the true meaning of Christmas. Religious Christmas carols are lead by a choir and a modern Christmas story is told as the giant fresh-cut tree is lit.
Our favorite part was when we lit one another's single candles and sang Silent Night as a crowd. It was a special time for my family together and always unique in that we met and greeted those around us. The people of Coshocton truly exhibit small-town friendliness.
The candle lighting service is free, be sure to arrive at the main stage early for a space close to the stage. There is also FREE hot apple cider and cookies served before and after the service.  Other vendors offer fresh roasted chestnuts, kettle popcorn, fresh donuts, and more for sale.
Dining in Roscoe Village
There are several places to grab a snack or meal in Roscoe Village. The most popular is the Warehouse Stein n Stein & Lock 27 Pub located in a restored 1832 warehouse and mill store along the old canal.
You must start dinner off with their legendary onion rings with dipping sauce! The small order was plenty for our family of four, they were delicious.
Enjoy a pub-style menu that the whole family will agree on.
I enjoyed steak with mushrooms and onions with a side of amazing garlic mashed potatoes.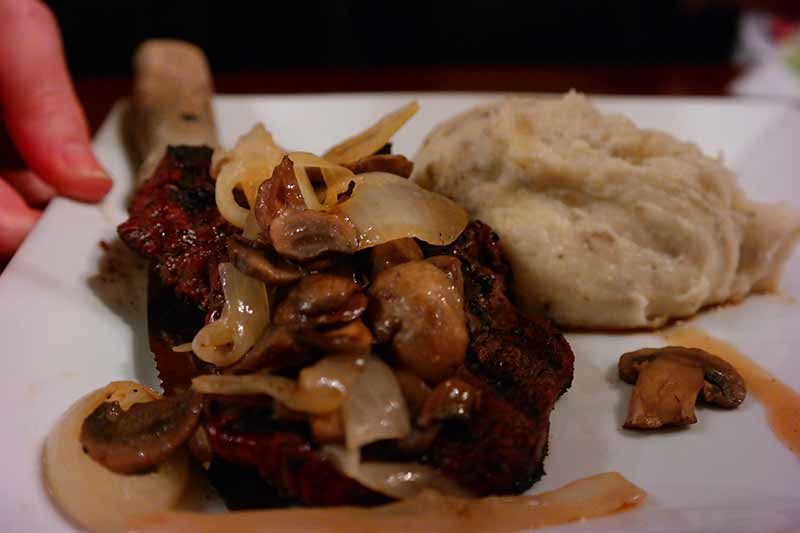 My daughter ordered ribs with sweet potato fries and salad. We enjoyed tasting off of eachother's plates because everything was so good.
My husband ordered the Ruben with Cole slaw, a perfect choice for a cool evening.
My son ordered a pork sandwich with fries, a hearty comfort food choice.
Since the candlelighting starts at 6pm, it is busy right before and after. We arrived at 4:45 and had plenty of time to eat.
Warehouse Stein n Stein & Lock 27 Pub
400 Whitewoman Street
Coshocton, OH 43218
740-622-4001
Shopping in Roscoe Village
Shopping in Roscoe Village is a delight in of itself with all of the shops housed in 19th century buildings. This is the perfect place to find unique and Ohio-made gifts for everyone.  There are specialty shops offering period and modern unique gifts, gourmet food, candles, home decor, jewelry, clothing, leather goods, sweets, and more.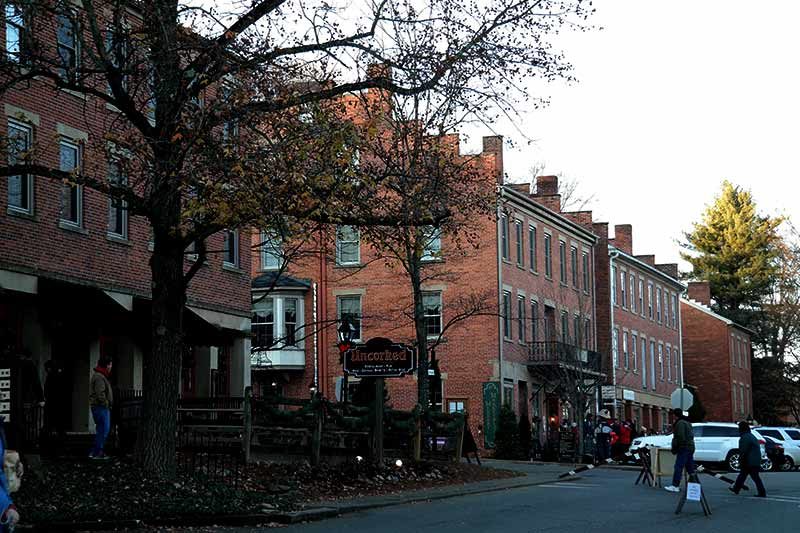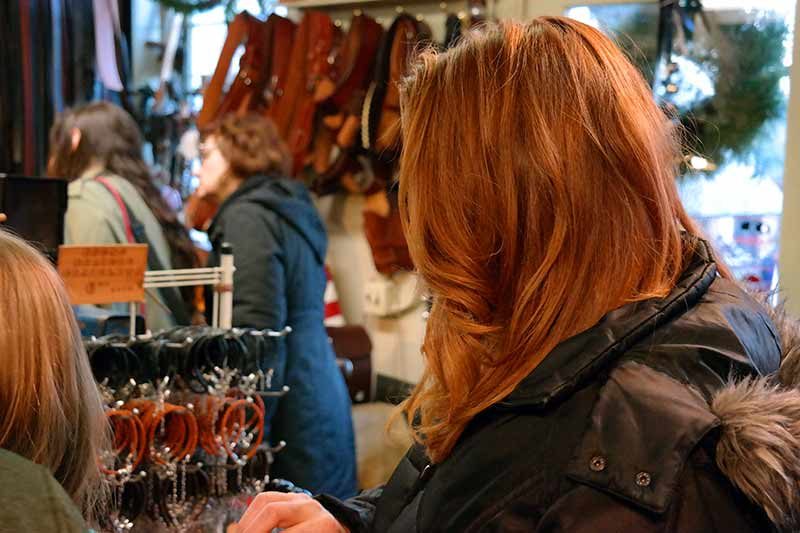 We found many Christmas gifts that we would have never found elsewhere in the shops.
Living History Tour
Roscoe Village operates year-round with their Living History tours, festivals, and more. If you visit during the candlelighting service, I recommend taking the Christmas Living History Tour right after starting at 7pm. Be sure to get your tickets ahead of time at the Visitor's Center.
This is a fun way to explore Roscoe Village after dark with a costumed tour guide. The tour visits several historical buildings with an emphasis on how Christmas was years ago. Learn about how Christmas was living along the canal in 1830s in Ohio. This tour is entertaining and educational for kids and adults alike.
Coshocton Village Inn & Suites
Make your trip to Roscoe Village a weekend getaway with a stay at Coshocton Village Inn & Suites.  Conveniently located near Roscoe Village, it offers small town hospitality with modern lodging conveniences.
I was able to walk down memory lane a little when I noticed the hotel was located next door to my first place of employment – McDonald's! I lived in Coshocton when I was a teenager, so I enjoyed showing my kids around.
The hotel offers spacious rooms and suites for families of all sizes and needs. The hotel is spotless clean which is very important to me as a mom.
The indoor heated pool, hot tub, and sauna was a nice treat for our weekend getaway too.  My kids made new friends and had a wonderful time swimming and playing into the night.
The FREE hot breakfast in the morning was a welcomed treat. It was a very large hot breakfast offering with biscuits & gravy, eggs, sausage, fresh waffles, oatmeal, cereals, fruits, danishes, and more. I always like when breakfast is included with an overnight stay. 24 hours a day you can also have FREE coffee, hot chocolate, apples, and juice too.
We had such a fun family time at Roscoe Village together. We can't wait to go back in the summer to experience Roscoe Village with their horse-drawn canal boat, gardens, and festivals.
I hope you'll take time to take a road trip this weekend for the last Christmas Candlelighting of the season too.
Roscoe Village
600 N. Whitewoman Street
Coshocton, Ohio 43812
Tel: 800-877-1830 or 740-622-7644