A lot is happening at the Columbus Zoo and Aquarium! If you haven't been there in the last week or so, you've gotta go back to check out what is new!
Polar Bear Cubs at Columbus Zoo
The baby polar bears are now on exhibit at the Columbus Zoo and Aquarium!  There are three baby polar bears playing, swimming, and getting plenty of attention for everyone!
I received tickets to facilitate this post.
Having three polar bear cubs is an amazing accomplishment for the Columbus Zoo as they are the only zoo in the USA to successfully breed this threatened species this year. The Columbus Zoo is designation as an Arctic Ambassador Center by Polar Bears International for their commitment and work in doing everything they can a the zoo to support conservation initiatives to benefit the polar bear population in the Arctic and to ensure the species is protected.

We visited the Columbus Zoo a couple weeks ago but the baby cubs were still learning to swim so we didn't get to see these little guys. I can't wait to make a return trip to see them. Maybe I'll wait until June 7th when the new IKEA at Polaris opens – if I can wait that long! They grow so fast, just like our own babies.
I can't wait to see them swimming overhead while in the underwater observation room!
You even get the chance to vote for your favorite name now through May 2nd.

The Columbus Zoo is one of our favorite zoos because of the variety of animals and layout. It is a great zoo to spend the day at for families with kids of all ages. There are plenty of places to get up-close looks of your favorite animals, including bears!
We loved seeing so many bears at one zoo – even the snoozing ones. They are so cute when they are sleeping, just like our own babies.
The Columbus Zoo has a lot of life-size animal sculptures throughout the zoo. They are a huge hit with kids to play on and moms to snap photos. In this photo, our kids just saw a bear waking up and were pointing at him!
We were able to get a good look at him once he woke up.
Conservation at the Zoo
Throughout the zoo, you'll see how the Columbus Zoo is working with conservationists from across the globe providing funds for field research, equipment, training, educational materials and community support—all with the goal of saving endangered species. Their displays that show animals that are already extinct really hits home, especially for children. There are places you can even donate change to help, which our kids jumped right on!
It is nice to see that not all types of tigers are extinct and how the zoo is helping. The Columbus Zoo is home to Amur Tiger Cubs born march 16, 2016, this is just one of five remaining types of tigers left in the world. They are on the endangered list because they need vast areas of undisturbed wilderness to hunt for food but expanding human activities are shrinking their habitat in Asia.
The Columbus Zoo has an impressive bald eagle exhibit. These eagles came to the zoo after being injured in the wild and cannot be returned. We were very excited to learn that the bald eagle is officially off the endangered species list!  This was the first time I heard this, so it makes us have hope that through the conservation efforts of zoos and people around the world, we can help other animals get off the endangered species list too.
The Columbus Zoo has plenty of spots to catch a snack or meal too. Once our kids spotted Dippin' Dots, it was time for a break!
Ringling Bros. and Barnum & Bailey Circus Elephants at Columbus Zoo
We spotted some familiar friends at the elephant exhibit too. Two Asian elephant sisters, Rudy (14) and Sundara (8) from the Ringling Bros. and Barnum & Bailey Circus made the Columbus Zoo their new home last November. While we were there, they were just being introduced to the male elephant and three female elephants at the zoo.
They looked very well and happy at the zoo. We were told that they were in excellent condition and that that the Ringling Bros. and Barnum & Bailey Center for Elephant Conservation treat all of their elephants extraordinary well. Although sad that the circus is gone forever, we are happy to visit our favorite elephants at the Columbus Zoo. The zoo hopes that the male elephant will breed with one or both females for baby calves in the future. The zoo hasn't had baby elephants since 2009.
Fun at the Zoo
There are plenty of playgrounds for kids to enjoy, including a new one near the aquarium. It is a huge playground for kids to explore. There is a massive whale with his tail and head popping out of the 'water' for kids to climb on from one end of the playground to the other. These beluga whales looks as though they will be squirting out water during warmer months, if so, that will be a fantastic treat during the hot summer!
Again, the structures are so fun to play and stage pictures…

We recently watched BBC's Plante Earth II – have you seen the amazing footage?! It's unlike any animal documentary I've ever seen. I have no idea how they capture the footage they do with such detail. One humorous segment was about the flamingos that make their home in the Arctic, they literally walk on thin ice daily and sometimes fall.

Another favorite part was when the flamingos danced or flocked together. I've never seen anything like it!

To our surprise, we were able to see the Caribbean Flamingos at the Columbus Zoo do the flamingo dance right before our eyes! How exciting to see this in real life. The Caribbean Flamingos are more like the Arctic Flamingos than we thought, except their colonies occupy loose mud flats near bodies of water in South America, Caribbean Sea, Caribbean, Eastern Pacific islands, and southern US shorelines.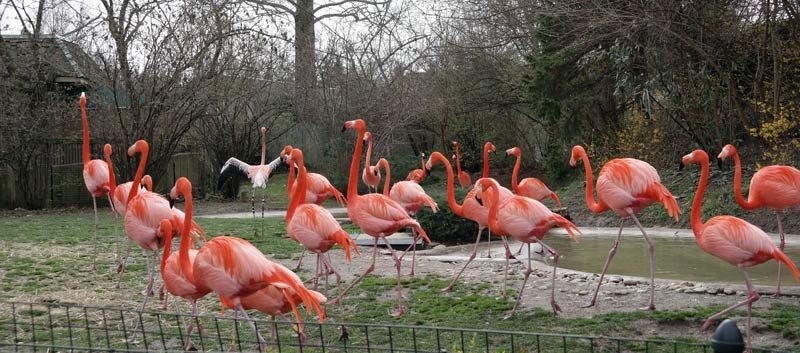 Columbus Zoo Aquarium
Another favorite part of the Columbus Zoo is their aquarium!  Our favorite part is the Manatee Coast. Getting face-to-face with the gentle giants is an incredible experience! It is fascinating to see these giant creatures that are also being threatened in the wild.
The manatees at the zoo are part of the U.S. Fish and Wildlife Service's Manatee Rescue and Rehabilitation Program. They were rescued and brought back to good health after experiencing illness, cold stress, boat strikes, and other injuries in the wild. The Columbus Zoo is only 1 of 3 organizations that help rehab manatees until they fully recover and then release them back into the waters of Florida. This is very impressive since we are so far from Florida!
The turtles and fish swimming along with the manatees are fun to watch as well.
This is just a tidbit of our experience at the Columbus Zoo. Allow yourself 3 – 5 hours to visit this zoo in its entirety.  If you are planning a visit this summer, check out the Columbus Roar & Explore Getaway Package. It includes four tickets to the Columbus Zoo & Aquarium, Zoombezi Bay and COSI along with a 2-night stay at Drury Inn & Suites for just $430!
Columbus Zoo
4850 West Powell Rd.
Powell, OH 43065
800-MONKEYS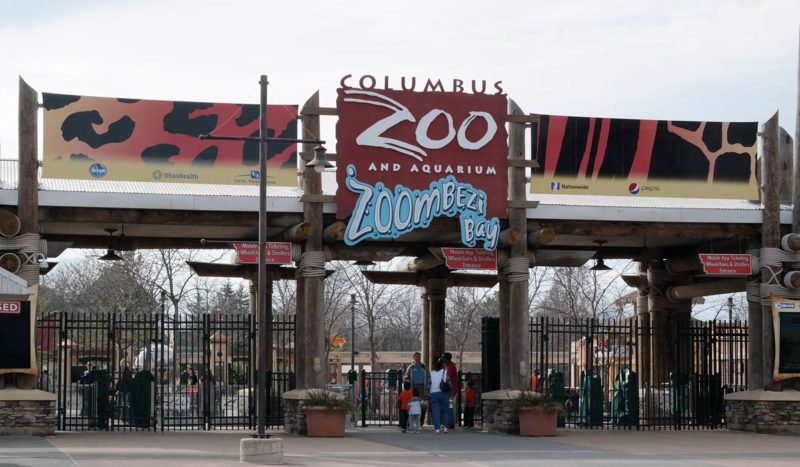 I know many of you have an Akron Zoo membership. Be sure to bring it when you purchase tickets for the Columbus Zoo, you will receive a 50% OFF discount admission to the Columbus Zoo – along with discounts at over 150 zoos and aquariums nationwide.
Like the Columbus Zoo on Facebook
Follow Columbus Zoo on Twitter