On Day One of our Family Fun in Toledo, Ohio series, we visited the Toledo Museum of Art and had a blast on their Play Time exhibit, National Museum of the Great Lakes including a tour of the SS Col. James M. Schoonmaker ship, had fun with science at the Imagination Station, and relaxed at the Maumee Bay State Park Lodge with swimming, racquetball, and playground time. It was a fun and exciting day!
Day Two was just as packed full of fun!
Follow along with us on our trip to Toledo, Ohio in our Family Fun Toledo series.
I received press trip to facilitate this post.
Family Fun Toledo Day Two:
Day Two of our family fun adventure in Toledo started early with a delicious breakfast at Water's Edge Dining Room. It was equally delicious as the brunch the day before. My kids swear that they have the best bacon anywhere, and I tend to agree with them. They also have delicious egg platters, French toast, pancakes, fruits, and more.
Toledo Zoo
The Toledo Zoo was recently named BEST Zoo in the United States in USA TODAY'S 10 Best Readers' Choice Awards and has won numerous awards for their recently renovated aquarium and aviary.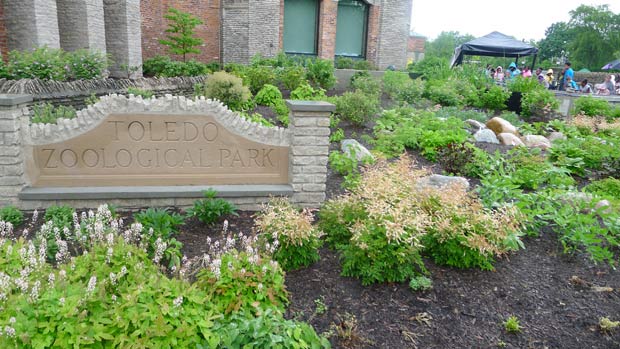 We took a 2 hour tour of the zoo and visited the top attractions – we'll be back for a much longer visit soon because there was so much to see and do – even in the rain. Yes, it rained again but we didn't let it dampen our fun as we raced to see one of my favorite animals – the giraffes! I always get excited to see giraffes, there were elephants, bald eagles, ostrich, and more keeping them company nearby.
The aquarium was impressive with many fresh and saltwater aquariums. The shark aquarium was our favorite, along with the sea turtles and stingrays swimming around with them. There were many, many people in the aquarium building because it was raining and because it was a free community day, but we still had fun exploring the underwater world –and even the touch tanks.
There was so much more to explore but in the downpour, we were unable to capture many quality shots! We plan to return very soon to spend the day!
Toledo Zoo
2 Hippo Way
Toledo, OH 43609
(419) 385-4040
Real Seafood Company at The Docks
Treat your family to amazing seafood Real Seafood Company at The Docks. We had an amazing lunch.  Somehow I missed the Lake Erie Wallaye but another blogger ordered it and said it was the best he's ever had.
The Real Seafood Company at The Docks offers delicious seafood, steak, and more with a beautiful setting on the river. We were able to view the large Veterans Glass City Skyway bridge as well as the SS Col. James M. Schoonmaker ship from our table. On sunny days, the dock side outdoor seating must be so relaxing and enjoyable as well.
The seafood is fresh from the harbors of Boston, Chesapeake Bay, and George's Bank. I enjoyed shrimp with sun dried tomatoes and rice, my son ordered crab cakes, and my daughter ordered fish from the kids menu.
Real Seafood Company
22 Main St.
Toledo, OH 43605
Maumee Bay State Park Lodge
We retreated back at the Maumee Bay State Park Lodge for the rest of the day, thankfully the rain cleared up so we could enjoy outdoor activities.
Maumee Bay Nature Center
The Maumee Bay State Park Lodge Nature Center is a must-see when visiting Toledo and it is FREE to everyone. This is an excellent learning opportunity for kids (and adults) to learn about the habitat along Lake Erie. My kids love nature and enjoyed learning about the marsh and creatures that call this area home. They even had the chance to hold a snake and visit with turtles.
There was a bird-viewing area along the back of the Nature Center with many bird feeders that attracted a variety of birds. In fact, Maumee Bay State Park Lodge is home to The Biggest Week in American Birding every Spring! My husband and I are novice birders and plan to make a return trip next Spring to see the rare Cerulen Warblers.
Maumee Bay Marsh Boardwalk
Right outside the nature center and lodge is the March Boardwalk, a 2 mile trail that winds throughout a marsh and wetlands area. This is a shady, wheelchair accessible area that is fun to walk and explore.
Maumee Bay Hiking and Biking
There are many trails throughout Maumee Bay State Park Lodge for recreational hiking and biking. Many are paved, offering miles to explore. We rented bikes so we could see it all. The trails wind around Lake Erie, as well as the man-made lake, and through the forest.
There are beaches right on Lake Erie for fishing and sunbathing, although the water levels weren't good for swimming with young children during our visit.
No worries though the huge  57 acre man-made lake offers plenty of swimming, sunbathing on the beach, and even an amphitheater for summer fun. It was a little cool during our visit, so this is something we will take advantage of on our next visit!
We had a great 5 mile bike ride around Maumee Bay State Park. It was quite scenic. I really like that they rent bikes for both kids and adults – even with baby seats.
Afterward, we stopped by the Bayside Snack Shop for an ice cream treat! They offer snacks and sweet treats throughout the day, perfect for a quick bite to eat or sweet treat in the lodge or while at the pool.
We visited the spacious outdoor pool for an afternoon of fun in the sun. My kids loved the 10 feet deep end where they could show off their diving skills off the diving board. There is a shallow end as well as a baby pool for younger kids as well. I liked that it was staffed by a lifeguard too.
Back inside, my kids enjoyed craft time (FREE) of painting lizards and making sand art. There is a listing of children's activities everyday to choose from like capture the flag, nature hikes, craft time, movie nights, and more.
There are so many activities for every skill, age, and fitness level at Maumee Bay State Park Lodge including geocaching, court sports, horseshoes, hiking, biking, children's activities, swimming (inside or out), hot tubs, children's soft play area, fitness room, game room, corn-hole, shuffleboard, fishing, canoeing, paddle boating, hiking and biking.
They even have fun planned events like bonfires and roasting s'mores but again, it rained so we had to skip this.
Maumee Bay State Park Lodge
1750 Park Road 2
Oregon, OH 43616
(419)836-1466
Plan your trip to Toledo, Ohio and tell them that AkronOhioMoms sent you!