The only way to visit Put-in-Bay is by golf cart. It is the most fun way to get around the island to truly experience island life. There is something about driving and riding in a golf cart that brings out the kid in everyone – it's just so much fun. I highly recommend this mode of transportation over any other on the island.

This is a sponsored post.
E's Put-in-Bay Golf Cart Rental Review
Once you arrive at Put-in-Bay by Miller Ferry, walk up the hill and to the right for E's Put-in-Bay Golf Cart Rental. (If you are unable to walk due to medical reasons, they will pick you up!).
We made reservations ahead of time so the wait wasn't too long. It is a popular place to rent golf carts, so expect to wait in a line based on how many people ride the ferry over with you. Either way, they process reservations very quickly.
You can rent by the hour or day. If you plan to spend the whole day, I recommend renting by the daily rate. If you plan to stay put in one place, like downtown, then renting by the hour to get a quick tour of the island might be perfect for you. With a large group of 12, we choose to rent 2 6-person golf carts from E's Put-in-Bay Golf Cart Rental.
As you can see in my Facebook Live video, it is lots of fun exploring the island in a golf cart!
We love scooting around the island in the golf cart, it is a major part of the island experience for my family. With two golf carts, we were able to separate when we needed too. It also gave everyone a chance to switch and ride with each other throughout the day. My kids and their cousins had a blast riding the golf carts together across the island.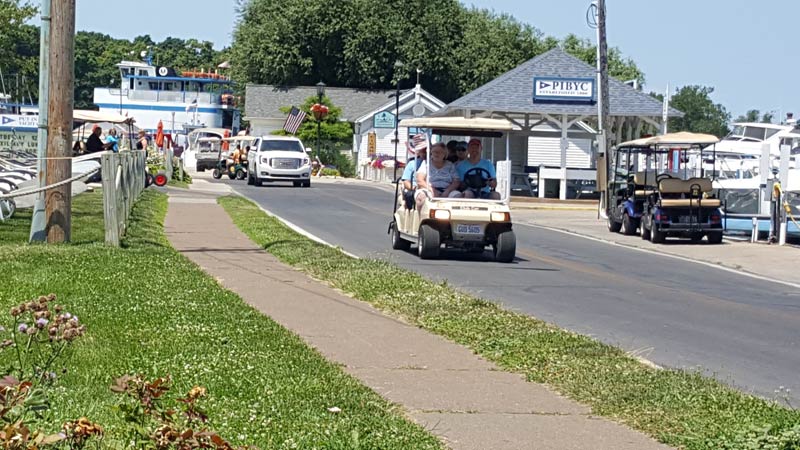 There are seat belts and they even provide car seats free of charge (while supplies last), so E's Put-in-Bay Golf Cart Rental is a very family-friendly golf cart rental at Put-in-Bay option.

During our visit, it was 94°! One golf cart overheated after driving around non-stop for over a hour. We called E's Put-in-Bay Golf Cart Rental and they had a replacement in less than 10 minutes…which is exactly the amount of time the cart needed to cool off and it was fine. They gave us the new one anyway and we had not problems. The only reason I mention this incident is to showcase their superior customer satisfaction policy. They didn't know that I was writing a review on their rentals but took care of us immediately. Though no fault of their own, they wanted to make sure we were completely satisfied and not stranded anywhere – even though it started back up once it cooled for 5 minutes. 🙂 We've used E's for years and never had this happen to a cart before but thought it was great how responsive they were.
We've enjoyed E's Put-in-Bay Golf Cart Rentals several times in the past as well and have has excellent service each time. When you plan a trip to Put-in-Bay, be sure to make reservations for your golf cart at E's Put-in-Bay Golf Cart Rental.
E's Put-in-Bay Golf Cart Rentals
2132 Langram Rd
Put-In-Bay, OH 43456
419-285-5553