If you're planning a trip to the captivating island of Put-in-Bay, Ohio, there's an exciting twist in store for your island exploration. With E's Put-in-Bay Golf Carts, you're about to experience an added layer of thrill as you navigate this vibrant destination.
This is a sponsored post.
An island adventure in Put-in-Bay is incomplete without the feel of the wind in your hair and the joy of cruising in an open-air golf cart. With its stellar service and high-quality golf carts, E's Put-in-Bay Golf Carts is the perfect partner to make this dream a reality – I should know, we've used their cart for our annual island getaway for over a decade now!
From the moment you disembark the Miller Ferry, the fun begins. With E's Put-in-Bay Golf Carts located just up the hill away from the dock, the island immediately invites you into the promise of a journey like no other. E's close proximity to the ferry dock makes your adventure seamless right from the start.
Thinking about long lines and wait times? E's Golf Carts will put your worries to rest. Even during peak disembarking times, their efficient team is on their toes to get you on the move. If you prefer to have everything planned ahead, you can easily reserve your cart on their user-friendly website. Come the day of your visit, your pre-reserved cart will be waiting for you – as ready for the adventure as you are!
E's Put-in-Bay Golf Carts are a joy for all ages. The thrill of exploring the island in these zippy vehicles knows no age limit. It's not just a means to get around – it transforms commuting into a delight and makes each ride a new adventure.
E's Golf Carts accommodates everyone with their range of 2, 4, 6, and 8-seater golf carts. Whether it's a romantic getaway or a family vacation, E's is ready to roll. They also prioritize safety by regularly servicing and maintaining their golf carts, ensuring a smooth, worry-free ride.
But what about the littlest members of your clan? Put-in-Bay is a family-friendly island, and E's Put-in-Bay Golf Carts certainly keeps up with this spirit. If you have young children who require a car seat, you can bring your own or use E's. For instance, we strapped our baby nephew's carrier securely with seat belts. It's comforting to know that car seats can be safely installed in E's golf carts, ensuring a safe and comfortable ride for everyone. However, it's advisable to call ahead to confirm the availability of E's car seats.
Riding in an E's Golf Cart enhances the island getaway feel. The open-air liberty, the relaxed pace, the hum of the electric cart, and the charming streets of Put-in-Bay create a joy-filled experience that differs from any regular city driving.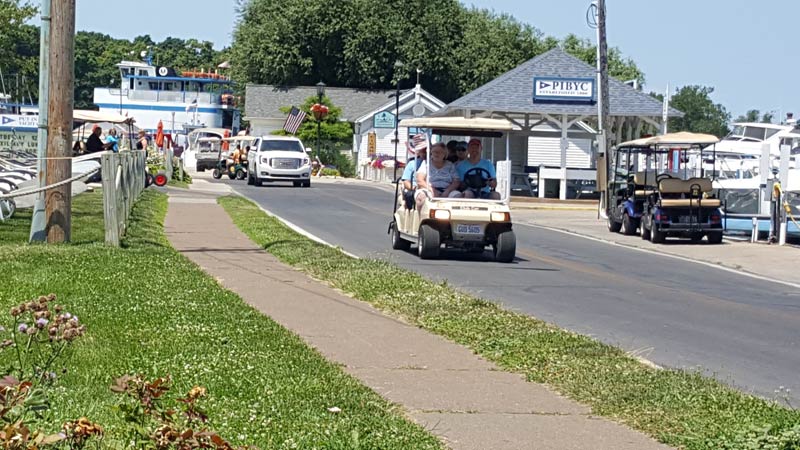 In summary, E's Put-in-Bay Golf Carts offer more than transportation – they are the lifeblood of the Put-in-Bay adventure. They are a quintessential part of the island experience that everyone, from kids to adults, anticipates with excitement. So when you're in Put-in-Bay, add the 'E's touch' to your island escapade and experience a ride you'll remember!
Check out E's Put-in-Bay Golf Carts website to know more or to reserve your cart. Get ready for the ride of a lifetime on your island adventure!