Once you get to the island, how do you get around Put-in-Bay? The best way to get around Put-in-Bay is on Golf Carts!! It adds to the charm of the island and so much fun to scoot around in.
The most convenient golf cart rental to go with is Island Bike & Cart Rentals, it is the first location you see when you get off the Miller Ferry.
Island Bike & Cart Rentals
Island Bike & Cart Rentals makes it fun and easy to get around the island with Put-in-Bay's largest selection of all-electric, eco-friendly golf carts. Choose from 2, 4, and 6 passenger golf carts for your family's needs. They are always clean and ready to go when you get there. The staff is always helpful and friendly, ready to get you movin' onto your island adventure.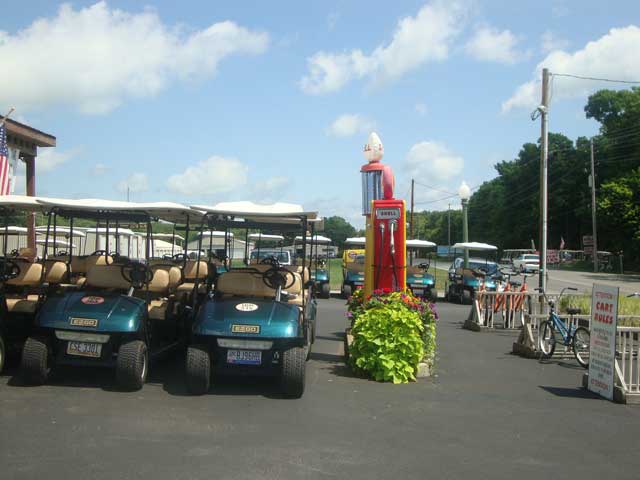 For some reason, my pictures didn't turn out of my family on the golf cart but ours looked like this one below. It seated four and even had a little hide-away compartment under the back seat for bags, etc – something we've never found in any years past!
A driver's license and name of your insurance company is required. Of course, kids aren't aloud to drive, no matter how fun it looks to them! Scootin' around the island adds to the adventure and charm of Put-in-Bay, I highly recommend Island Bike & Cart Rentals for this leg of the adventure.
Check here for hours. Be sure to coordinate your turn in time with the Miller Ferry departure time!
Island Bike & Cart Rentals
Miller Ferry Lime Kiln Dock location:

Like Island Bike & Cart Rentals on Facebook
Follow Island Bike & Cart Rentals on Twitter