Summer is quickly coming to an end. Kids will be in school soon but that doesn't mean all the summer fun has to end. There are plenty of warm and wonderful days ahead. If you are looking for a last minute summer getaway in Ohio, I know the perfect place! Put-in-Bay! It is only about 1-1/2 – 2 hours from Akron but feels like you are many miles away from the ordinary when you are cruising on Lake Erie waters and spending the day or a couple days on the island.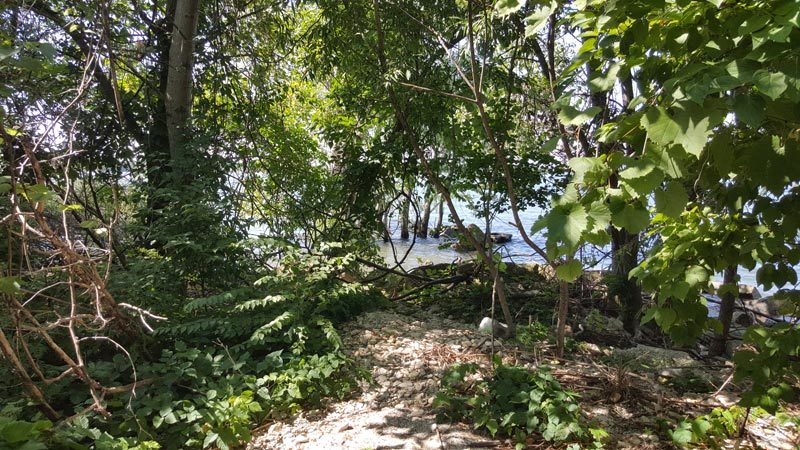 Island life is fun!  Such a quick trip can refresh anyone! I don't know of any other place in Ohio that feels quite like Put-in-Bay. It is an instant vacation getaway!
The waves of Lake Erie as you ride Miller Ferry, the slow-paced island time of Put-in-Bay, the family-friendly attractions, the National monument, the amazing variety of restaurants, and quaint shops make Put-in-Bay the perfect last minute summer getaway in Ohio.
We always start our trip with Miller Ferry – it is the easiest way to get your family to the island and most affordable!
We usually go to Put-in-Bay once or twice a year. At least one of those time, we go along with family or friends. This time around, we went with most of my extended family. If you don't travel with your kids' grandparents, aunts, uncles, and cousins – you are missing out on amazing family memory making!
There is no better bonding time with family than sharing an adventure together. Miller Ferry is my kids' favorite part of our trip to Put-in-Bay! Being on the open waters, hoping to get splashed by standing on the lower deck, and watching the island come into view is an exciting adventure for kids!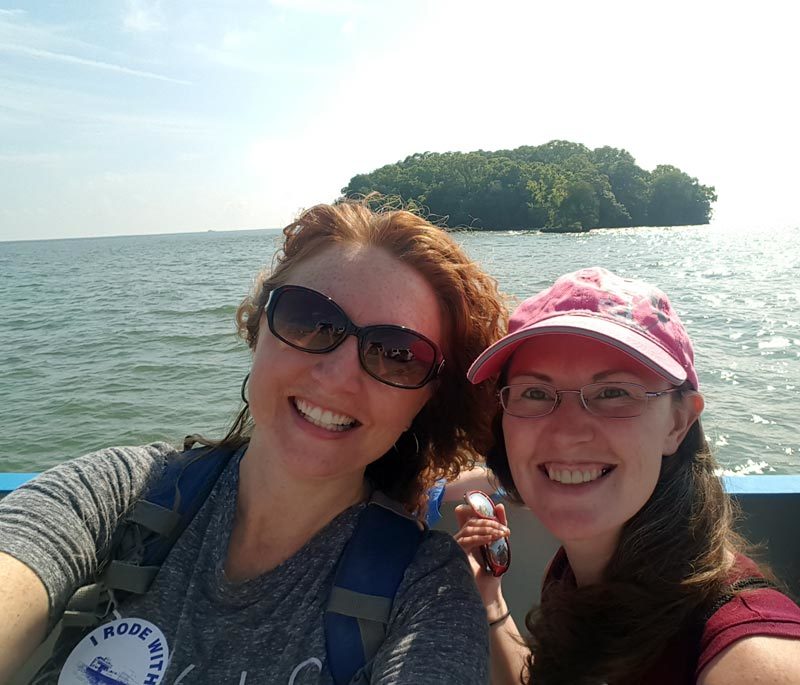 I admit, it is fun and amazing for adults too. We love snapping photos and taking in the beauty of Lake Erie while on Miller Ferry! The sunsets on the way back give you the best view from Lake Erie too!
Our second favorite part about Put-in-Bay is exploring the island on golf carts!! We always choose E's Golf Carts because they are located right when you get off Miller Ferry and they have a great selection. We usually get two carts if we have 11 of us, they have carts in 4, 6, and 8 seaters. If you want a car seat, just ask.
There is swimming at the state park but we also found a quiet area on the north side of the island at Scheeff East Point Nature Preserve. They have beautiful trails to walk through with birds flying all about. It is like a tropical escape! I highly recommend visiting this park while in Put-in-Bay, especially if you are a nature lover like we are.
I'm not sure if it is technically allowed, but we get in the water a little there as well. There are shallow areas with sandy beaches. The kids love it! It feels like you are a million miles away while at Put-in-Bay, it is certainly far from the crazy busy schedules we have here in Akron! Whether you take a couple days or just one day, I suggest you unwind and recharge with a quick trip yet this summer! Your family will love it!
A vacation getaway has to have an element of history to it! Perry's Monument is the perfect way to add a little education and history to your Ohio getaway!  Take the elevator to the top for magnificent views, you can see Canada on a clear day!
We tried a restaurant for the first time on our trip called The Keys! It is now a favorite!
When going on vacation, you always want to feel like you are enjoying something extra special. The Keys makes you feel like you are not only on an island but the keys! I love the colorful and laid-back vibe of this restaurant with plenty of open-air seating for meals, drinks, and just relaxing to live music.
We enjoyed a table by the dock!  What a beautiful and fun way to enjoy lunch – by the water! They were building a new sea wall while we were there, which they apologized for since the crain was there but our kids thought it was fascinating!
The food was nothing short of delicious and amazing! From 1/2 pounder burgers to fruit-laden salads, to mahi mahi sandwiches, and protein bowls! There is something for every appetite!
Put-in-Bay is one of the most family-friendly Ohio destinations. They have a bad wrap for being a party island because people do like to go to the island in the evening for drinking at the many bars. However, during the day and outside of the bars in the evening, it is 100% family-friendly!
We love Perry's Cave Family Fun Center. You could literally spend the whole day here because there is so much for you to do. Be sure to do this in the beginning of the day because some attractions close around 5pm.
The kids loved Perry's Cave! Walking down into the cool cave below is always an adventure! Doing it with cousins is even more so!
We have such a fun time exploring together. They also have a butterfly garden, miniature golf, rock wall, and maze at Perry's.
The maze is a must! At first it looks like you can get through it in no time but it takes just a couple turns to completely get lost! ha! There are platforms to watch your kids run around below and to help, if needed too.
We enjoy much of the time just scottin' around the island in our golf carts. Everyone likes to switch seats sitting with eachother in different seats each time we get off and on. It is a good time to just chat, and really catch up with eachother as we explore the beautiful island.
Kids and adults alike enjoy this part of the Put-in-Bay adventure. Don't opt to walk, get the golf cart! The island is bigger than you think anyway!
There is also a really nice playground right at the docks in downtown Put-in-Bay where you can let the kids run awhile and play! There is even a pay-for-shower if you get in the lake and want to shower off.
Another family favorite restaurant is The Boardwalk where we always order lobster bisque.
A day on Put-in-Bay island is always too quick. We plan to try out their over night accommodations next year to extend the fun!
If you are thinking about getting away this summer but don't think you have time, don't fret. You do have time for a summer getaway to Put-in-Bay! It is a memorable experience that your family won't quickly forget!