Your kids want to go and so should you. Make plans now to experience the Ohio State Fair in Columbus, Ohio between now through August 7, 2016 in Columbus, Ohio! My family loves adventure, rides, learning, animals, and entertainment.  This was our first year visiting the Ohio State Fair and the beginning of a tradition of ending summer this way every year. We had an amazing time on opening day.
There is so much to see and do for all ages at the Ohio State Fair! After 10 hours, we still didn't see and experience everything! Let me break it down for you in a pictorial overview of our day, which didn't even cover 1/2 of the fair!
Scroll to the bottom to enter to win 4 tickets to the Ohio State Fair!!
Rides! Rides! Rides!
My kids are huge thrill seekers and couldn't wait to ride all of the Ohio State Fair rides!
I suggest getting the all-day wristband for $25 to ride and play all day! Most rides are included although a few are extra – $1-3 each.
There are plenty of rides to thrill even the bravest of riders!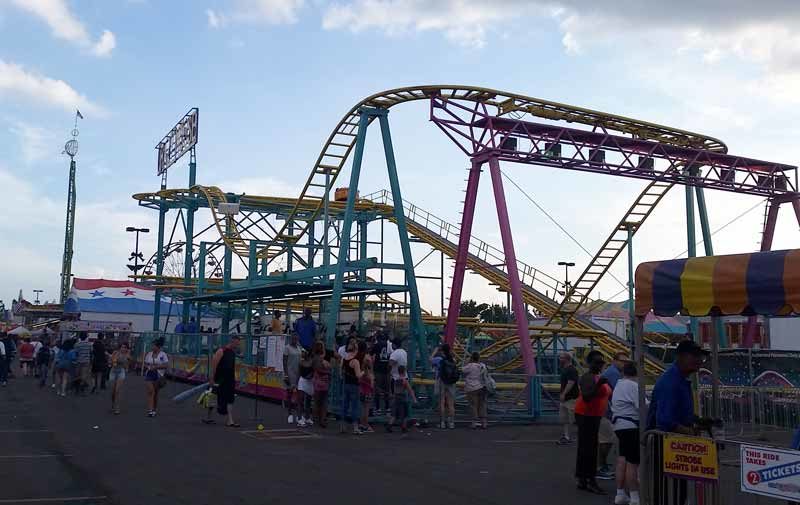 My kids love fun houses and were happy to see that there were about 1/2 a dozen to choose from – some are walk-through while a couple were ride throughs.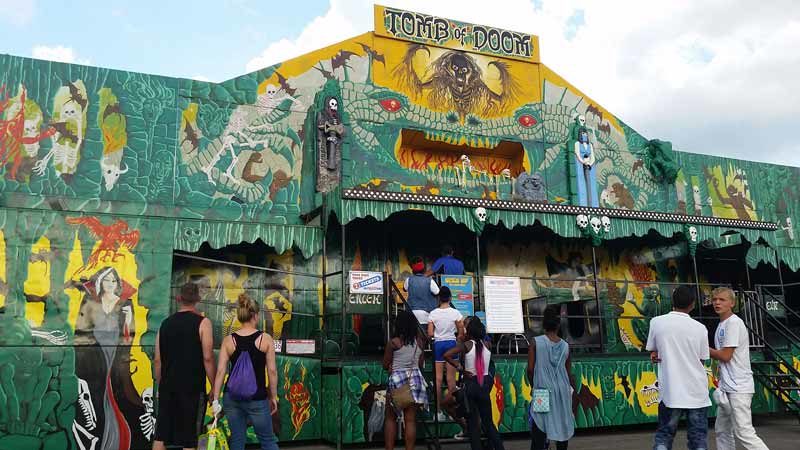 Don't forget the Giant Slide, located near Kiddieland. This impressive 144 foot long slide is fun for everyone – believe me, you'll feel like a kid again going down this slide!

There are plenty of rides for the little ones at Kiddieland. Many of the rides allow parents to ride along with their children too.

Daily Attractions at Ohio State Fair
There are shows and attractions for every age and interest. During our visit, we enjoyed a variety of attractions.
Our favorite attraction was the new Arctic Olympics High Dive Show. Watch expert acrobatic divers perform crazy dives in penguin costumes for fun and humor.
The ultimate dive is from 80 feet high – one that I held my breath when watching!!


The Natural Resources Park is a must for families. It closes around 7, so be sure to catch this first. Kids will enjoy free fishing, kayaking, archery, a watercraft simulator and more.
You can also catch a lumberjack show here.
Another fun daily attraction is the parade at 4pm along the main walk. This parade includes local celebrities, costumed characters, bands, live music, and more.

The one thing I knew we had to make time for were the pig races! This is a really fun attraction near Kiddieland but is fun for everyone as you watch pigs race around the track. The emcees are clever and funny too.

The petting zoo is a free attraction as well and a must-see! I was so impressed by the variety of animals including belted galloway cow from dutch island, Scottish highlander cattle, Pantagonian cavy from southern Argentina, Hindu brama, and other favorites including goats and llamas.
Purchase the cup of carrots for $1 for interactive fun!

We didn't catch the new Sea Lion Splash but it was really cool to see the sea lions up close on their break time!

dddThe AG is Cool educational station is a great place for kids of all ages to learn about agriculture including how to milk a cow and to throw a rope loop.

We were only at the fair for one day so there wasn't nearly enough time to take in all of the attractions. I suggest you review the daily attractions listing before your visit so you can pick your favorites and plan your day accordingly.
Stage Entertainers
You could spend the entire day at the Ohio State Park being entertained by top notch performers! Check out this list of 2016 Ohio State Fair Entertainers and plan which performances you want to see most. During our visit, we were thrilled to see Steve Brogan's comedy and magic show. He was laugh out loud funny! We were all hysterical with laughter and we weren't even one of the many audience participants on stage – oh how funny it would have been to know one of them!

We also saw Steve Trash, the "Rockin' Eco Hero" who entertains with comedy and music while talking about ecology and how to recycle. My son also thought his vibrant, homemade costume was worth noting!


There are entertainers throughout the fair too. These Roving Entertainers can be found throughout the show entertaining people with their funny costumes, fun music, magic, and more. The costumed characters were hysterical!


Although not a roaming entertainer, you may also see local celebrities around the Ohio State Fair. We were able to meet up with our Governor John Kasich.

2016 Ohio State Fair Concert Series
The 2016 Ohio State Fair Concert Series includes entertainment for all including Maddie & Tae, All-Ohio State Fair Band, Kenny Rogers, Rachel Platten, A great Big World, That Mancini Magic, Dolly Parton, Jeff Dunham, Keith Sweat, and more.


There are also many free concerts throughout the fair.
Food! Food! Food!
There is no reason to go hungry at the Ohio State Fair because there is food everywhere! Choose from traditional fair favorites including like deep fried buckeyes, bbq, and funnel cakes.
You can't go to the fair without stopping by the Deep Fried booth for something amazing. We enjoyed both a deep fried grilled cheese and deep fried buckeyes – both were equally amazing!
Another must is roasted corn on the cob. This is a fair food that comes with no guilt and lots of flavor.
Nothing beats fresh sausage and sauerkraut from Schmidt's!
Schmidt's German custard is a great way to top off lunch or as a treat.

It is fun to eat food from vendors throughout the day, however you must treat yourself to a sit-down meal at the Taste of Ohio Café.  On a hot day, the air conditioned building is a treat in itself but once inside you'll love the food from Ohio's agricultural groups – Ohio Pork, Ohio Dairy, Ohio Poultry Associations, and more. We enjoyed ice cream and shakes from the Ohio Dairy Producers as an afternoon treat.
For dinner, we had chicken with noodles at the Ohio Poultry Association! YUM!
We also had pork loin sandwiches from Ohio Pork – both were delicious meals that my kids loved!
Fair Animals
Don't forget the animals! There are many barns with horses, cattle, goats, chickens, pigs, and more as well as competitions and shows. We didn't spend nearly enough time in the barns but enjoyed seeing the animals that we did.
The fair is a great way for kids to see many animals that they would otherwise not ever see – unless you live on a farm!
It is also a great way for kids to see how to care for these animals.
Everyone was super friendly and answered all of our questions. They were also generous with inviting us to pet their animals too.
As you can see, there is so much to see, do and experience at the Ohio State Fair. Next year, we plan to visit for two days because we barely scratched the surface in just 1 day.
Buy Tickets for Ohio State Fair
You can purchase tickets for the Ohio State Fair at the gate or save $4 by purchasing at Kroger, AAA locations, and participating Ticketmaster retail outlets.
$10 – Adults 13-59
$8 – Seniors 60+
$8 – Children 5-12
Free – Children under 5
$6 – Advance sale tickets
$25 – Ride-All-Day Wristband Vouchers
$5 – Parking
Win 4 Tickets to the Ohio State Fair
You have the chance to win 4 tickets to the Ohio State Fair!!
a Rafflecopter giveaway

This promotion is in no way sponsored, endorsed or administered by, or associated with, Facebook. In order to comply with the latest Facebook Promotion Guidelines (revised 5/11/11), the following statements are true:
* Giveaway participants release Facebook from any responsibility whatsoever.
* Giveaways on this blog are in no way sponsored, endorsed or administered by, or associated with, Facebook.
* Giveaway participants are providing information to this blog and giveaway sponsors only; not to Facebook.
Contest ends at 11:59pm EST on July 31, 2016 when a winner will be drawn at random.