Kennywood has been thrilling people for over 120 years with a family-friendly amusement park rides, attractions, entertainment, and more.  The new Thomas & Friends™ attraction just opened this week and is the 2nd largest Thomas & Friends attraction in North America! Before I get to why it is best to visit Kennywood with family and friends, I have to tell you more about this amazing new attraction!
This is a sponsored post.
Thomas & Friends™ Attraction at Kennywood
Kids of all ages will have a blast at the new Thomas & Friends™ attraction at Kennywood. It was still being built during our visit last week but we could already tell how exciting it would be!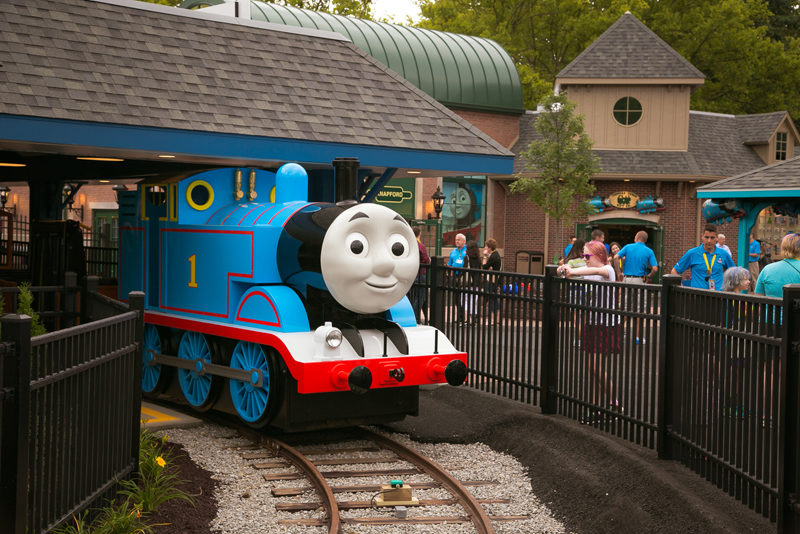 It is a dream come true for Thomas the Tank fans with  5 new rides, including the star Number 1 Blue Engine himself, Thomas, leading the way!  Our local Thomas the Tank event at the CVSRR is always a huge hit – those fans need to take a road trip to Pittsburgh to actually ride the blue engine! The ride takes Thomas fans on a train ride with wondrous views of the Monongahela River and the Edgar Thomson Works, the oldest steel mill in the Steel City!
Plus, the fun continues with a total of 5 new rides!
The Thomas attraction is located near Kiddieland, making Kennywood the ultimate place for amusement park rides for kids!
The area also includes an indoor play zone, Birthday Room, a retail store featuring a section to 'Pick Your Own MINIS' custom collection, and an entertainment show featuring Sir Topham Hatt, Percy, James, Emily and Gordon.
Why to Visit Kennywood with Extended Family and Friends
There are so many reasons to visit Kennywood with extended family and friends but most importantly because it is even more fun!!! We visited with my sister, niece, and 2 nephews. During our visit, we spent a lot of time at Kiddieland because there was fun for everyone there, including my 2 year old nephew!
The Lil' Phantom was the very first roller coaster ride for my baby nephew and he loved it! In fact, they road it 6 times in a row! That is another thing that I love about Kennywood – the lines are never too long!
If you have big kids and little kids in your family or friend group, then pair them up for rides like the SS Kenny where they will spin back and forth to their utter delight together. I don't know about you but I can't handle the spinning rides like I could when I was younger, so having friends and family to ride rides together makes it more fun for kids!
My kids have always loved the Pounce Bounce that takes them up 50 feet and drops them suddenly back down and then up again. Sadly they are too old to ride alone but not when they have younger cousins to ride with! 🙂 Riding together with older kids helps the younger ones to 'get brave enough' to try new rides too. It's a win-win situation!
Kennywood is such a classic fun amusement park. They have been delighting families for over 120 years with a family fun experience. It goes beyond just the rides and attractions with things like roaring lion water fountains!
Another awesome reason to visit Kennywood with extended family and friends is making memories! Making memories with your nieces and nephews is priceless. There is plenty of time during your visit for one-on-one time with everyone – whether you are riding a ride together or just chilling together. My 2 year old nephew is growing up too fast already so we savor the precious giggly times together!

Speaking of growing up…I was surprised when my 7 year old nephew and 10 year old nice wanted to conquer the Racer roller coaster! This was their very first big roller coaster (outside of Kiddieland) and we weren't sure if they would go through it with honestly! While I took the big kids there, my sister hung out with the baby at Kiddieland – another benefit of traveling with extended family – you can spit up so everyone has fun!
They loved it! Screamed the whole and wanted to go again right away!! Kennywood is a National Historic Landmark with 3 roller coasters that date back to 1920's. The Kennywood Racer is one of those historic roller coasters! Plus, it is one of the world's most unique roller coasters with a continuous track! You start on one side of the track and finish on the other! There are only 2 other roller coasters in the world like this, the other is in Blackpool England and the other in Mexico City!
After conquering the Racer, they wanted to try the Phantom's Revenge. This is a serious roller coaster with a drop of 230 feet at 85 mph!!!! I wasn't sure if they (or I) was ready for such a roller coaster but they couldn't be more ready!!!  They now have bragging rights that they conquered this coaster with all of its banked curves, airtime, and drops!

I love roller coasters but can't handle the spinning rides so I was thrilled that my kids had their cousins to ride with!  The Bayern Kurve was a big-time favorite and was rode multiple times!  It is a fast bobsled ride with high speeds and a banked track.
My daughter and niece were besties at the park (and always) as they liked to ride the most rides together. When you have these types of experiences together with cousins, family, or friends, it strengthens bonds and relationships. Sharing experiences and making memories together are times kids will remember forever – yet another reason to visit Kennywood with extended family or friends!
Besides Kiddieland, there are rides and attractions throughout the park that the whole family can enjoy including Garfield's Nightmare, a boat ride through a 3D experience of Garfield's world.
Another attraction for the whole family is Noah's Ark! We went through this 'fun house' type of experience multiple times too! Start the journey through the mouth of a whale (kinda like Jonah and the Whale, I guess).
This is another historic attraction for Kennywood, dating back to 1936!  Noah's Ark is a walk-through experience with plenty of jolts, shakes, jumps, optical illusions, and fun scares around every twist, turn, and corner!
Raging Rapids has been a favorite ride for me since I was a kid. I was thrilled that my kids, niece, and nephew loved it just as well – we rode 4 times in a row! This white water raft experience will get you either slightly wet or drenched – depending on where you sit and if the water splashes you!  It safely takes you down a natural downward sloping hillside through the rapids – plenty of screams, laughs, and fun are guaranteed! My baby nephew missed the 42″ cutoff by a couple inches but he'll love it next year!
There is so much fun to be had for every thrill seeker level at Kennywood including six roller coasters, thrill rides, water rides, classic & dark rides, shows, and more.
Don't forget the cotton candy too!
There is plenty of time for you to make precious memories this summer too. Plan your trip to Kennywood today with friends or family.
Kennywood
4800 Kennywood Boulevard
West Mifflin, PA 15122