The way you pack for your vacation makes all the difference in an enjoyable vacation.  Get everything you need at one store – Macy's! They have a wide selection of clothing for the whole family, suitcases of all sizes and must-have travel accessories that make packing for vacation easy.
This is a sponsored post.
Vacation Must Have Product that Make Travel Easier
Ray-Ban Sunglasses for Whole Family
Nobody can enjoy vacation without eye protection – this goes for kids too! Macy's has a great selection of Ray-Ban sunglasses for adults and kids. Ray-Ban sunglasses are timeless in style with excellent sun protection with a comfortable fit. Your family will look stylish while enjoying the sun in these sunglasses that are made to last.
Fanny Packs for Travel
Fanny packs have come a long way since the 80s! Macy's has a variety of stylish fanny packs that makes keeping your essentials quick at hand and secure that you'll want to wear it all of the time. I especially like fanny packs while traveling because it keeps my hands free so I don't have to worry about theft or losing my wallet or phone while traveling with kids in a new environment.
The I.N.C. Tassel Fanny Pack was specifically created for Macy's. Available in black or cognac/gold, this lovely fanny pack is on a gorgeous belt with polished buckle. The fanny pack is roomy for all your essentials with a stylish tassel zipper pull. It allows you to skip your purse while traveling!
The I.N.C. Embroidered Love Fanny Pack was specifically created for Macy's. This supple rose-embroidered faux leather fanny pack keeps everything close at hand and can easily be worn anywhere your travels take you from daytime to evening.
Bag with Electronics Charger
This is a great item for both men and women who need to keep their essentials, including their electronics close at hand while traveling too.  This Men's RFID Phone Pouch with Power Bank is more than a day-bag, it is a high-tech, high security bag for your electronics. This bag includes RFID protection to protect your data from being hacked while traveling! Plus, it includes a universal power bank to keep your electronics charged while on the go.  There is a sleek phone pouch for easy access.
Attach this bag to your belt via the belt loop. It is a MUST have product for traveling since we all pack many electronics on trips!
Vacation Clothes at Macy's
As soon as I find out we are going on vacation, I make a list of vacation clothes my family needs based on the climate and activities we will be doing. I like going to Macy's because I can find great clothes for the whole family at one store to save me time! I try to find clothes that do double-duty and that pack well.
This I.N.C. Printed Ruffle-Trim Surplice Maxi Dress is beautiful and perfect for vacation. This lovely dress is a comfortable dress that can take you from daytime sightseeing to nightime dining. Plus, it is machine-washable.
For men, this I.N.C. Men's Short Sleeve Stretch Shirt is a versatile must-have to travel. This stylish shirt looks as good as it feels with flexible stretch fabric, your man will look good and be comfortable all day. This light-weight shirt can be worn casual or ironed for fine dining in the evening.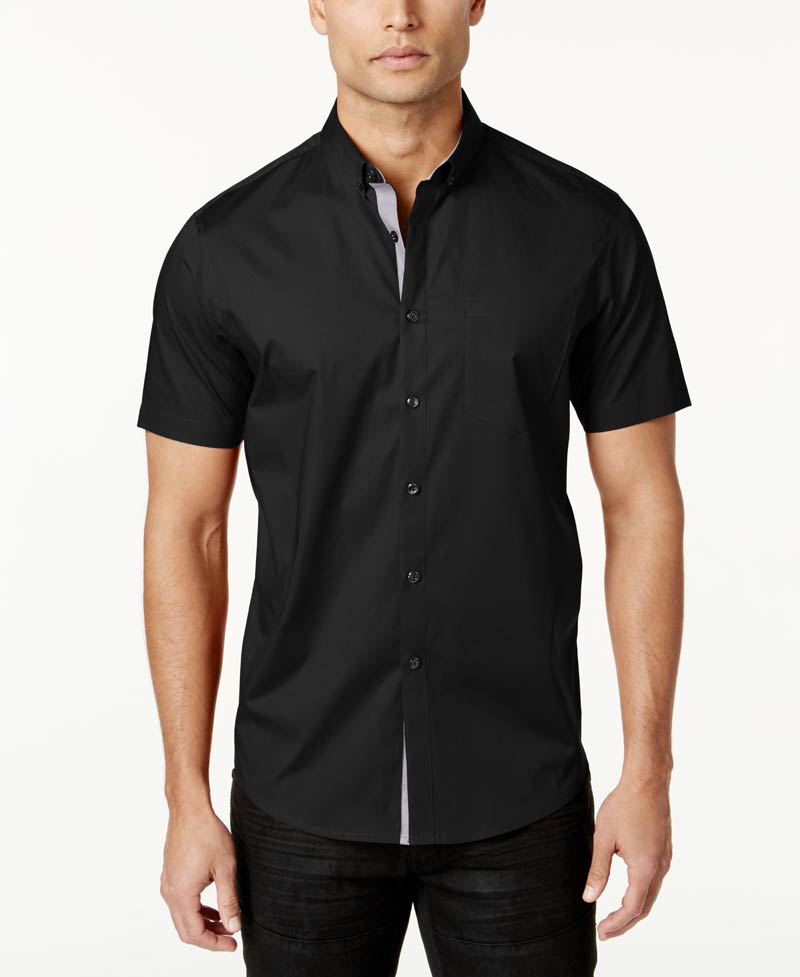 Passport Case
If you are traveling out of the country, you need a passport case to keep your passport and documents safe and secure all in one place. This Perry Ellis Portfolio Men's Leather Passport Case includes two billfolds, 1 ID pocket, and 4 credit card pockets to keep all of your important travel essentials secure.
The Dopp Collection RFID Passport Cover is another great passport case option with an added level of security of RFID-blocking material to keep your data safer from hackers. It includes clear acetate sleeves to hold your passport.
Packing clothing that is both comfortable and stylish can take you from sight-seeing to dinner allows you to pack lighter. Finding the perfect vacation clothing all at one store makes it quick and easy for you to pack! Keeping your money, phone, and essentials sure on your body with a belt bag keeps your items safe and within easy reach.
Make Macy's your one-stop shop to make packing for your next vacation easier. There are 2 local Macy's stores in the Akron, Ohio area at Summit Mall in Fairlawn and at the Stow-Kent Shopping Plaza in Stow, Ohio. Or shop online with FREE Shipping on everything with no minimum purchase required for a limited time!