This is one of my favorite products ever for moms!  I started using the Clips Instant Bag Hanger 8 years ago and have used it daily sense. It is such a simple product but amazing at the same time. It is a sturdy clip that you can put on your purse or bag to keep it off the dirty floor. Clip it to the table at a restaurant, on the bathroom door in a public restroom, on the cart handle while shopping, on the stroller handle, on the sink while washing your hands in a public setting, in the changing room at the store, or anywhere you can think of where you don't want your purse or bag on the dirty floor!
This is a sponsored post.
I don't have to tell you about how nasty floors can be or how many germs you gather on the bottom of your purse – or do I? ABC news reported on the germs found on ladies' purses – about millions of bacteria including fecal bacteria found in bathrooms, bacteria that can cause skin infections, cold viruses, viruses that cause diarrhea, and more. Yikes! I don't want to put my purse on my table or counter ever again!
Clipa helps with this issue by keeping your purse or bags off of the floor and away from nasty germs especially in public settings where there isn't a place to hang your purse…like the public restroom or changing room at the store…
It is no surprise to me that Clipa is a top seller on Amazon with over 1 million sold because I LOVE my Clipa and use it daily. Plus, it lasts there is nothing to tarnish, rust, peel, pit or corrode. It is tested to last up to 01 years of daily use – I'm at 8 years and still working just fine. Clipa opens and closes easily but keeps your purse or bag very secure to the table or wherever you attach. It holds up to 33 lbs of weight! I use it for my backpack all the time.
Don't forget, Clipa can be used anywhere, including outdoors. I usually have a backpack with me while hiking and biking, so I keep my Clipa on it so I don't have to put it on the dirty ground when we stop to take a break.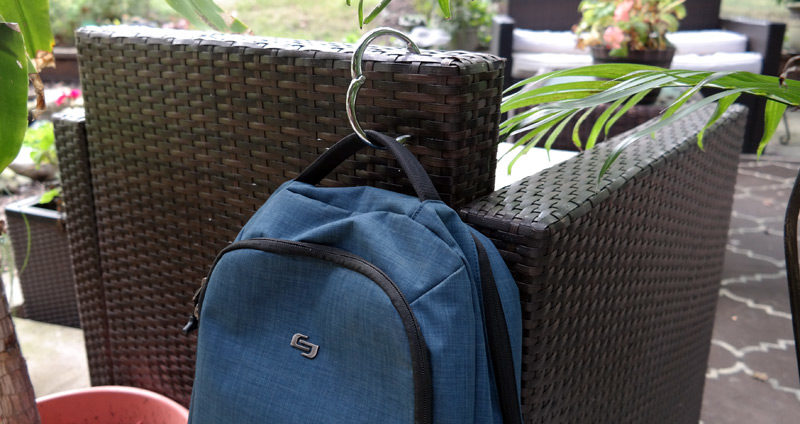 I keep my Clipa on my purse handle at all times. When I'm ready to use it, I open it up and hang it on the table, etc. When I'm done, I just pull my purse away and it automatically closes and is ready to go with me.
Clipa is a must-have accessory for everyone – it really is. Use it for your purse, bags, diaper bag, backpack, camera bags, and more. Buy Clipa on Amazon for about $16. It makes a great gift as well!