Road trips are more popular than ever as families stay closer to home.  Whether you are taking a day trip or a weekend away or planning ahead for the holidays, it takes a little more planning when traveling with your baby or toddler.
Check out these up-with-the-times products to get your family road trip ready for your next getaway. Make a list, you can't forget essentials like diapers and hand sanitizers!
Ride in comfort and style
When you get to your destination, your child can ride in comfort and style with the Joolz Aer Stroller.
Not only will your child be comfortable and safe with this award-winning brand recognized for superior safety and functionality but you'll enjoy pushing this smooth-ride stroller.  Don't worry about getting it in and out of the car (or plane if you go far) because it is only 13.4 lbs and folds up with with a one-hand operation.
Plus, there is an adapter that works with your car seat for even more convenience.  If baby is happy, you are in for a great road trip adventure. Buy it now in grey, green, blue, or black.
Be ready for teething
You never know when a tooth is going to try to break through. Tooth and mouth pain can ruin any road trip. Be prepared to help your little one soothe their budding teeth with Tiny Teethers.
This mom-owned brand knows exactly what baby and moms want and need. Their teethers are gorgeous made out of silicone and natural wood beads for an eco-conscious teether that looks more like an accessory than a teether. You'll like the style and baby will like how the teething necklaces and sooth their mouth.
Soothe delicate skin
Nothing is more annoying than irritated skin, especially if you are a little one and don't understand why your head itches so much. Soothe dry skin before it becomes a problem with Dr. Eddie's Happy Cappy Moisturizing Cream.  Traveling can cause baby's skin to become dry and irritated, especially on their heads.
Just look at the before and after pictures of using Dr. Eddie's Happy Cappy Medicated Shampoo, it's amazing!
Not only does it help babies but also can be used to treat children and even adult eczema and sensitive skin. This is a must-have for any road trip.
Buy Happy Cappy solutions now.
Hypoallergenic and antibacterial diapers and wipes
You have to pack plenty of diapers and wipes – pack double, trust me, you don't want to be left with not enough! In this day and age, it's not a bad idea to upgrade to a hypoallergenic and antibacterial brand. Eco Pea Co offers eco-friendly diapers and wipes that are dermatologist approved. Once you switch, you'll never want to go back.
Buy Eco-friendly diapers and wipes now.
Alcohol-free hand sanitizer
Of course, you can't go anywhere these days without hand sanitizer especially when traveling with little ones. Most hand sanitizers dry out your skin, causing even more hassles while traveling. Check out Can-Do alcohol-free hand sanitizer. It uses aloe vera gel, anti-inflammatory witch hazel, essential oils and vitamin E oil to gently cleanse your skin.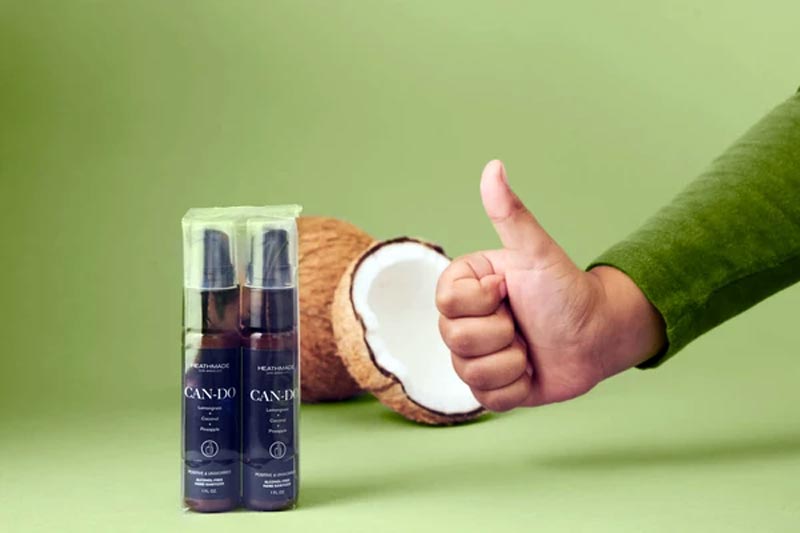 Plus, it was developed by an ingenious 4 year old! A school project propelled Heath's interest in nature, plants, and herbs at the age of 4! He crafted his product for the school fair and sense, it has grown into a blueprint for Health Made LA brand of lotion, balms, deodorant, and sanitizers.
Buy alcohol-free hand sanitizers now.
Disinfect surfaces
I disinfect everything these days! When traveling with baby, it is more than essential to disinfect!  Be sure to pack Dionis Disinfect Spray to eliminate germs without toxic chemicals while on the go. This travel-sized disinfectant spray is perfect for disinfecting public spaces, including hotel room tables, doorknobs, light switches, remote controls that your toddler will be wondering about and touch – it is beneficial for you too, mom!
This product kills 99.99% of germs and bacteria on hard surfaces while being paraben-free, cruelty-free, toxic chemical free, and made in the USA!
Stay organized
The Arabella Baby diaper caddy are designed by a mom of 5 boys to keep parents organized and ready no matter where you are! This diaper caddy is perfect for organizing diapers, wipes, toys, and more and easily carry it around wherever your travels take you. When you're done using it, it easily folds down for storing away.
Buy your organizing travel solution now.
If you are looking for Ohio roadtrips ideas, check out our Ohio Travel section. We have plenty of great ideas for traveling with babies and toddlers!