On your next trip to Ohio's Amish Country, be sure to stop by David Warther Carvings for a rare look at elephant tusk (ivory) carvings beyond compare.
We were able to take a tour with David Warther himself during our recent Ohio Amish Country visit in exchange for this post. David Warther is a talented artist that hand carves elephant tusks into exquisite ships and sea vessels.
In the David Warther Carvings Museum, you'll find more than 80 intricately carved miniatures of sailing ships form ancient Egypt to modern times! All of the ships are created from antique ivory and proudly displayed on ebony wood. Even the tiny rigging on the shops are made of ivory that has been hand filed to .007″ in diameter!
Where does one acquire elephant tusks since hunting was banned years ago. David Warther acquires antique elephant tusks that has been donated from other museums and private collections or purchased from within the United States, per law. His collection demonstrates how an artisan can use beautiful materials without harming or affecting current wildlife populations.  Meanwhile, David contributes to wildlife conversation efforts regularly.

David Warther also proudly displays a gorgeous Narwahl tusk, something I've never seen before in my life! Also on display were mammoth ivory, walrus tusk, and a whale tooth.
We were excited to see two African Elephant Tusks that reached floor to ceiling – I had no idea that African elephants were so much larger than the Asian elephants we see at the zoo and circus.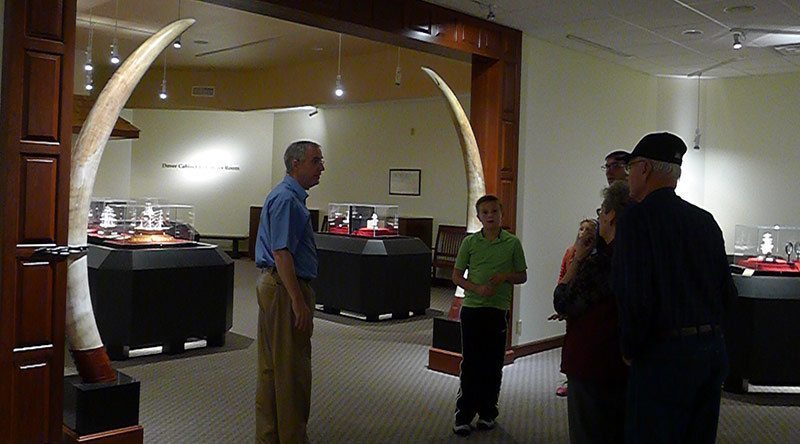 David was engaging with both adults and kids during the tour, answering each and every question with thoughtful answers.
David's workshop is on display with all of his tools laid out for all to see. He talked about how many of his tools are hand-made to give him the precise tool he needs for his extraordinary carvings.
He started at the age of 3 and enjoys demonstrating his tools and techniques during tours at the David Warther museum daily in Ohio's Amish Country.
David grew up around talented carvers with several generations ahead of him as cabinet makers and woodcarvers starting in Switzerland in the 1800's. David's grandfather's lifelong project was "The History of the Steam Engine" so it is understandable how David's lifelong passion is similar but with the ship.
At the end of the tour, be sure to stop by the gift shop where you'll find unique gifts, collectibles, home decor, and more. My family doesn't generally spend much time in gift shops but this gift shop was different, it was packed with unique items that we all enjoyed checking out. We even got an early start on Christmas presents there!
David Warther's Carvings & Gift Shop
1775 OH-39
Sugarcreek, OH 44681
On your next trip to Amish Country, explore something new at David Warther Carvings. Tell them you heard them on AkronOhioMoms.com.
If you plan to stay in the area for a couple days, I suggest staying at the Sleep Inn Designed to Dream Hotel in Bolivar, Ohio.
It is just minutes from David Warther's Carvings at the north entrance to Amish Country and convenient to Walnut Creek, Sugar Creek, and the entire Amish Country area. Sleep Inn is close to all the Amish Country attractions while within civilization where restaurants and shopping don't close early (and all day Sunday), and they even have a pool!
Plus, you'll get the best night's sleep you've ever had while traveling.