Halloween is just a couple weeks away. We are already planning where we are going to trick or treat, costumes we are wearing, school party treats, and more. It is an exciting and fun time of year where kids – and adults – can be whatever they want to be from a ninja to a princess to a super hero!
We don't live in a neighborhood, so trick or treating doesn't happen unless we go with family or friends. Since it isn't our own neighborhood, we must have a plan. It's a good idea to mark out your trick-or-treating route anyway, to avoid busy intersections, etc. We also celebrate Halloween with class parties at school, with family parties, and trick or treat at businesses.
I participated in this program on behalf of Energizer and The Motherhood. All opinions are my own.
With all the Halloween planning, don't forget safety first! Energizer has provided me with some excellent Halloween Safety Tips to share with you to keep all of our families safe this season.
Halloween Safety Tips from Energizer
Plan a trick-or-treat route ahead of time.
Like I said, avoid major intersections where cars are sure to be speeding by and may not see you and your children. Choose a route with safe crosswalks and sidewalks. This is the perfect time to remind your children about street safety, including looking both ways before crossing.
Find new ways to celebrate the holiday.
Avoid trick-or-treating at night with a safer alternative like neighborhood "trunk-or-treats", Boo at the Zoo, and family parties.
We've taken our children to the Akron Boo at the Zoo for years. They have amazing treat stations with costumed characters at each station, great treats, and we get to enjoy seeing all the animals.
My extended family always has a family party with a huge bonfire and "trunk-or-treat". I know my kids will get safe candy and it's fun for all the family to see all the little ones dressed in their costumes and decorate our cars for the event.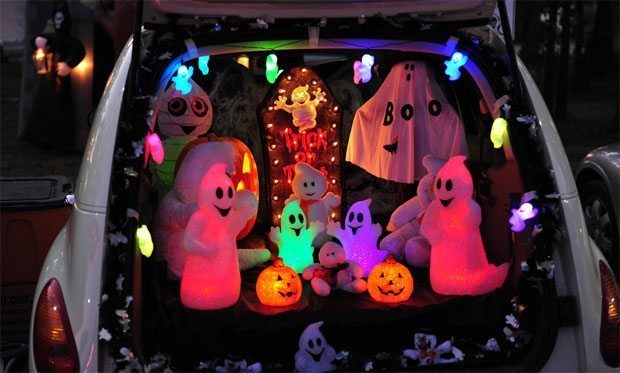 Keep a portable light on hand (or head).
Many trick-or-treating events start before sun set but end well after dark. This can quickly lead to an unsafe Halloween. One slip on the curb or into the street could be disastrous.  Be ready with Energizer portable lights.
What child wouldn't love their very own Energizer's powerful LED headlight to wear during trick or treating and beyond!
It would actually be super cute for costumes like a coal miner, astronaut, or super hero. Besides at Halloween, the LED headlight is perfect for many, many uses because it is lightweight and hands free. It would be perfect for walking your dog in the evening, hiking at night, even working on a car.
If you don't want to wear your safety lights on Halloween, at the very least bring a flashlight or two.  The Energizer® LED 2 in 1 light Fusion Flashlight is the ultimate in versatility.
They are compact, water resistant (it's bound to rain on Halloween), and provides bright, long-lasting light that drivers and pedestrians can easily see.
I'd love to have a couple of these on-hand for both my home and to keep in my car for safety while traveling.
Pick the right costume.
Make sure your costumes fit properly, you don't want your kids tripping over long pants or cape. Face paint is a good alternative to masks that can block your vision. The high heel princess shoes may look cute with your daughter's princess dress but aren't practical or safe for walking around the neighborhood all night. Have your child wear practical shoes, some even have lights for added safety and coolness. Some companies have character theme shoes perfect for Halloween like these Ariel shoes.
Walk, don't run.
If you plan your route out first, you can tell your kids that they will get just as much candy if they walk than run because you will be going to the same number of houses either way. Stay on the sidewalks and never let your kids run through yards where extension cords, Halloween decorations and other unseen obstructions may trip your child and cause they injury.
Be selective.
Only visit houses that are well-lit and in neighborhoods that you trust. Stay with your children and remind them to never take rides or go into strangers' home. This is a good time to remind them not to take candy or gifts from strangers too. Ironic at Halloween, right? Not really when you explain that it is ok to talk to or take candy from a stranger when YOU ARE WITH THEM, explain the difference.
Charge your devices.
Even well thought out plans can go bad when your devices aren't charged. Your cell phone isn't any use if the battery is dead because you didn't charge it or you used up the battery taking tons of photos of your adorable kids. Be sure your flashlight has fresh batteries – when were they changed last? You can count on the Energizer® MAX® with Power Seal Technology to be long-lasting, and leak-free guaranteed*.
Connect with Energizer for more tips to keep your family safe this season on Facebook and Twitter.