What do you have planned on Mother's Day? There are so many options from brunches to parks to family gatherings to breakfast in bed at home. I've enjoyed a total of 8 Mother's Days and none have been the same. One thing has been consistent, I've enjoyed being with my husband and beautiful children. I'm not one to take up an offer to have a spa day away from my kids on Mother's Day – but to each their own. I want to be with my family and also celebrate with my mom.
Will You Participate in the #SocialBlackout on Mother's Day?
I just learned about the  #SocialBlackout on Mother's Day and plan to participate. It is a challenge to get everyone to log off of social media all day on Mother's Day, Sunday, May 12th to give Mom and your children the time they deserve. It makes complete sense, doesn't it? I think we should have #SocialBlackout days for other holidays as well, but that is just me! As a way of sharing this news with all my readers, I participated in a campaign on behalf of Mom Central Consulting for MetLife. I received a promotional item as a thank you for participating.
MetLife has created the #SocialBlackout movement, which challenges everyone to log off of social media on Mother's Day (May 12th) and give Mom the time and attention she deserves!
I love my mom. She has always, always been there for me. She is someone that I can count on no matter what life throws my way. Her love is unchanging, real, and always there for me and my family. I am so blessed to have her as my mom.
We don't spend as much time together as we should, it is days like Mother's Day that helps us to reflect on what and who is most important in our lives.
For instance, social media. It is all well and good and keeps us connected to everyone from everywhere – even though we don't really know those people- it sucks our time up like a vacuum. This Mother's Day, I encourage you to take the #SocialBlackout pledge through the MetLife Facebook page and give mom the time she deserves – undivided time and attention. You can find all the details on the #SocialBlackout and RSVP here.
I have made a point to limit online and social media communication while with my children. It is a huge pet peeve of mine. My heart is sad for the mom that is with her children but is texting or checking facebook while at her child's choir performance, or while at a restaurant, or at a theater or show, or at home, the ball game, etc. Get my point? So many moms are sending the message to their children that their phone, Facebook, Twitter, Instagram, computer, tablet, etc is more important than they are. Just because you are with your children doesn't mean you are with your children.
There are times when you need to send a quick text, check your email, etc. and that is fine. However, I see it more often than not people just can't "be" with their kids anymore, electronics take priority. I'm not trying to be judgmental here, just honest. I think we all need to evaluate how electronics and social media affect our lives and the lives of our family.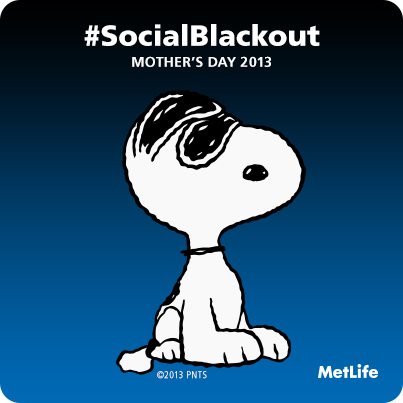 Will you join me for just one social media-free day with the #SocialBlackout on Mother's Day? Who knows, maybe you'll find that you don't need to be connected to everyone on facebook to have a good day with your mom and/or kids. Maybe you'll even like it?
Kudos to MetLife for the reminder to give our moms the undivided attention they deserve! MetLife is a company that is all about protecting and caring for your family through insurance and other services.
If you are still looking for ways to celebrate Mother's Day, check out the top 25 things to do for Mother's Day 2013 in Akron, Ohio Area – Brunches, Events, and Activities!