No visit to Santa Claus, Indiana is complete without a visit to Santa's Stables. Located just 3 minutes from Holiday World and Lake Rudolph, Santa's Stables offers horseback trail riding for ages 5 and up. Santa's Stables is a must for anyone visiting Santa Claus, Indiana whether you are a novice or experienced rider.
This is a sponsored post.
Horseback Riding in Santa Claus, Indiana at Santa's Stables
Meet the gorgeous horses at Santa's Stables in Santa Claus, Indiana. These well-trained, friendly horses are ready to take you on a relaxing and scenic trail ride through the woods, fields, and by the lake.
The staff will select a horse perfect for you and your family. They are highly personable and put safety first as they teach you the basics of horseback riding and safety. If you have a child ages 5-7, they will double ride with your child. Santa's Stables also welcome riders with special needs.
I'm also a little reluctant to ride a horse for the first time but my horse, Prancer was so well trained and obedient.  The horses know the trails and need little help from the riders, except for a gentle reminder or two to not stop for a little snack on the clover! 🙂 The horses of Santa's Stables are trained to walk nose to tail, making this an easy ride even for the novice rider like me.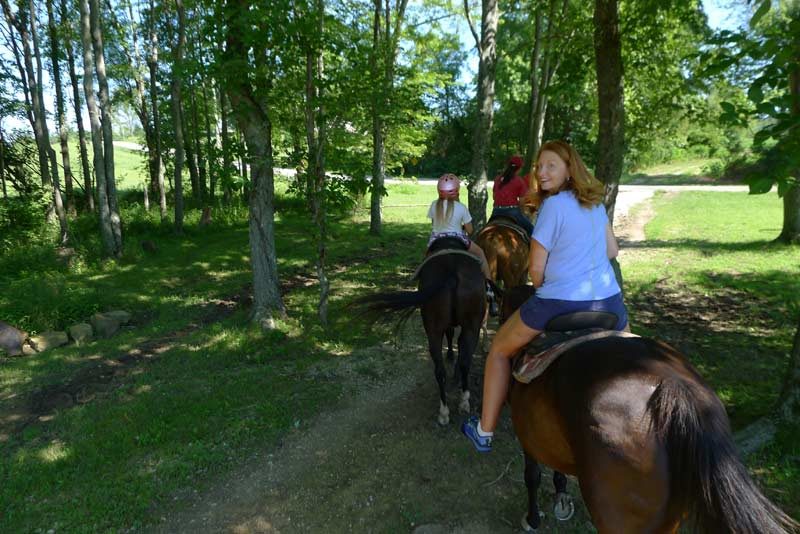 My kids love riding horses and had an amazing time at Santa's Stables! I was thrilled when our trained guides offered to snap a few photos for us!
My kids has their first horseback riding experience last summer at a Dude Ranch. I don't know if it was because we were in the dessert with poisonous snakes or because it was their first time horseback riding but our experience at the dude ranch compared to at Santa's Stables were much different. Although both times were incredible fun, our experience at Santa's Stables was much more relaxed. We had several guides with us to assist with any need. My daughter's foot camp lose from the stirrup once and the guide quickly came alongside of her to assist her. They were very attentive and fun to ride with.
Santa's Stables offers both short 20 minute trail rides and longer 45 minute trail rides. I recommend the 20 minute rides for first timers and the 45 minute trail rides for everyone else. The time will quickly pass by and you'll probably want to come back again the next day! If you are staying in Santa Claus, Indiana at Lake Rudolph Campground or visiting Holiday World, make plans to visit Santa's Stables early into your visit so you can go back again during your stay! It is that fun!
You can book your horseback ride today online or by calling Santa's Stables today at (812) 340-2288 or e-mail riding@santas-stables.com to book your horse back trail ride today. Check their schedule for when they are open. Santa's Stables is open March – October with various schedules. For the rest of August, September, and October, they are open mostly just on the weekends with availability for weekdays upon request.
Santa's Stables
6709 E County Rd 1450 N
Lamar, IN 47550
Phone: (812) 340-2288
Santa's Stables is located in the heart of Santa Claus, Indiana where it is like Christmas year-round. Located just under 7 hours from Akron, Ohio, this is the perfect road trip destination this Fall!