Have you ever thought of taking a family vacation at a Dude Ranch? Before this past Summer, the thought never crossed my mind, mostly because I had no idea what a Dude Ranch vacation would be like. We had the pleasure to finding out first hand what a dude ranch vacation is like at Stagecoach Trails Guest Ranch in Arizona. I summarized our Dude Ranch experience in an earlier post and would like to dive in deeper with this post for those who want to know what a Dude Ranch vacation is like.
What is a Dude Ranch Vacation Like? Our Stagecoach Trails Guest Ranch Vacation Revealed!
I have to admit that I was a little nervous about this leg of our West Coast Vacation because I didn't know what to expect. We arrived at Stagecoach Trails Guest Ranch later than we had planned but just in time for a horseback ride into the sunset!
Could there be a better introduction to our Dude Ranch vacation?! I think not! The scenery was stunning, like a movie set for an old Western movie, it was so magnificent and vast that it felt unreal!
If you are reluctant to consider a dude ranch vacation because of lack of horseback riding experience, do not let that be a factor at all! The majority of the guests at Stagecoach Trails Guest Ranch are beginners, including my family. Before this evening, the only time I rode a horse was on our honeymoon 17 years ago and my kids had only rode a pony a couple times at a birthday party. This was no concern as we were in excellent hands with Jake.
Check out this short video of our first horseback riding experience at  Stagecoach Trails Guest Ranch:

Stagecoach Trials Guest Ranch Accommodations
I had no idea what to expect for accommodations at a dude ranch. Rustic cabins? Not at Stagecoach Trails Guest Ranch! There are a number of room and suite options, including various Western themes. I'll be sharing all the variety in an upcoming post! We enjoyed staying in the family suite with a living room, 2 bedrooms, and 2 full bathrooms!
Our suite was spacious, immaculately clean, and decorated in a Western cowboys and indians theme. It was the perfect living conditions for our family of 4, it could have easily housed more. After being cramped up in a hotel for most of our vacation, it was so nice for us to each have as much space as we wanted! The AC was a welcomed treat too since it was 120° outside! The rooms stayed cool our entire stay.
Take a quick walk though our accommodations Stagecoach Trails Guest Ranch with this video.

Food at the Dude Ranch
I had no idea what to expect  for food at the dude ranch. For some reason, I thought we might be eating stew cooked over a hot fire! Thankfully, that was not the case at all! We enjoyed a variety of food during our stay, cooked from scratch!
The food was served buffet style, you could get as much as you wanted. There was always plenty to choose from and everything was delicious. We looked forward to hearing the cow boy ring for each meal! My daughter and I don't like spicy food, so when a spicier dish was on the menu, they would prepare a less spicy batch for us. I was so impressed by how considerate they were!
The dining room provided cold drinks and hot coffee all day long. This was perfect for filling up our water bottles for horseback riding or grabbing a soda or ice tea to enjoy poolside.
Horseback Riding at Stagecoach Trails Guest Ranch
Horseback riding is the main event at any dude ranch. The horseback rides and wranglers/cowboys at Stagecoach Trails Guest Ranch are the best! Sure, I've only been to this one dude ranch but from the research that I've done, I've learned that many ranches limit the ride options to only 1/2 hour. At Stagecoach, you can enjoy 2-3 rides a day!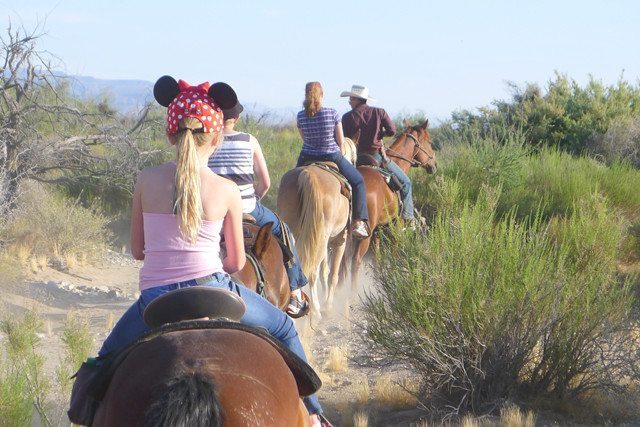 We enjoyed an early morning horseback ride every morning before breakfast. We arrived during the heat of summer, so for the safety of the horses and for us, we rode early in the morning and late in the evening. Each horseback ride was 1 to 1-1/2 hours long.  Our cowboy Jake chose our horses for us every time, we mostly kept the same horse throughout our visit but could chose a favorite if we wanted.
The horses were gorgeous and very well taken care of!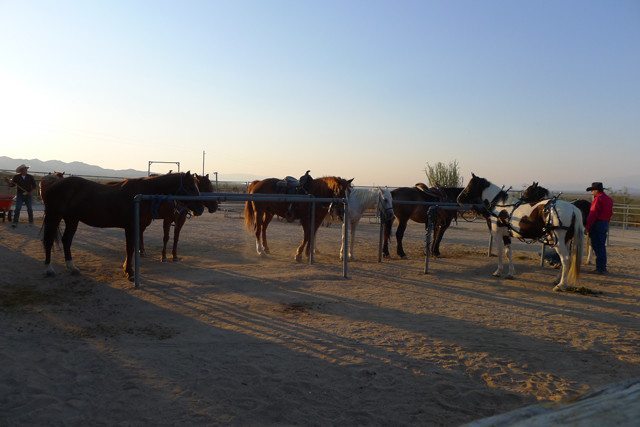 The horses were gentle for our children, something I was concerned about since my kids had never rode a horse before! Even my 8 year old daughter could handle her own horse the entire time. She was free to be on her own, without being led by another person. This was a HUGE deal for her!
The one thing that I will never forget about our dude ranch vacation was the pure joy and laughter my kids displayed! I can still hear the giggling and laughing and still see their huge smiles! And that is what it is all about, right? In this picture below, my daughter's horse was taking a snack break on vegetation. You can't tell from the picture but she was beyond giddy, laughing her little heart out!
The experience that my kids had while horseback riding in the Arizona desert is unlike any other they have ever had. They both agree that Stagecoach Trials Guest Ranch is their favorite part of our West Coast vacation –  or any vacation for that matter! They liked the dude ranch more than Disneyland!
For more experienced riders, they offer exciting fast trotting and loping rides. They also offer longer 3-4 hour lunch rides to the mountains!
I loved the quality family time we had together at the dude ranch. We spent the entire time together – it was unlike any family time we've had together. The joy of horseback riding at 6am or seeing the sunset with brilliant colors at night offers a family bonding time like no other. These shared new experiences for all of us will be forever etched into our memories.
On the last evening at the dude ranch, we took a horse drawn wagon ride. During cooler months, this is offered in the afternoon too. My son was able to sit up front with Cowboy Jake to hold the reins. He talked Jake's ear off about the desert, cati, and horses! The rest of us sat in the back and enjoyed the ride! And what a ride it was! The two draft horses were from Tennessee and specifically trained to pull a wagon of people. They were beyond strong and were running the entire time! Jake wasn't making them run, they just felt like running! What a ride and experience!
Dude Ranch Activities
There was plenty to do when we were not riding horses at Stagecoach Trails Guest Ranch. Our #1 favorite thing was swimming! Nothing compares to a cool pool in the middle or a sun drenched desert! We enjoyed cooling off with a dip in the pool while being surrounded by the scorching sun and heat! We also enjoyed relaxing pool side in the misting cabanas!
My kids enjoyed taking Peanut, the Miniature horse for afternoon walks!
It was very much like taking a dog for a walk, but way more eventful!
The lodge was a large gathering area offering plenty to do during the heat of the day and in the evening. After dinner, most of the guests enjoy a social time together playing board games, pool, or watching old Western movies.
Meet Stagecoach Trails Guest Ranch Owners
Have you ever met someone and felt like family from the beginning? That was how it was when we met JP and Tricia McCormick. They actually met at Kent State University, so that brought them very close to home!
JP and Tricia were the first people we met at the dude ranch, they welcomed us with a tour of the ranch, their pride and joy. As recently new owner of this dude ranch, JP and Tricia have renovated the guest rooms, common facilities, and landscaping. They have poured their heart and soul into this dude ranch, calling it home for their family and making every guest feel like family.
I didn't expect to feel so welcomed at the dude ranch. It's not like a hotel or resort where your family are just customers. At Stagecoach, we felt like family guests staying for a visit with family and friends. It was hard to say goodbye to the dude ranch experience and to our new friends!
My son really connected with JP. He was his shadow most of the time, asking him questions about the desert, wildlife, cacti, and being a cowboy!
Desert Landscape at Stagecoach Trials Guest Ranch
The landscaping at Stagecoach Trails Guest Ranch is unbelievable! Every natural cacti and succulent found in Arizona could be found there as well as tropical palm trees by the pool oasis! We enjoyed learning all the different names of the plants and trees, each marked out. My son even brought home a clipping of a jumping cactus and it survived!
As part of the renovation of Stagecoach Trails Guest Ranch, has collected nearly two dozen 19th century American wagons to put on display throughout the property. This is fitting since Stagecoach Trails Guest Ranch borders over 360,000 acres of Arizona dessert at the foot of the Mohave and Hualapai mountains. When settlers entered this stretch, they would speed as quickly as possible to avoid an ambush of native indians that would hide in the foothills until the stagecoaches kicked up the dust. This collection adds both history and charm to this Arizona dude ranch.
What is a Dude Ranch Vacation Like?
I hope that you found this article helpful in describing what a dude ranch vacation is like. For us, it was the most memorable part of our West Coast Vacation.We only stayed for 3 days but plan to return for an entire week the next time. It was the most relaxing and exciting experiences we've ever had.
Our dude ranch vacation was even life changing! My son now wants to be a cowboy and move to Arizona some day. My daughter has worn her cowboy boots nearly everyday since we got home. Both of my kids are now taking horseback riding lessons. We will be starting a new home remodeling project, turning our kids' bathroom in a cowboy theme soon.
Plan your Dude Ranch Vacation
If you are considering a dude ranch vacation, check out Stagecoach Trails Guest Ranch. They will offer your familyan authentic dude ranch experience you can imagine with all the comforts of home.
Tell them you heard about them on AkronOhioMoms.com!
The Stagecoach Trails Guest Ranch
19985 South Doc Holiday Road
Yucca, AZ 86438
866-444-4471
vacation@stgr.com