This year, Stan Hywet Hall & Gardens is celebrating the power of innovation with 3 family fun exhibits throughout the estate. Our family enjoys visiting Stan Hywet all seasons of the year for their great events and beautiful gardens.  We were happy to hear about 3 new exhibits.
Stan Hywet Innovation Stations
Plan a trip to Stan Hywet between now and Labor Day to participate in the Stan Hywet Innovation Stations. This is a fun afternoon event that you can enjoy with even young kids. I like how Stan Hywet placed 4 interactive stations throughout the estate so that it is a short journey through the gardens to each station. It allows parents time to stroll and take in the beauty and kids to discover nature while on their way to the next station. It's way easier to get kids to walk the gardens when they know a fun activity awaits them!  Each station demonstrates various forms of energy and forces, including gravity, momentum, wind energy, solar energy and more:
Wind Flowers at Stan Hywet
Local artists Debbie Apple-Presser and Marc Apple of Apple Construction, Cleveland, Ohio created a vibrant, larger-than-life flower display. Each towering flower was made from found objects and recyclable materials. My daughter especially enjoyed this exhibit as they looked like giant pinwheels spinning in the wind.
Motion Magic at Stan Hywet
Motion Magic at Stan Hywet is an interactive kinetic sculpture using momentum, gravity, friction, centrifugal force, magnetism and sound resonance. It was created locally by Zach Goebelt of Custom Stonework & Lighting, Stow, Ohio. My kids enjoyed watching the balls roll from one station to the next. It reminds me of the large display at Akron Children's Hospital. Kids love these displays.
Fort Sunsplash at Stan Hywet
Fort Sunsplash at Stan Hywet was a favorite for both my kids as they were able to shoot water cannons at floating targets in the water. Energy Sources are solar power and "human pumping energy." I had to help with the pumping for the energy to use the cannons as my kids were not strong enough. They had a great time shooting the water. Adults like this activity too. The only thing that would make this better is if the targets could be unsuspecting people walking in the gardens below! ha! You can tell I've been to too many water parks with my kids!
The Spirit of Kid Power at Stan Hywet
The Spirit of Kid Power at Stan Hywet allows kids to use up their energy to turn the crank on a generator that creates an 8-character sign that says "Kid Power". Younger kids will need help turning the crank but there is room for 2 hands to work it.
Uniquely Rubber Exhibits & Touch It Stations at Stan Hywet Manor House
Now is the time to take your kids to Stan Hywet Hall. If you weren't sure if your kids would endure a tour or be interested, now is the time. There are 2 fun activities going on now through October 28, 2011 with the Uniquely Rubber Exhibit. #1 Touch It Stations #2 Joe's Hunt
Touch It Stations at Stan Hywet
Don't Touch! That is all I feel like I say to  my kids when we are at places like Stan Hywet or museums. Now, Stan Hywet has fun Touch It Stations that allow kids the freedom to explore and touch items throughout the house. They can check out Raw Rubber, Rotary Telephone, Steropticon, Ice Cube Tray, Pencil Sharpener, Pin Hole Camera, Indian Pins, and a Crystal Radio.
With each Touch It Station, kids are engaging with the items and the ideas surrounding it. For instance, with the Raw Rubber, they are asked questions like, "Do you know how rubber is used? Lots of things that you use everyday come from this large block of raw rubber. Can you name some?" It provides learning experiences throughout the tour of Stan Hywet, keeping kids engaged and having fun.
Then, throughout the mansion, there are many displays of uses of rubber both now and in the past, including jewelry, letter openers, mirrors, war blankets, brushes, and so much more. There is even an original check signed by Charles Goodyear from 1860.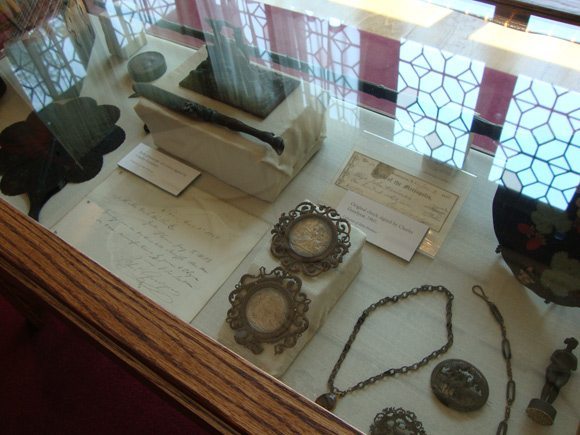 More Touch It Stations…
My kids thought that Stereopticon was pretty cool. It was popular from mid-1800s – early 1900s as a way to see 2 separate pictures that are similar but not identical at the same time. It would blend the 2 images.
Joe's Hunt at Stan Hywet Manor House
Joe was the St. Bernard that was given to the Seiberling's youngest child, Franklin for Christmas in 1915. The Joe's Hunt is allows kids to find other animal friends for Joe throughout the Manor House. There are pictures and descriptions on each page of the book that can be found throughout the house in 12 rooms. After your kids find the animals, they get a prize at the gift shop.
This kept my kids alert and observing everything in the house. It really gives kids something interesting to do while touring the manor house.
In the end, we always stop by the Gift Shop. Elizabeth was excited to find Joe after we just went on Joe's Hunt. Plan to relax with a giant cookie in the cafe too, they are super yummy.
Plants of Industry
Plants of Industry is held at the Corbin Conservatory now through October 28th. Step into their greenhouse to discover a jungle of plant varieties. It's really quite amazing. My kids like the outdoor gardens too located outside the conservatory.
2 kids have 2 takes on the large butterfly seat in the courtyard…
Our family had a great time exploring Stan Hywet this Summer. Plan a visit today with your family.
Stan Hywet Hall & Gardens
714 North Portage Path
Akron, Ohio 44303
Pricing for gardens, house, and other tours here.
This was not a paid post. My own opinions were used based on my perceptions and experience. Thank you to Stan Hywet who provided the tickets for review.