The most thrilling experience of this Summer for my family by far was our banana boat ride in Myrtle Beach. It was exhilarating, and even a little bit scary which made the experience all the more memorable and exciting!
I participated in an Ambassador Program on behalf of Mom Central Consulting for Discover Boating. I received a promotional item to thank me for my participation.

As an Ambassador for Discover Boating, I want to share some of our boating highlights this Summer. There is nothing like spending time on the water. Boating equals Summer in Ohio because it isn't likely that you'll be on the water any other time! However, my daughter mentioned to me today how she liked walking on the lake by our house last Winter, it is the same lake we go fishing at in the Summer, so we do enjoy it year-round.
Getting back to the banana boat ride in Myrtle Beach. We've been on many boat rides over the years as a family but nothing was like this. I knew we were in for an exciting ride the moment the jet ski took off and crashed into the first, second, and third wave. He wasn't wasting any time getting us out into the ocean!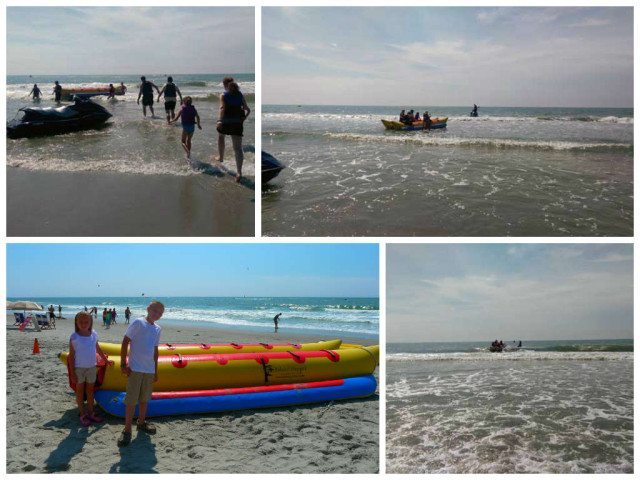 To me, the ocean is the ultimate boating destination – maybe it is the vastness of it, the huge waves, or maybe my fear of sharks and very deep water!
At any rate, we all held on tight as we sped through the water on the banana boat.
The wind on our face was refreshing, however the salt water in our mouths, face, and eyes wasn't so much! Seriously, we should have all worn goggles!
I was worried about my kids a little because we were going so fast with the salt water in our faces the entire time. My son actually fell off his seat once, thankfully he fell into the middle of the banana boat and not into the ocean. I yelled several times to see if they were ok and they were having a blast!
I love sharing first time experiences with my kids. It was the first time any of us were on a banana boat in the ocean, so it is a first-time shared memory that we will always have. I didn't get the best pictures because I was actually on the boat but the best pictures are in our memories!
Still up this Summer is our annual trip to Put-in-Bay. Our favorite part is riding the Miller Ferry over and back – my kids never get tired of the wind in their faces and hair! Aren't they adorable with their friends?!
When you are actually on the water in a boat, you can really explore the island and Lake Erie! This Summer, I'd like to rent a jet ski or kayak on our trip. We've seen the beauty of the lake from shore and on the Miller Ferry but I know it will be a whole new world from a boat. There are just some places that can't be explored from land!
If you enjoy boating or want to learn more, you need to check out Discover Boating website, they have a wealth of information for the notice to the experienced!  You can even sign up for a free hard copy of Beginner's Guide to Boating.  This site has tips on how to select the right boat for you all the way to pro fishing tips like adding a dab of crazy glue on your hook to prevent the worm from sliding up on it! Who knew?!
You can even find location specific information like where to buy, and even youth boating programs. I had no idea there were places near Akron for kids and families to enjoy boating including learning how to sail, racing, seamanship, and more.
Learn more about boating on the Discover Boating website.
Connect with others interested in boating by connecting with Discover Boating on twitter, instagram, facebook, and Pinterest. Use hashtag #DiscoverBoating